Western Nepal Dolpo Rara Lake trek
Dolpo is an ancient Tibetan kingdom located in the north east part of Nepal. It was opened to trekkers only in 1990.

The Rara lake region, with its snow-covered mountains, fir forests, torrents and wilderness, will attract the nature lovers who want to walk off the beaten track.

The highlight of this trek is Rara Lake (2980 m), a high altitude lake with deep blue water surrounded by pines, spruces, junipers.

In the Dolpo region the monsoon, created by the sea winds blowing from the Gulf of Bengal, is tempered by the Dhaulagiri range.

Trekking is therefore also possible during the summer, a period during which flora explodes in all its splendor: orchids, edelweiss, campanulas, forget-me-nots.

Day 1 & 2: Kathmandu

Day 3: Fly to Nepalgunj

Day 4: Fly to Juphal and trek to Tibrikot

Day 5 to 18: Trek via Balangra La Pass, Chaurikot, Mauri Lagna Pass, Gotichaur, Jumla, Bhulbule, Rara Lake, Chuchemara Danda Pass, Mashadhani, Jumla

Day 19: Fly to Nepalgunj

Day 20: Fly to Kathmandu

Day 21 & 22: Kathmandu   

Itinerary
Day 01: Kathmandu. Airport - hotel transfer.

Day 02: Kathmandu. Day at leisure.

Day 03: Kathmandu - Nepalgunj by plane.

Day 04: Nepalgunj - Juphal (2550 m)
by plane. We then start our trek with a 3-hour walk towards Tibrikot (2100 m). The trail follows the Thulo Bheri river, through immense terraced rice plantations.

Day 05: Tibrikot-Balangchaur (2850 m). 5 h.

Day 06: Balangchaur - Balangra La Pass (3760 m)
Kaigaon (2650 m) in 6 h. From the pass, the trail descents through birch and wild rose forests and later through meadows.

Day 07: Kaigaon - Chaurikot (3060 m)
In 5 h. crossing of large walnut forests. Nuts are mainly used to make cooking oil.

Day 08: Chaurikot - Mauri Lagna Pass (3820 m)
Chatra (3380 m) in 6 h. Mauri Lagna means "Honey Pass ". During spring, the trail lined with blue lilies, azaleas and blossoming rhododendrons. Magnificent panorama of snowy summits: Gutumba (5608 m), Mata Tumba (5767 m), Bhahul Himal (5460 m).

Day 09: Chatra - Gotichaur (2650 m)
Corn, potatoes, barley and buckwheat fields alternate with meadows and forests.

Day 10: Gotichaur - Jumla (2300 m)
in 5 h. Peaceful and verdant areas strewn with shining irrigation canals and rivers. In summer, the flora brightly blossom: orchids, forget-me-nots, geraniums, mints, buttercups, gentians…

Day 11: Jumla - Daphne Lagna (3130 m)
in 4 h. The path steadily rises up at mountainside.

Day 12: Daphne Lagna - Khali Lagna Pass (3500 m)
Bhulbule (3130 m) in 6 h. We will probably have the occasion to come across goat caravans, loaded as mules and bringing the salt back from Tibet. After the path, we go through fir tree and birch forests.

Day 13: Bhulbule - Rara Lake (2980 m)
in 5 h. This is a new route, which follows an edge orientated north south. From there, we enjoy a magnificent panorama over the Sinja valley on west and on the Rara Lake and the Mugu Karnali River on north.

Day 14: Rara Lake (2980 m).
It is one of the largest in Nepal with its 13 Km perimeter. The surrounding hills are covered with superb fir tree and rhododendrons forests. This region was declared to be a National Park in 1975 and both communities established on the west side were "invited to move" towards Teraï.

Day 15: Rara Lake - Chuchemara Danda Pass (3800 m)
Bota (2700 m) in 6 h. We climb up to the pass in 2 hours. At the top, the panorama is stunning over the Rara lake and very near summits reflecting into its waters, with the Saipal (7050 m) foothills in the horizon.

Day 16: Bota - Mashadhani (2800 m)
in 5 h. We head to Mashadhani through fir tree, birch and oak forests scattered with barley and cornfields.

Day 17: Mashadhani - Jumla (2300 m) in 7 h.

Day 18: Jumla - Nepalgunj by plane.

Day 19: Nepalgunj - Kathmandu by plane.

Day 20: Kathmandu. Day at leisure. Safety day for your international flight.

Day 21: Kathmandu. Hotel - airport transfer. The following information will allow you to better plan your budget for tours or treks. A range of costs is given. These costs are dependant on:
The mix of Touring and/or general Trekking,
The remoteness of the areas visited,
The number of guides or porters required,
The standard of accommodation required (if there is a choice), 
The type of ground transport used,
The length of your visit, and
The size of your group.
Depending on group size the costs of treks and tours range from:
1 to 3 pax     US$ 88 to 163  P/p per night.
4 to 8 pax     US$ 78 to 148  P/p per night
9 to 14 pax.  US$ 75 to 135 P/p per night.
15 to 20 and above US$ 60 to 110 P/p per night
Single supplement US$ 40 to 70 per night.
Note: The itinerary and cost for Peak climbing, Mountaineering, Tibet, Bhutan and India tours and trek are conditional apply.
Notwithstanding the costs shown above, we can tailor tours to suit almost any budget. Feel free to email us for more information.

Note: One tour leader will be free of cost for tours with 15 or more paying guests only. 

Children's bellow three years is free if sharing with their parents. And need to pay if they are participating on the trekking, and above three to nine year children half of the price.

Cost Includes: Accommodation in 3 to 4 star hotels in the cites as your choice, basic accommodation in a lodge or tea house or camping (depending on your itinerary and choice) during treks, guides and porters on treks, all land transfers by private vehicle, 3 meals a day on treks, all jungle safaris, all sightseeing tours as per itinerary and all necessary entry fees, permits and airport transfers.

Cost Excludes: Personal expenses, domestic air tickets, airport tax, drinks (soft drink, mineral water and alcoholic beverages and hot-shower on the trek), personal insurance, and extra cost due to natural calamities or accidents outside of our control.
Remarks: The cost of the trip determines with the services included during the trip so that it might be varies with the services, hotel and transfer of your wish.
Please note that our guides speak the following English languages and if required we will provide your language spiking guide on extra cost.
Note:
Please contact
exploretrek@wlink.com.np
for more information and prices
Translate
Contact Information:
Alpine Explore Nepal
P.O. Box: 4546, Kathmandu, Nepal
+977 1 4700714 / 4700175 / 4701974
Fax: +977 -1 - 4700970
Email: info@traveltrek.asia
sales@traveltrek.asia
Skype Address: explore.alpine
MSN Messanger: explorealpine
Yahoo Messanger:explorealpine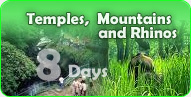 Our Guest Says
SteveAnyon-Smith
18 April 2000

This was my third trek in Nepal, having visited the Annapurna Region in 1995 and with Bharat and Dave in the beautiful and wildlife-filled Langstang Valley in1998. Bharat's company "Explore Alpine Adventure"....