Client's Feedback
Here is what some of the people who have been on our treks have written

Please write your experience, we will publish your feedback/testimonial in this webpage within 24 hours.

Marit Husdal
E-mail: mhusdal@gmail.com
Country: Norway

Langtang Goisainkunda trek
Comments: Home again after 10 wonderful days in Langtang! Driving from Katmandu to Syabru Benzi the first day, started the trek next morning up to Lama Hotel through the forest. Various nature, springtime and the rhododendron had just started blooming. From Lama Hotel we continued up to Langtang Village, on the way the high peaks appeared, a mighty wiev. Then two nights in Kyanjin Gompa,(3800 m) sleeping in a very nice hotel. Visited a monastery there, and we were climbing up to Chari Khuri 4900m. A beatyful, sunny day with a spectactular wiew of the hight Langtang peaks. So we returned backt to Lama and then Thulo Syabru(best hot shower ever at the \"pink hotel\") Afeter that up to Lauribinyak for so to explore the holy Goisainkunda Lake. A lot of snow up there and the lake was covered with ice. Beatyful day! So turning back, and ended the trek at Dhunche when the driver was waiting. I had an very excellent guide with a lot of knowledge, and a porter. To travel alone was not a problem. The hotels are nice, good food and very nice personal. In the evening the gusets were sitting by the fireplace like a big family. Every morning I was served strong, black moringcoffe by the guide, very nice. Clear wheather every morning, sometimes cold night. Bring a good sleepingbag, and remember a very high sun-factor. I should like to repeat this trek, and continue a little longer. A lot of thanks to Alpine Explore Nepal ( I will always use this agency)for organizing this fantastic and unforgetable trip, and to my excellent guide!

--------------------------------------- ---------------------------------- ---------------------------------------

Torunn Michaelsen and Brith-Elin Hansen
E-mail: torunmic@online.no
Country: Norway

Program: Tour of Nepal October 2013
We were 3 friends leaving Oslo on the 8th of October. Two of us had never been in Nepal before. Arriving in Kathmandu we were met by staff from Alpine Explorer Nepal and they took very well care of us all the way which we appreciated a lot. The first two days we were on interesting guided tours of Kathmandu, Bhaktapur and Patan City. Then we drove to Country Paradise Resort in Dhading where we spent two nights. Driving up the steep hill, Country Paradise Resort proved to be a beauty spot on the top with a panoramic view of the Himalayan Mountains. But what we really looked forward to was the 5 days of trekking in the Annapurna region. Only Brith-Elin and I went on the trek. We are both senior citizens. The trek itself was a real challenge at times, especially with all the stairs going up and down. But we also walked through small gurung villages, on narrow paths along the mountain sides where we enjoyed scenic surroundings. We enjoyed the waterfalls, the rivers, crossing the suspension bridges and the wild life in the forests. We met a culture so different from our own and we learned something about the gurung people living and working on their farms in the mountains. We witnessed them carrying all their products and goods on their backs up and down the mountains on countless stairs and narrow paths. The accomodation in the lodges were decent and clean. The food we got was tasty and healthy and we appreciated that we could choose what we wanted from the menue. The hot springs on our last night in the region was an unusual experience and a real treat. We had pouring rain the first two days so we missed the great view from Poon Hill early in the morning, but on the third morning when it eventually cleared up we had a fantastic view of Annapurna South when she appeared from the clouds. We all ran out to take pictures. The last days of the trek we mostly enjoyed good weather, but some of the snow-capped mountains were covered with fog. Therefore we are happy that we had been on a marvellous mountain flight from Kathmandu With Buddha air flying along magnificent mountain peaks including Mt. Everest. The hotels we stayed in on the tour in Kathmandu, Phokara and Chitwan had good standard. At the end of the tour we spent two days before returing to Norway in Chitwan National Park. We rode on elephants, walked and drove through the jungle and sailed on the river looking for wild animals. Here we could enjoy the silence and the beauty of the jungle and relax after the trek. Our tour of Nepal from the start in Oslo and until we were back went smoothly. We will always remember the kind, helpful and friendly people we met, Bharat and his team, our guide in Kathmandu, Bimita, the porters and our guide, Subash who helped and supported us all the way. They say that trekking once is not enough, and I do agree. I will definitely go on another trekking amongst the most amazing mountains in the world. This was an experience of a lifetime. Thank you all for caring and sharing I can 110% recommend Alpine Explore Nepal for all the tourist who like to travel in Asia. - Torunn Michaelsen and Brith-Elin Hansen

--------------------------------------- ---------------------------------- ---------------------------------------
Jofrid and Per Haanes
p-arnh@online.no
Norway

Nepal Trip
Dear Bharat and Nirmala! Thank you so much for your help when we visited Nepal this year. Now we have been back in Norway for some time and we often think about our stay in Nepal. It was like a dream from the beginning to the end of our trip. When we was there, we had to nip our skin to release that it was real - and not a dream! Every day we saw new places and every day was quite a new and exciting journey. The people was so nice and friendly. And we felt so safe and taken care of, that it was a real pleasure, much thanks to you, Bharat, for your help with cars and drivers and all the arrangments, and your brother, Puru, was so clever and so interesting to listen to, He explained what we saw and experienced, and therefore we had a great benefit ot the daily trips. We had to be explained what we saw to understand a little bit of the religion and the culture. We wish also to send our thanks to Nirmala for helping us buying scarfs and other things. Jofrid had a great regret when she came home and all the shooping with nirmala- , she hadn't bought enough, but thanks to you, Nirmala, now she can sleep well and think it's ok. And now we have got the scarfs, and it was quite right. So thank you again, Nirmala, it was so nice! Thank you again, Bharat we will recomend Alpine Explore Nepal strongly to our all the friends. Jofrid and Per Haaness, Norway

--------------------------------------- ---------------------------------- ---------------------------------------

Mette Eltvik
mette.eltvik@ntnu.no
Norway

Nepal Trip 2010
Namaste Bharat, Kristine and I are now back in Norway, safe and a bit tired. The flights were on schedule and we got good food and service. It has been a great trip for both of us in Nepal! Trekking in Annapurna region was a most fantastic experience, a perfect place for recreation. Now our souls are peaceful ï Š Thanks for arranging our trip we are so happy of your service and everything your company provided and taking us out for dinner on last night that was a good ending of a nice stay. We will definitely come back to Nepal! And we strongly recommend your company. Mette Eltvik PhD Student

--------------------------------------- ---------------------------------- ---------------------------------------

Jan Roger HÃanes
jan.roger.hAanes@no.pwc.com
Norway

Several trips and local guiding
We have had the great opportunity to stay in Kathmandu for several months from July 10 – November 10, and the most important contact we had before arriving to Kathmandu turned out to be the name of Alpine Explore Nepal and the friendly and skilful leader Bharat and his staff. We are very pleased with all the help we have received from Bharat and his team during our stay. They have arranged several trips to different locations like in Nepal, Chitwan, Phokara and all other major sights in the Kathmandu valley and India tour- Bhutan and China. The in-depth knowledge of all the sights and country, the relevant historical and cultural information given to us, made all trips to unforgettable memories! Further, we have to give the Bharat and his team the very best rating regarding how to arrange the trips the best way to suit our needs in respect of travelling and accommodation. We will strongly recommend everybody to use the services provided by Alpine Explore Nepal. We will surely be back!

--------------------------------------- ---------------------------------- ---------------------------------------

peter greg
gregp@online.de
Germany

LHASA AND Mt. Kailas Trek, TIBET 2008
"It was really nice to have my questions answered so promptly by Bharat Regmi himself. The food was incredible by prepared by the staffs, the transportation were excellent (I smile saying this, but considering the challenging road conditions, both the drivers and the vehicles were excellent). The team leader to Tibet was calm presence no matter what the situation and his patience answering so many questions about Buddhism etc. made him really nice to be around. He is a wonderful guide I do highly recommend Alpine Explore Nepal and Explore Alpine is one of the best services providing company, this is my third time bought the tours in Asia.

--------------------------------------- ---------------------------------- ---------------------------------------

Todosichuke Rochel
todosrochel@gmail.com
Canada

India Nepal 2008
It is an amazing part of the world. We were very fortunate with the weather - only got rained once for short peried, and no illnesses/injuries (nothing major). The trip leader from alpine explore nepal was fantastic and kept a very calm presence he solved ever things as we wants. Overall I think everyone enjoyed the trip although I'm not sure if they would all do it again but I would absolutely venture there again, thanks to the agency arranging our trip smoothly.

--------------------------------------- ---------------------------------- ---------------------------------------

Allan Bowden
abowden@crowes.co.uk
Iceland

Nepal, Bhutan, Tibet tour 2009
We group of 4 took a bird watching tour through Alpine Explore Nepal, on December 2009 Nepal, Bhutan and Tibet for 28 days and show almost 508 species of birds and 38 different species mammals, It has been great experiences and well organized, very professional guides, we will be back again for some kinds of trekking in the Himalayas. We can recommend Mr. Bharat Regmi and Alpine Explore Nepal tour company it is very trustful and always good information, Alpine Explore Nepal Tours and Treks The company offers a range of wildlife holidays and natural history tours in Nepal, with very good deal bird watching and mammal tours in surrounding Indian subcontinent and Tibet, look for of as many as species amongst many other species, Ibisbill tour, trekking and botanical holidays in the Langtang Valley and Everest National Park, with views of the spectacular Himalaya, Mount Everest and the Goyko Lakes, conservation tours to Chitwan National Park and Koshi Tappu Wildlife Reserve and a deluxe wildlife holiday around the all over the Asia.

--------------------------------------- ---------------------------------- ---------------------------------------

Jean Francois
jfrancois@yahoo.com
United States

Nepal India Bhutan tour 2008
Our Nepal India and Bhutan tour organized by Alpine Explore Nepal was excellent, efficient & reliable service. The overall guides, staffs were very experienced and received the service more than we had expected. I can highly recommend this agency anyone who wish to do any trip to asia in the Himalayas !



Mitja Gleseie
mitjagleseie@alo.net.si
Slovenia

Nepal treks and climbing 2004
we group of 10 people had a very nice trekking with agency Alpine Explore Nepal Treks in Rolwaling and successfully climbed the Pacharmo peak and trekked down via Everest region Namche. The service was very efficient and reliable. All programs were prepared very sensitively; all the staffs were very helpful, experienced and courageous with good humor. And finally it was very-very nice holiday with alpine explore Nepal Treks and expedition in Nepal. Thanks to the management and specially Mr. Bharat Rgmii giving us very good information about Nepal and Mountain and good price.

--------------------------------------- ---------------------------------- ---------------------------------------

Ann-Marieay Orset
annorset@hotmail.com
Norway

Nepal Upper Musting treks
Thank you very much Bharat Regmi we all are very satisfied with the organization, the arrangement, the cost etc... Very good equipments, well catered, well managed and all the programmed were well respected. We highly recommend Apline Explore Nepal travel and trek agency for Himalayan adventure holiday in Nepal to anyone who wants to complete mountaineering activities in the Himalayas! Our Guide Puru and Sirdar and all the kitchen staffs and porters were prefect we fell proud to choose your company for our upper Mustang trekking, Thanks ones again from all of us to all the staffs and we will come back again for Upper Dolpo trek.

--------------------------------------- ---------------------------------- ---------------------------------------

Adrian Jordi and Andrea Strasky
agkelly@tcd.ie
Swaziland

Bird watching tour 2001
Birding in Nepal with Alpine Explore Adventure www.alpineexplorenepal.com Report by Andrea Strasky & Adrian Jordi, Switzerland From the 14th of february until the 8th of march 2001 we stayed in Nepal and went birding almost daily with Bharat Regmi, our guide and friend from Alpine Explore Adventure in Kathmandu. A Birder himself, Bharat knew all the sites before well and this proved to be a great advantage during our trip. We visited the Langtang National Park, Pulchowki Mountain in the Kathmandu valley and Royal Chitwan National Park in the the terai lowlands. Langtang National Park Here we trekked from lodge to lodge and first walked from Dunche via several lodges to Kjanin Gompa. Then we went back to Syabru from where we climbed up to Chandan Bari/Sing Gompa. Because of snowfall we missed some species in the higher elevations, but still found many good species. Highlights: Tibetan Partridge, Himalayan Monal, Satyr Tragopan (only found dead), Kalij Pheasant, Yellow-rumped Honeyguide, Speckled Piculet, Snow Pigeon, Upland Buzzard, Yellow-billed Blue Magpie, Plain-backed Thrush, Long-billed Thrush, Red-throated Thrush, Golden Bush-Robin, Grandala, Little Forktail, Spotted Forktail, Yellow-browed Tit, Chestnut-headed Tesia, Slender-billed Scimitar-Babbler, Black-throated Parrotbill, Alpine Accentor, Altai Accentor, Rufous-breated Accentor, Red-headed Bullfinch, White-winged Grosbeak Pulchowki Mountain We visited Pulchowki twice and also went to the nearby botanical gardens at Godaveri. Highlights: Kalij Pheasant, White-collared Blackbird, Grey-winged Blackbird, Rufous-gorgeted Flycatcher, Large Niltava, Small Niltava, Spotted Forktail, Yellow-browed Tit, Striated Bulbul, Grey-sided Laughingthrush, White-browed Shrike-Babbler, Nepal Fulvetta, Rufous-breasted Accentor Royal Chitwan Natonal Park We stayed for several days just outsite the Park at Sauraha in the Rhino Lodge. From here we explored the park on foot, by jeep, elephant and boat. Birding was much better in the park than outside. While birding on foot, we were always joined by Bharat and one or two local guides. Highlights: Red Junglefowl, Oriental Pied-Hornbill, Stork-billed Kingfisher, Blue-bearded Bee-eater, Green-billed Malkoha, Lesser Coucal, Brown Fish-Owl, Ashy Wood Pigeon, Small Pratincole, Changeable Hawk-Eagle, Laggar Falcon, Cinnamon Bittern, Black Ibis, Lesser Adjutant, Rusty-tailed Flycatcher, White-tailed Stonechat, Hill Myna, Rufous-capped Babbler, Sand Lark, Rosy Pipit, Rhinoceros, Sloth Bear, Tiger pugmarks All in all it was an excellent trip and very well organised by the very friendly Bharat Regmi from Explore Alpine Adventure. We will not only remember the birds we saw, but also the very nice montains of the Langtang area and our guide Bharat.

--------------------------------------- ---------------------------------- ---------------------------------------

Mary Huber
maryhuber@gmail.com
United Kingdom

Nepal Tibet 2008
It was really nice to have my questions answered so promptly by Bharat Regmi. The food was incredible on the trip, the transportation excellent (I smile saying this, but considering the challenging road conditions, both the drivers and the vehicles WERE excellent). Our group leader, Mr Mark and Nepali leader was amazing. His calm presence no matter what the situation and his patience answering so many questions about Buddhism etc. made both of them really nice to be around. Bharat is a wonderful guide!" We will come back again Thank you.

--------------------------------------- ---------------------------------- ---------------------------------------

Anna Marie
annamari@gmail.com
Norway

Nepal Tour 2009
I had a fabulous trip. The guide was wonderful--well educated in government, history etc. Not one thing went wrong. Hopefully I'll pass on some business to you and your company in the future." ones again thank you very much Bharat assist to arrange our trip in Nepal.

--------------------------------------- ---------------------------------- ---------------------------------------

Betty Gleason
bettygle@yahoo.com
United States

Tibet Tour 2009
"It was the most magical magnificent trip I ever took!! Also the hardest!"

--------------------------------------- ---------------------------------- ---------------------------------------

Traveldiary from trekking in Himalaya:
WILD MOUNTAINS AND FRIENDLY PEOPLE
Trips to Varingskollen and Rundkollen (hills in our neighbourhood in Nittedal) was the foundation for the challenges waiting for me this autumn.  Himalaya!
The walking-group in Nittedaljoggen (local sportsclub) gave me also good exercise.  The leader arranged a special "elevationprogramme" for me, we were panting up every hill around Sørli. (Sørli is my village).
This autumn I left for Kathmandu in Nepal together with three other women.  The group consisted of Kjersti – my daughter, 32 years old, her friend Randi at same age, Eva 66 years old, and me 62 years old.  We were all ready for the great adventure, a trekking throught Annapurna-massive in Himalaya.
Saturday, 3.10.  We left Kathmandu together with our guide Puru and the porters, Chandra and Uttam, all of them from the travelagency in Kathmandu.  After 5 hours driving we arrived Besisahar, the startingpoint for the trekking.  The track follows the river Marsyangdi through a valley north and west through the Annapurna.  We started about 700 m, and in the next 11 days we should elevate up to the worlds biggest mountainpass, Thorung La, 5416 m.  The very special with this route is that we all the time follow the many centennial old  thoroughfare between Nepal, the old kingdom Upper Mustang and Tibet.  We should walk through villages and meet people living here.  As a supplement to the experience of the nature, we should also get an insight in other cultures and see how people are living under other conditions.
Eva got a push
Sunday, 4.10.  We slept in the village Bhulbule.  Eva and I shared room, Randi and Kjersti an other.  Good beds with foamrubber-madrasses – we brought with us sleepingbags.  After a nice trip we reached the next place to sleep.  We ate dinner outside in the sunshine.  We could choose among several vegetarmeals and soups.  Kjersti and Randi choosed as usual Dal Bhat, the national meal in Nepal.  The meal consists of rice, a soup of lentils and a bowl of vegetables. 
Monday, 5.10. Oatporridge and omelet for breakfast, and after that out on the path again.  To day we were meeting caravanes with buffalos and mules, filled up with goods.  Suddenly Eva got a push from a buffalo.  Puru was quickly there and got her up again.  We got instructions to let the animals get room enough when the are passing us, preferably on the outside.  Higher up we will meet yaks, and then it is important to take care.
Bad weather and misfortune
Tuesday, 6.10.  It was raining, it was not normal for this periode of the year.  We were passing a big area of landslide.  Large masses of stones had few years ago burried several houses and many people had died.  When we went down a steep stairs of stones, Kjersti slided and hit her tail-bone.  The pains made it difficult to walk, but willpower and humour helped her to continue.  When we came to the next place to sleep, Puru wanted to prevent further accidents.  The steep wooden stairs to our rooms was very slippery, and he got some wood and nailed a piece of wood on every step, so we not should slide down the stairs!
Wednesday, 7.10.  More rain, extreme rainfall.  Not possible to continue, the flood had taken away the bridge we should cross!
More steep hills
Thursday, 8.10.  The rain has stopped.  Kjersti had prophesied that a new bridge should be fixed just when the rain stopped, everyone here was dependent on the path going through the valley, here is all the traffic of goods and people going on.  And Kjersti was right.  As soon as the rain stopped, volunteers with simple tools were going out for work.  They cut down threes and made a new bridge over the rapid river.  A policeman inspected the work, and allready early in the morning the new bridge was sanctioned.
The hills became more steep and the view more fantastic.  We passed 2469 m and we told Puru that we just now was at the same level as the highest mountain in Norway. 
But more clouds were coming on the sky, and soon the rain was falling again!
Puru was a little anxious about the accomplishing of our trekking.  The rain falling down here in the "lowland" fells as snow higher up in the mountains.  We met people who had returned from the pass.  They had given up to cross the pass because of snow.  If the rain not stopped immediately, it could be problems also for us!
Friday, 9.10.  Bright sunshine and the giants among us really show their beauty!  Wonderful trip up the valley.  Warm weather in the morning and forenoon, but cold wind when we arrived Pisang.  We got rooms a place there where no one to cook, but it was no problem.
The materials was in the kitchen and Puru made food for us!
Saturday, 10.10. Walking through pinewood and fantastic view to Annapurna II, 7939 m and Annapurna III, 7555 m.  Further to Manang, but no room was available.  Puru ran up to next village and found rooms for us by a nice woman in Tengu.  We had a very good stay in Tengu.  We were sitting outside with a cold beer, looking on the sunset over Gangapurna, 7454 m.  We got hot water to take a wash, and all four of us arranged on a line, Puru started to wash our hear!
In the evening we were invited to come into the private room.  We were sitting by the stove while Didi made vegetablesoup for us.  Didi means "sister" and is a petname for kind woman, an expression that you gladly will include her in your family.
We feel the height
Sunday, 11.10.  Before we said goodbye to Didi she gave us prayersharfs, it means "good luck".  We could really need good luck, just now when we came closer to the pass!
We arrived 4250 m, and got rooms in "Snowland Hotel".  It was cold, both out and inside.  Kjersti and Randi felt a kind of pressure on the head.  Was it mountain-illness?  Just in case we took two tablettes.  Mountain-illness could be dangerous if you not take care of the signals.  If you have headache and feel sick, you should go down some hundred meters and use more time to acclimatize.  Mountain-illness can involve loss of coordination and  death.
In average two persons dies every year on the way over the pass we soon should cross.
Most people get symptomes of mountain-illness.  The body is working to tacle the new conditions.  We lost the apetite completely.  We had problems to sleep, and the heart was beating a little extra.
Monday, 12.10.  We should elevate up 600 m to High Camp, the last place to sleep before the pass.  Puru ran forward to get room for us, it is only a few rooms for rent here.  He managed to get two good rooms, but Puru himself and our porters had to sleep in a sleeping hall, and there were not carpets enough for all…
Over the pass
Tuesday, 13.10.  Up 4 o'clock in the morning.  No breakfast, but we tried to eat a little bisquit.  About 10 minus degrades and dark outside, only the stars and the moon was shining on huge, white mountains.  We should elevate up the last 600 m to the pass, Thorung La, the highest point of our trek, 5416 m.  We used long time, 20 steps and then taking a break.  To get more oxygen, we were walking with open mouth.
And so we were on the top – in the same time as the sun break through and we got a fantastic view over the mountains.  On the other side the view of the enormous mountain, Dhalagiri, 8167, came up.  We could look to the tibetan plateau and the old kingdom of Upper Mustang, which has been a closed area until few years ago.
We were very happy to reach our goal and took several photos before we started stepping down 1700 m to the town Muktinath, with holy sources and a beautyful temple. 
We ended our trekking and drove further with a jeep to Jomsom.  In Jomsom we had our last meal with Chandra and Uttam.  From Jomsom we took a little plane along all the big mountains we had been walking along, to the city Pokhara, south for the Himalaya mountains.
In Pokhara we said goodbye to Puru, our companion and always helping man.  He led us over troubled water, helt our hand if we needed support and told us about his country and his people.  He was only 29 years old, but had so much wisdom and so many good human values and attitudes.  We wished him good luck, and we hope the best for him, our kind porters and for the hard working and friendly people in Nepal.
Facts about travel in Himalaya
The best periods for mountaintrekking in Himalaya is oct./nov. and march/april.
We used to start about 8.00 o'clock and arrived about 15.00 o'clock in the afternoon. 
We used a travelagency in Kathmandu:  Explore Alpine Adventure Ltd.  www.explorealpinenepal.com
We used Gulf Air, tur-retur London-Kathmandu, 7000,- Nkr.
For trekking we paid about 300 Nkr per person per day.   The price included place to sleep, food, guide and porters.  In addition we paid for water, other things to drink and for the stay in Kathmandu.
--------------------------------------- ---------------------------------- ---------------------------------------

SteveAnyon-Smith
18 April 2000

This was my third trek in Nepal, having visited the Annapurna Region in 1995 and with Bharat and Dave in the beautiful and wildlife-filled Langstang Valley in1998. Bharat's company "Explore Alpine Adventure" specialises in wildlife watching treks and tours in Nepal, Tibet and Bhutan. The company is active in the area of conservation. In Langtang National Park he has been successful in having action taken against those who were flagrantly abusing park regulations with respect to the killing of wildlife. Bharat has set up the "Nalang Bird Watching Club" in his native village to educate schoolchildren and others on the importance of preserving habitat for the local bird and animal life.

--------------------------------------- ---------------------------------- ---------------------------------------

Reg Clark
11 Carmen St
St Ives NSW 2075
Australia
regclark@zip.com.au

For me this was the trip of a lifetime---- something I have always wanted to do and now had the opportunity. We arranged a very comprehensive and economical itinerary through a Nepalese firm called Explore Alpine Adventure (P) Ltd in Kathmandu. It ran for a period of 28 days and was to take us from Kathmandu to Hetauda, Koshi Tappu Wetlands then west to Royal Bardia NP, up to Pokhara and Guleriya thence to Royal Chitwan and eventually back to Kathmandu, spending varying periods fully accommodated, in each of these places. Our transport whilst covering the ground varied from our regular 12 seater bus to dugout canoes, 4x4 sedans, elephants boats, jeeps and much footwork.

We moved from snow at Pulchowki to the dust of the Nepal Terai along andeven over the Indian border looking for birds. We used roads which writhed like snakes many hundreds of feet above rushing green rivers driving under road and traffic conditions which still gives me white knuckles when I think of it.

Our guide and mentor was Bharat Regmi who was the right man in the right Job, an excellent birder and a great organizer to whom nothing was too much Trouble. He showed us his country which is amongst the ten poorest in the world and yet was full of variety and interest. Birding-wise I am not the best qualified to comment except to say that I saw many things I had only read about Woodpeckers, Hornbills, Wallcreepers, Dippers, Ibisbills,Floricans etc. These were only highlights of the total of 345 species we saw/ The mammals were also present , I saw Gangetic Dolphins, Crocodiles, a Python, Leopard, Bison, Rhinos and magnificent stags with heads like Christmas Trees.

For all this bounty I would like to thank Bharat Regmi, guide and organiser extraordinaire.

--------------------------------------- ---------------------------------- ---------------------------------------

Matej Meglic
Trzic
Slovinia
2004

I came to Nepal in September 2004, to climb the mountain Dorjelakpa along with 6 of my Slovinian friends. It was a 45 day expedition, fully organised by Explore Alpine Adventure. They do for you what your heart desires. Really they do. The whole expedition was very well planned by them:good cookers, good sherpers, very strong porters, we were guided through interesting moutain paths .

--------------------------------------- ---------------------------------- ---------------------------------------

Sugata

Sugata must be our oldest client. He celebrated both his 90th and 92nd birthday on our Annapurna trek. You can read his story, in fact his book ( www.sugata.info ). He just keeps coming back.

Now living in Norway, he's been coming to Nepal since he was ordained a Therevada monk in Swayanbhunat in 1956.

--------------------------------------- ---------------------------------- ---------------------------------------

Report of Bird Observations for Period of 11/9/01 to 24/9/01 in the Langtang Valley of Nepal.

B. Regmi, C. Yates, M. Fletcher, J. Keating

We would like to report on a recent 14 day bird watching trek of the Langtang Valley of Nepal. Our group of 4 was led by the well-known bird watching tour guide, Bharat Regmi of Explore Alpine Adventure Tours, the other three members of the group being amateur bird observers from Australia.

Our walk started at Dhunche (1,950 m) and followed the Langtang Valley to Kyanjin Gompa (3,800 m) where we spent two days climbing both to the top of Yalla Peak (5,540 m) and to the bottom of the South Langtang Ri Glacier (5,000 m). We then returned to Dhunche via the Gosainkund Lakes (4,370 m).

Over the 14 day period we sighted over 159 species of birds

Our most significant sightings included:
the Nepal Wren Babbler (Pnoepyga immaculatta),
a group of over 20 Snow Partridge (Lerwa lerwa) on Yalla Peak;
a group of 4 Tibetan Snowcock (Tetraogallus tibetanus);
10 Himalayan Snowcock (Tetraogallus himalayensis) at Sin Gompa (3,500 m);
a group of 4 Satyr Tragopan (Tragopan satyra);
a flock of Mountain Imperial Pigeon (Ducula badia) - this is believed to be the first record of these birds above 3,048 m (at Ghoda Tabala);
more than 20 Ibisbill (Ibidorhyncha struthersii) on the Langtang Khola below Kyanjin Gompa (3,800 m);
a Large Niltava (Niltava grandis);
a black backed Forked Tail (Enicerus immaculatus ) an unusual record above 2,100 m (at Tholo Syabru),
a group of 3 Black-headed Bunting ( Emberiza melanocephala), most probably the first record above an elevation of 2,050 m (at Syabru);
a Wood Snipe (Gallinago nemoicola), and;
the Yellow-Rumped Honeyguide (Indicator axnthonotus).
Other species of personal interest included:

The Himalayan Monal, Klij Phesant, the Black-throated Parrotbill, the Alpine Swift, a Snow Pigeon, the Rock Pigeon, the Lammergeier, Eurasian Sparrowhawk, the Common Buzzard, the Oriental Honey-buzzard, the Yellow-billed Blue Magpie, 4 species of Minivert (all in the same area of bush!), the Brown Dipper, the Golden Bush-robin, the Spotted Forktail, Hodgson's Bushchat, the White-tailed Nuthatch, the Rusty-flanked Treecreeper, 6 species of tit, the Rusty-cheeked Scimitar-Babbler, 4 species of Accentor, 5 species of Rosefinch (male and female) and several male Yellow-breasted Greenfinch.

A good time was had by all!

Chris Yates and Michelle Fletcher
Email: yatesin@space.com
Ph : 0249 731443
Address: 7 Henry Rd Morisset Park, NSW Australia, 2259

Jillian Keating
Email: Jill_Keating@hotmail.com
Ph : 0242 283070
Address: 5 Robsons Rd Keiraville, NSW Australia, 2500

Bharat Regmi
Email: exploretrek@wlink.com.np
Website: http://www.explorealpinenepal.com
Ph : 00977-1-4700714/4700175
Address: Explore Alpine Adventure, Kathmandu, Nepal

--------------------------------------- ---------------------------------- ---------------------------------------

Birdwatching Trek to Rara Lake
6 March to 17 March 2000

Bharat Regmi – Kathmandu, Nepal
Steve Anyon-Smith – Sydney, Australia
Dave Sheils – Sydney, Australia
Barry Virtue – Berry, Australia
+ 13 Nepalese support staff

Getting to Rara National Park

First, you have to get to Jumla.....

Bharat and his company Explore Alpine Adventure P. L. organised all the logistics. How, I can only wonder.

Barry, Dave Bharat and I flew from KTM to Nepalgunj (Necon Air – very good) and from there chartered a Yeti Airlines plane to Jumla. Accompanying us were the trek cook and his assistant who had caught the bus from KTM to Nepalgunj with our fresh food. The rest of the food, equipment, porters and other staff had travelled by bus to Surkhet from KTM and walked to Jumla (6 days). Two local guides/porters were hired in Jumla for half of the trek. We all meet on the afternoon of March 7 in Jumla. Jumla is is known to be a difficult town in which to find fresh food, guides or just about anything else. Nothing we saw or experienced has changed that notion.

The route we took to Rara is unlikely to be followed as the trail(s) is/are not very well travelled. We took the latest maps available in KTM and these were of some use, as were the local guides. We still took a few wrong turns. In 1999 148 trekkers made it to Rara. Some may be still out there! We took a path known as the "high route". I'm still not sure what this means as the "low route" was just as high. Don't even bother asking how we returned. Suffice to say that with the weather the way it was (see below) we couldn't take any "well travelled" route but relied on the continual advice from locals. As it turned out we visited villages that had not seen any foreign visitors before (ever). We were surprise to learn this, but the remoteness of this region cannot be over-emphasised. Don't get seriously sick!!

The Trek

Despite the lack of high peaks the trek is quite strenuous. There are few gentle grades. Mostly it is steep unmade paths or swithbacks and no "steps". The paths are not inherently dangerous, but were made so by ice and snow in some sections. Some high passes on the route were closed and had to be avoided. There are no lodges that you would call habitable, and other than Nepali tea, no food is available. Campsites are fairly numerous but long sections are too steep or have no water for sites. Most of the trek is in forest but much of it has been degraded by the activities of the local people, sometimes depressingly so.

--------------------------------------- ---------------------------------- ---------------------------------------

March, 2003

Just when you think that you have done everything, seen everything, and been everywhere, then you arrive on the Indian sub-continent and find yourself experiencing extreme cultural shock. Words cannot express what your senses experienced there, the sights, the sounds, and the smells. The land seems to be caught in a time warp spanning from the ancient times to the present, and you are, at the same time, both delighted and appalled by it all.

Nevertheless, after spending nearly six weeks in India and Nepal, we would have to say that we had one of the greatest adventures of a lifetime. It's probably more accurate to say many adventures since our trip was a series of eventful happenings as we wandered across northern Indian into the tiny country of Nepal.

In India we wasted little time traveling since most of our movements were done during the night while we tried to sleep on the train's sleeping car. After arriving in New Delhi our first sleeping car experience took us to Ranthambore National Park, the one area where one is most likely to see a tiger during the daytime. We saw no tiger but we did see signs of his presence, and many other mammals and birds. Our next train trip took us to the wet lands of Bharatpur, one of the world's most famous bird sanctuaries. Unfortunately, for us a drought had dried up a lot of the national park; nevertheless, we observed a multitude of our feathered friends in the several days that we were there. From Bharatpur we traveled to Agra where we took a boat ride on the Chambal River in the morning to view the Ganges dolphin, mugger and gharial crocodile, and birds. In the afternoon we were pleased to visit and experience one of the world's great works of art- the Taj Mahal.

From Agra another long overnight trip took us north of New Delhi to Nainital and Pangot, communities nestled in the foothills of the Himalayan Mountains, where we saw a wide range of mountain birds and braved cold, unheated nights. A short drive from Nainital took us to Corbett National Park. During our stay there we survived one of nature's furies. For two days a torrential downpour virtually washed us out of Corbett. We were lucky to get out of the park as drivers and guides had to literally rebuild washed away sections. Going out was like being in a kitchen blender. Yet, there was a silver lining in that terrible storm. When we reached Dhikala, deep in side the park, the storm relented for about 45 minutes. This allowed us time to climb the watchtower. After descending the tower we walked around and suddenly our guide called "tiger". We looked out through the tall grass and could not see anything. Yet we did observe monkeys high in a tree all looking down at the same spot in the grass. Nancy got our spotting telescope and trained it on that area of grass and looking through the scope one could make out the face of a tiger. This glimpse of what our guide said was a female tiger was all we got and we were delighted to have it. The next day our driver spotted a mountain goat, the common goral. Our last overnight train ride took us back to New Delhi where we birded for a day and then caught our connecting flight to Nepal.

Nepal is a Lilliputian kingdom that forms a buffer zone between the giants of India and China. From these two areas (the Sino-Tibetian plateau and the Indo-Aryan plains) cultures have mixed for centuries producing people who seem to be less frantic and more serene then those of its neighbors. Nepal was a welcome respite from our hectic days in Northern India. We did not find Shangri-La there, but we did come away convinced that somewhere in that kingdom it must exist.

Royal Chitwan National Park, and back to the capital. Kathmandu's valley is highly polluted; yet the hills surrounding the capital have abundant wild life. On our way to Pokhara we stopped by the river and found four ibisbills, birds that we were eager to see as they represented to us one of the quintessential birds of Asia. The resort city of Pokhara is on one lake and near others. On the lakes and hills surrounding the city we saw some uncommon birds (i.e. Blyth's kingfisher, blue-eared kingfisher) and on the bank of a lake a Eurasian otter. Our mammal bonanza came down in Royal Chitwan National Park where one-horned rhino were legion (one allowed us to approach with in 15 meters--of course, we had the protection of being on an elephant!). Sloth bear were plentiful (we saw a huge male and a female with a cub on its back). Deer were abundant, sambar, chital, muntjac, and hog. Water buffalo were present and probably our best sighting was a gaur, the largest of the bovine family.

In Nepal in an area about as large as Maricopa County, Arizona we saw 325 birds and in northern Indian we saw 340 birds. Summed together we viewed 440 some birds on the sub-continent. However, we only sampled a small part of this area. Hopefully, we can return to experience Goa, Southern India, and Sri Lanka. Bharat has persuaded us that in spite of the liabilities of six decades and a few extra pounds that we should essay the Langtung trek. It would be great to accomplish this so we have promised to return.


Larry

--------------------------------------- ---------------------------------- ---------------------------------------

90th Birthday at Muktinath Sugata, aged 90, treks from Muktinath to Pokhara and a home for the Chhairo Gompa photographs

'How old is he?'
'Nabbe' (90)
'Nabbe! Is she is daughter?'
'Sita' (friend)
'Sita!'

If I had a rupee for every time some one asked us or Saligrame our porter/guide these questions we'd have been kept in apple pie for our 20 days on the mountains. We even devised a T shirt:

'I am 90, please, no questions, no tiger balm, no hashish, no problem'. The questions started from the beginning and in a way we never tired of them – honest and direct, they caused a smile of amazement, accomplishment or disbelief. And that 90 was one of the reasons we were here, to celebrate Sugata's birthday in the Himalayas.

There was another reason. Sugata first came to Nepal in 1954, and to these mountains in 1960 and in writing his life story, we were remembering and re-living these times. Little did we know that we would find an inspiring solution to a 1960 loose end.

In 1954 Sugata travelled overland from Sweden, then his home, to India and from there to Nepal were he became a Buddhist monk of the Theravada tradition in Ananda Kuti, Swayambhunath, Kathmandu. He was as much an object of interest then being the only white skinned monk as he was in the mountains 2001 aged 90. Already a monk with a difference, he had a further trademark of 3 Leica cameras hanging around his neck, and because of this attracted the attention of a certain Sam Sherchan, a merchant from Tukuche who invited this perfect combination of a monk and a photographer to accompany him in up to Tukuche to photograph what is sometimes called 'Devil Dancing' or more correctly Sha Na, or Black Hat. These were Buddhist celebrations that took place every November to reinact with elaborate dance and dramatic masks the victory of good over evil.

In November 1960 Sugata travelled with Sam Sherchan from Pokhara to Tukuche, part in a bamboo basket on the back of a porter (he was recovering from blood poisoning in his leg), part on a mule, (that died in Ulleri) and finally on foot. It took 3 months there and back.

In 2001 we took the aeroplane from Pokhara airport (which was no longer a meadow full of cows that had to be herded away) to Jomson. We went first uphill to Muktinath, where we were amongst fellow eccentrics like bare footed Sadhus of indeterminate age, and perhaps because of this the questions began slowly, but I leant the vocabulary, the words nube and 'sati'. I, the 'sati', am exactly Sugata's age when he first arrived in Nepal, 43, and from the start I enjoy the pace we travel at, it suits me fine: off at 7, walking no more than 6 hours a day and with frequent stops for Nepali chai and its antidote apple pie.

Chhairo Gompa

Just after Marpha we crossed the bridge to the Tibetan Refugee camp in Chhairo where an unusual grove of tall evergreen deodar trees gave shade and protection from the wind whipping up the Kali Gandaki (as it does) to an isolated settlement of 200 Tibetan refugees, and a substantial and old walled Gompa.

Sugata came alone to this Gompa in 1960 and took many photographs of the ornate brass and the elegantly carved wooden Buddha figures and also the magnificent thanka wall paintings. It must have been soon after his visit all were stolen; when he came again in 1979 the empty Gompa was guarded fruitlessly by Gorkhas – the moveable contents no doubt sold.

Today the wall paintings had all but disappeared to water penetration, and only the fixed Buddha figures remained. In their faded glory they were still impressive, perhaps even more so, humanly worn as we all are with age; particularly the giant painted clay image of Padmasambhava, broken but still firmly holding the heads of greed, hate, delusion - still overcoming.

Outside Tukuche we visited another ruin, the original Tukuche Gompa where Sugata had photographed the Black Hat ceremony. In November 1960 people had travelled for days over high passes and the place was milling, the masks were taken out of their locked caskets, under the umbrella the Guru Rimpoche arrived, the dance commenced, Sugata photographed, from sun rise to sun set. Today, despite being a ruin, it is a magical place, tucked behind a hill in a protected valley, patched green with new grain shoots and apple trees, still fertile from the time the monks worked the land.

90

Sugata's birthday itself was spent mostly in the hot springs of Tatopani, where he more or less lived for 4 days. In the evening however, he ascended the stone steps to the garden of the Dhaulagiri Lodge and partook of a Tuburg beer and birthday cake under the falling clementine trees. Our courteous and friendly host, Bhuwan Gauchan invited him the next day for a feast of milk rice in memory of his 1960 journey. Then, under strict orders from Amrit Ananda, Sam Sherchan fed him milk rice for his entire 3 months expedition, turning Sugata's finger nails white but avoiding the uncertainties of local food.

When asked what had changed in the valley over the years Sugata would reply 'The ubiquitous trail of pink Chinese toilet paper is no longer around – which means there are more toilets. And there are less blisters – when I came in 1979 everyone seemed to suffer from blisters. But the mountains, they are the same, and still as awe inspiring.' The whole trek, organised by Explore Alpine Adventures (Kathmandu), was for both of us a gentle unravelling of a past as well as plenty of the here and now, in a perfect inspiring setting of great mountains.

The Chhairo Gompa circle

In the end the photographs commissioned by Sam Sharchan in 1960 were not used – the Lamas did not want to publicise their ceremonies, and like the masks the hundreds of photographs and slides lay in Sugata's boxes these many years.

Until now that is. Until we had dinner with Shashi Dhoj Tulachan, a Thanka artist, on our 2nd last evening in Kathmandu, and he told us that with a committee of others (the Kali Gandaki Foundation Trust) he is raising funds to restore the Chhairo Gompa, and yes, definitely the 1960 photographs would be extremely useful for the restoration work. It took a circuitous and fascinating route, every turn of which was a surprising adventure, to get to Shashi. We had to meet Patrick and Purna in Tukuche who first mentioned Shashi Dhoj Tulachan's interest in restoring the Gompa. We had to meet Bhuwan in Dhaulagiri lodge, Tatopani, and talk to him about the Sam Sherchan family; Bhuwan had to meet the widow of Sam Sherchan at a wedding in Kathmandu and mention Sugata's travels with her husband in 1960; Mrs San Sherchan had to be so interested to meet us she returned a day early from another wedding in Pokhara and when we met her she had to be immediately decisive enough to telephone Shashi Dhoj Tukachan. Shashi, without knowing anything about us, said we should meet immediately.

There was a touching moment when we first met Shashi. Sugata suddenly remembered a photograph from that time.

'When I came up to Tukuche,' Sugata began turning to Shashi, 'I visited a Thanka artist. He had two houses, one he used exclusively to paint in and it was little way from his family house to give him isolation and concentration. I took a photograph of him and another of him with his little son, who was just beginning to lean this old tradition. In the courtyard was a hen, and I asked if that was the hen that provided the yolk for the tempera. 'Yes' said the man, and I took a photograph of the hen as well.'

Shashi's face became more and more incredulous and finally bust in laughter.

'I was that little son,' he finally said.


Reflections in Kathmandu

I am thinking on Sugata's longevity. This morning at breakfast he had his usual petrol as he calls it – porridge, 3 eggs, 4 cups of chai and curd. There has to be more to it than nearly 80 years a fulsome vegetarian.

There is his forehead Shiva lingha, that strong horizontal line between his eye brows, that indicator of the 'will do'. 'Whatever you want you will get', said the Sadhu we met on his way up to Muktinath on the Kali Gandaki plain who sat down on a stone and gave Sugata his astrological reading. (I've watched him passing a loiterer on the Annapurna circuit, I've seen him pick up speed.) '108 will be your best year,' were the Sadhu's parting words.

But there is something more. It is his depth and serenity of enjoyment. Hours he spent in the Tatopani hot springs, 2-3-4 times a day, often returning well after dusk in torch light feeling his way up the stone steps to a beer or hot chocolate. He can sleep any where any time. Never that modern cry of 'I had a restless night', 'If I sleep in the day I cannot sleep at night'. None of that. Gone. Fast asleep. In a bed or in an Nepali bus from Pokhara to Kathmandu, over paved and unpaved roads, he sleeps. No problem.

The book about Sugata's life will hopefully be published at the end of 2001. If you are interested please contact
Rachel Kellett: Half Moon, Metfield, Suffolk, IP20 OLA,
UK. rk@lifeinplastic.com

The Kali Gandaki Foundation Trust can be contacted at kgft@unlimit.com, or www.kgft.org

Explore Alpine Adventure, PO Box 5371, Kathmandu, Nepal.
Tel 00977-1-4700714/4700175
E-mail: exploretrek@wlink.com.np
Website: http://www.explorealpinenepal.com

--------------------------------------- ---------------------------------- ---------------------------------------

Explore Alpine Adventures in Kathmandu and his email is:
exploretrek@wlink.com.np

This company is owned by three men, all Nepali, so working with them is directly benefitting the local people. We were very impressed by the fact that the amount of our fees paid to the porters were 90% rather than around 50% at many travel agencies.

Sometimes his written English is "creative", but we never had a hard time understanding him in conversation. He has written that he has just taken some tourists to his village for a stay which would be very interesting as well... to live in a local village for a couple days and see how they acutally live.

Bharat has also started a conservation project near his village. They are trying to save a piece of the forest there. 10% of all the profits from his travel agency go to funding the maintenance of this forest. Considering how minimal their monetary existance is, we find that a commenable endeavor.

We highly recommend Bharat not only because we had positive business dealing with him and his company, but because we felt we had established a good friendship. As we found out at the end of our trip, it can be very nice to have a friend looking out for you.

We know you will enjoy your travels in Nepal. Don't hesitate to give us a call if you have any other questions or just use it as an excuse to come visit us on Samish Island! Our address is:
10352 Wallen Rd, Bow, WA 98232
360-766-6657

All the best,

Thais & Howard

--------------------------------------- ---------------------------------- ---------------------------------------

Once upon a time in Nepal ………….
(Eirik's dinnerspeech at the Hotel de'l Anna Khatmandu 11.04.2007)

This is how many fairy-like stories start - - - so:
Once upon a time there were an adventurous and dedicated couple who left all their earthly possessions and went to Nepal.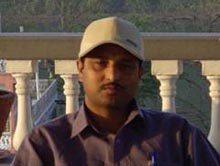 In Nepal they met with a young and aspiring countryside boy who had an inquiring mind and a burning wish to improve his – and others life – and enough guts to pay for wishfulfill-ment through hard work.

In Nepal they met with a young and aspiring countryside boy who had an inquiring mind and a burning wish to improve his – and others life – and enough guts to pay for wishfulfill-ment through hard work.
This young man met his love, got 2 wonderful children, made success in business and became a benefactor for his home village. But – he didn't forget his "family" in Norway – and when his Norwegian "parents" brought 8 of their friends to see Nepal he made up his mind
to make a fairytale
out of their stay: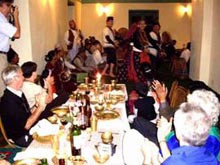 Wonderful days in Khatmandu with the first evening together with your family as the high point...........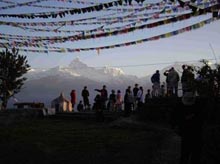 Then Pokhara and up one morning at 0430 to meet the sun and the mountains after a quick climb......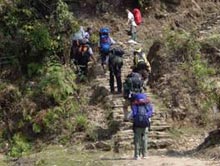 And then:
The TREK
with those wonderful singing and dancing porters..........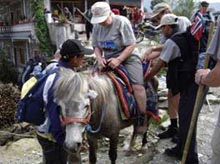 with Elin and the horse: Bruce.............
With Australian Camp and our first meal on the trek.........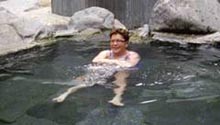 with Hot Spring and sprinkled legs...........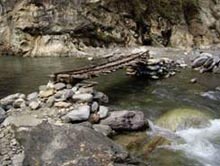 with bridge crossing on hand and knee......
with massage and a touch of Khatmandu Quick Step.......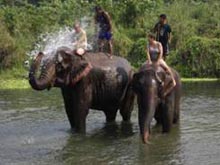 And then suddenly a new experience down in Shitwan – Elephant riding, bird watching, deers, rhinos, crocodiles, silent nights filled with bird- and animal sounds........
Wonderful housing and wonderful people – and then back to Khatmandu - with Tibet for some of us - and your home village for the rest. Everything topped by your gracious invitation to your home – and your invitation to let us feel like family. Rest assured: With a wife like Nirmala and with children like Akrisha and Anonaya we feel proud to feel like family!
We are deeply thankful to you Bharat and your family for making our stay in Nepal an everlasting fairytale!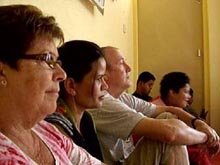 But..........
We are just as thankful to
you
Lilly and Karl Johan – you made it possible for Bharat to produce a miracle - just as we today have seen some of the fruits of your work in Nepal - making it possible for Tulsa to get her wonderful place started.
--------------------------------------- ---------------------------------- ---------------------------------------
Guest Comments with Own Handwriting
Note: Click on each comment to Enlarge.
Translate
Contact Information:
Alpine Explore Nepal
P.O. Box: 4546, Kathmandu, Nepal
+977 1 4700714 / 4700175 / 4701974
Fax: +977 -1 - 4700970
Email: info@traveltrek.asia
sales@traveltrek.asia
Skype Address: explore.alpine
MSN Messanger: explorealpine
Yahoo Messanger:explorealpine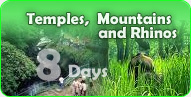 Our Guest Says
SteveAnyon-Smith
18 April 2000

This was my third trek in Nepal, having visited the Annapurna Region in 1995 and with Bharat and Dave in the beautiful and wildlife-filled Langstang Valley in1998. Bharat's company "Explore Alpine Adventure"....