Adventure & Fun:
Nepal is an obvious river-runner's paradise and offers some of the best conditions for rider-running. White water cascades from the mountains and, since some of the highest peaks in the world happen to be here, they give rise to some of the best rivers one could dream or One need not necessarily be a professional or a thrill seeker to enjoy rafting or Kayaking in Nepal. The rivers of the Kingdom offer a wide range of possibilities.

Rafting in Nepal
A river journey in an exotic foreign country is one of the most enjoyable and effective ways to experience the rural areas, observing different ways of life, culture and natural environments, and coming in to contact with village people the conventional traveler rarely gets to meet. These pleasures are complemented by an even greater thrill: running through powerful, fast-flowing rapids. The skills of our professional guides and the stability, sturdiness and buoyancy of modern self-bailing rafts, enable us to safely challenge these exciting rivers. Nowhere are these voyages of exploration and adventure better experienced than in Nepal where some of the finest white-water rivers in the world surge through a spectacular land of dramatic contrasts supporting an amazing variety of flora and fauna, interlaced with a myriad of centuries-old culture.

Nepal has many rivers for you to explore: Trishuli River (rafting for 1 up to 3 days), Seti River ( 2 days trip), Bhote Koshi River ( 2 days rafting), Kali Gandaki River ( 3  days rafting), Marshyangdi River (4 days), Sun Koshi River (7 up to 9 days rafting), Arun River ( 9 days of rafting adventure), Karnali River (10 Days of white4 water rafting), Tamur River (11 Days whitewater adventure). On these rivers you will find the world's most thrilling whitewaters with a wide range difficulties, warm water and bug free beaches for camping. All this makes a wealth of unlimited opportunities for Great River rafting and kayaking.

Paragliding
Nepal forms a rectangle on the southern slopes of the Himalaya and is without exception, the most stunning country imaginable.  The main area for paragliding is the Pokhara valley, and Dhading the center hilly area commanding views of 3 of the worlds 8000m peaks with friendly and constant conditions for your paragliding holiday.

Bungy Jump in Nepal
Nepal also has adventurous activities of Bungy jump for 160 meter tropical gorge of Bhotekoshi River, play with gravity and experience the world's biggest giant rope swing and raft in white water to challenge the nature of wild river is very much exciting and enjoyable.

Safari and Nature Lovers in Nepal
A part of Himalaya ranges and middle hills that Nepal also has tropical jungles in the Terai (lowland) parts of Nepal. These tropical jungles of the Terai preserve some of the best wildlife habitat in different national parks, wildlife reserves and conservation areas, which occupies 16% of its total geographical area. Experiencing the wildlife in the real jungle will the convincing experience. Jungle Safaris on Elephant back, nature walk or jeep rides are offered in wildlife reserve and different national park. Nepal also recognized as the best place for the bird watching where we can find more than 862 spices of birds.

Chitwan National Park, Bardiya National Park and Koshi Tappu Wildlife Reserve is located in the subtropical lowlands sub-tropical with variance of plans. It is rich in diverse habitat, diverse ecology and home for endangered animals, birds and reptiles found in the park. The most highlights are the Asian one horned rhinoceros, Royal Bengal tigers that live in the forest. A part of these lots more animals, birds and reptiles can be seen in the park. People visit there for jungle safari on elephant back, jungle walk, canoe ride and jeep safari into the park.

Bird Watching
Nepal, with nearly 10% of all the worlds bird species, is renowned for its high diversity of species, spectacular mountains and rich culture. Here you can enjoy bird watching in on e of the most beautiful places on earth.

If this is your first time bird watching in Nepal, or if you've come before, we would suggest you choose a trek with greatest bird diversity for example in our rich low land areas like Chitwan or the famous Ramsar site, Koshi Tappu. Alternatively you could explore the Alpine habitats off beaten tracks around Machhapuchhre. Ideally you could combine high with low. We have the best bird watching guides, and will take you there, and show you those birds.

Lowland Areas
The tropical forest, mostly Sal, is the richest in bird species. Second in species richness is the braodland subtropical forest, with broad leave and riverine forest, which grows beside water courses, and often comprise Alder. These climates and vegetation offer homes to from minute Plain Flower pecker to the Spot Bellied Eagle Owl.

Koshi Tappu Wildlife Reserve in south eastern Nepal is a Ramsar site. It is the largest wetland area in Nepal, draining 7 major rivers from the great Himalayan belt into the Sapta Koshi ('Seven Rivers'). You can easily see all the common wetland birds here as well as Swamp Francolin, Indian Skimmer, Black Necked Stork.

Royal Chitwan National Park is lowland valley in inner Terai. The Sapta Gandaki river drains down through diverse vegetation – grassland, riverain, Sal forest and wetland habitat. This is home to Giant Hornbill, Bengal Florican, Red Headed Trogan, Blue Eared Kingfisher, and the threatened Slinder Billed Babbler.

Royal Sukla Phanta is not so popular simply because it is far to the west – but it is famous  for seeing the Behgal Florican, Singing Boose Lark, Hodgson's Bushchat. Here, the habitat is like Chitwan, but hotter Royal Bardia National Park, in western Nepal, is another protected sanctuary, famous for Black Buck, a local endemic mamal, is home to Great Slaty Woodpecker, Jerdon's Bushchat, Rufous-bellied Eagle.

Highland Areas
You could combine bird watching with a spectacular trek, from subtropical through temperate and coniferous to Subalpine and bamboo forests. For example to explore the Alpine habitat birds in Langtang, Annapurna, Makalu, Everest, Machhapuchhre. Here you can see birds like Lammergier, Tibetan Snow Cock, Snow Finches, Himalayan Monal and Satyr Tragopan.

Choosing your Bird Watching tour to Trek
Choosing your trek depends on what you are most interested to see. It depends on what season you're traveling. Bird watching is good all the year round Nepal. In the winter birds migrate from the high Tibetan plateau, in the summer from the plains of south Asia, and there are always some permanent residents. For bird watching and trekking combined in highland areas it is best to come after migration from April, but for lowland bird watching the best months are December, January, February.

We've described dome bird watching tours and treks which can easily be taken in isolation or combined, for example lowland and highland. We hope these will combine all your interests and give you a rich flavor of our bird diversity and country. We can easily customize any tour or trek to suit your bird-needs.

The following information will allow you to better plan your budget for tours or treks. A range of costs is given. These costs are dependant on
:
The mix of Touring and/or general Trekking,
The remoteness of the areas visited,
The number of guides or porters required,
The standard of accommodation required (if there is a choice), 
The type of ground transport used,
The length of your visit, and
The size of your group.
Depending on group size the costs of treks and tours range from:
1 to 3 pax     US$ 88 to 163  P/p per night.
4 to 8 pax     US$ 78 to 148  P/p per night
9 to 14 pax.  US$ 75 to 135 P/p per night.
15 to 20 and above US$ 60 to 110 P/p per night
Single supplement US$ 40 to 70 per night.
Note: The itinerary and cost for Peak climbing, Mountaineering, Tibet, Bhutan and India tours and trek are conditional apply.
Notwithstanding the costs shown above, we can tailor tours to suit almost any budget. Feel free to email us for more information.

Note: One tour leader will be free of cost for tours with 15 or more paying guests only. 

Children's bellow three years is free if sharing with their parents. And need to pay if they are participating on the trekking, and above three to nine year children half of the price.

Cost Includes: Accommodation in 3 to 4 star hotels in the cites as your choice, basic accommodation in a lodge or tea house or camping (depending on your itinerary and choice) during treks, guides and porters on treks, all land transfers by private vehicle, 3 meals a day on treks, all jungle safaris, all sightseeing tours as per itinerary and all necessary entry fees, permits and airport transfers.

Cost Excludes: Personal expenses, domestic air tickets, airport tax, drinks (soft drink, mineral water and alcoholic beverages and hot-shower on the trek), personal insurance, and extra cost due to natural calamities or accidents outside of our control.
Remarks: The cost of the trip determines with the services included during the trip so that it might be varies with the services, hotel and transfer of your wish.
Please note that our guides speak the following English languages and if required we will provide your language spiking guide on extra cost.
Note: Please contact exploretrek@wlink.com.np for more information and prices
Translate
Contact Information:
Alpine Explore Nepal
P.O. Box: 4546, Kathmandu, Nepal
+977 1 4700714 / 4700175 / 4701974
Fax: +977 -1 - 4700970
Email: info@traveltrek.asia
sales@traveltrek.asia
Skype Address: explore.alpine
MSN Messanger: explorealpine
Yahoo Messanger:explorealpine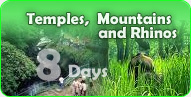 Our Guest Says
SteveAnyon-Smith
18 April 2000

This was my third trek in Nepal, having visited the Annapurna Region in 1995 and with Bharat and Dave in the beautiful and wildlife-filled Langstang Valley in1998. Bharat's company "Explore Alpine Adventure"....