Trekking in Bhutan Bumthang Cultural Trek:
11 nights / 12 days
Starting out from the splendid Bumthang valley, this three days trek passes through several villages and provides an exceptional opportunity for contact with Bumthab rural life. The valley which is wide and lush is also known worldwide for its exquisite handicraft industry. Spectacular mountain scenery, remote and dramatic monasteries and pristine Himalayan culture is all included in this beautiful trek.
Outlined Itinerary
Day 01 Arrive Paro by Druk Air.
Day 02 Hike to Taktsang monastery.
Day 03 Drive to Thimphu.
Day 04 Drive to Wangduephodrang.
Day 05 Drive to Trongsa and then to Bumthang.
Day 06 Sightseeing in Bumthang.
Day 07 Trek from Bumthang to Ngang Lhakhang.
Day 08 Trek from Nang Lhakhang to Ugyenchholing.
Day 09 Trek to Mebartsho and arrive Bumthang.
Day 10 Drive back to Wangduephodrang.
Day 11 Drive to Punakha and then to Paro.
Day 12 Transfer to airport for departure.
Detailed Itinerary
DAY 01 ARRIVE PARO BY DRUK AIR
Arrival Paro by Druk Air flight which will offer you great views of Mt. Everest, Kanchanjunga, Chomolhari, Tsrim gang and Jichu Drake. The moment you step out of the plane you will see the difference. Bhutan welcomes you with cool, clean fresh air. Peace and quietness is just another bonous. Our representatives will escort you to Kichu resort. If time prevails visit the National museum & Rinpung Dzong. 
DAY 02 HIKE TO TAKSTANG MONASTERY
To acclimatize yourself a hike to Taktsang monastery meaning a tiger's den lies at an altitude of 3000m which takes about 2/3 hours. The monastery was gutted by fire in 1998 but the remains of the structure still attract visitors. The Royal Government has taken immediate steps to restore and re-construct the old structure. Tea and snacks will be served at the cafeteria where you can gaze at this beautiful monument built during the 17th century. 
DAY 03 DRIVE TO THIMPHU
Drive to Thimphu is 2 hours and will be a pleasant one mainly due to the well maintained road through out Bhutan. Upon arrival check into Hotel Druk or River view. PM sightseeing - Visit the Memorial chorten built in the memory of the late King Jigme Dorji Wangchuck, 15 century Changangkha monastery, Motithang mini zoo to see the rare "Takin" national animal of Bhutan and drive further down with good view of the Thimphu valley. Visit the new Drupthob nunnery temple and free time in the market.
DAY 04 DRIVE TO WANGDUEPHODRANG
AM visiting the Painting school, National library, Royal goldsmith workshop and Handicraft centers. PM drives 3 hours to Wangduephodrang crossing the Dochula pass 3100 meters. On fine weather you will see the eastern Himalayan ranges including the highest mountain in Bhutan Mt.Gangar Punsum 7520 meters. The drive from the pass is all the way downhill dropping to the lower and warmer valleys of lobesa. Visit the Wangduephodrang Dzong from outside and the market area.   

DAY 05 DRIVE TO TRONGSA AND THEN TO BUMTHANG
Today the drive takes about 6 / 7 hours crossing 3 passes over 3000 meters. The route offers magnificent views of the Himalayas and beautiful landscape through scattered hamlets and forest of rhododendrons and pine. Picnic lunch will be served at the 18 century Chendebji chorten. After one and half hour arrive at a small town known as Trongsa meaning new village. The town mainly consists of fresh Tibetan refugees but the most impressive of all is the Trongsa Dzong. The whole of eastern Bhutan was controlled from this fortress during the mid 17th century. Visitors are not allowed inside the building. Proceed another 2 hours to Bumthang visiting the Chume weaving center. 
DAY 06 SIGHTSEEING IN BUMTHANG
Bumthang altitude 2600m, has an individuality that charms its visitors and separates it from other regions. Comprised of four smaller valleys, the deeply spiritual region of Bumthang is shrouded in religious legend. Here tales of Guru Padmasambhava and his re-incarnation known as Tertons still linger in most nooks and corners. It is also known for its woolen material (yathra) which can be seen hung outside of houses for sale. Sightseeing - Visit the Jakar Dzong, 7th century Jambay Lhakhang, Kurjey monastery, Tamshing and Kunchosum monastery. This sightseeing is a round trip so it is more interesting done on foot. 
DAY 07 TREK FROM BUMTHANG TO NGANG LHAKHANG
Trek starts to Ngang Lhakhang. The trail folows the Chamkhar river up stream filled with rainbow trouts. The walk is very pleasent through pine forest and you can take your time admiring the beautiful country side. Arrive camp at 3000 meters. Walking time 4/5 hours.
DAY 08 TREK FROM NGANG LHAKHANG TO UGYENCHHOLING
Ngang Lhakhang to Ugyenchholing. Climb gradually over the Phephe la pass at 3600 meters. Along the way one can enjoy the natural beauty of the surroundings. Arrive camp at 3100 meters. 

DAY 09 TREK TO MEBARTSHO AND ARRIVE BUMTHANG
Visit the Ugyenchholing dzong and drive or walk to Mebartsho. Arrive Bumthang. Overnight Lodge. The trek from Ugyenchholing can be further extended for a DAY to Ura village.
DAY 10 DRIVE BACK TO WANGDUEPHODRANG
Drive back to Wangduephodrang. 
DAY 11 DRIVE TO PUNAKHA AND THEN TO PARO
AM drive 45 minutes to Punakha and visit the Punakha Dzong which served as an old capital of Bhutan. This remarkable fortress is built between two rivers and has survived many glacial floods and fire. Every year during the month of February a procession known as the Punakha Serda takes place to commemorate the victory over the Tibetans. Proceed to Thimphu. PM drive back to Paro.
DAY 12 TRANSFER TO AIRPORT FOR DEPARTURE
Transfer to airport for final departure.

The following information will allow you to better plan your budget for tours or treks. A range of costs is given. These costs are dependant on
:
The mix of Touring and/or general Trekking,
The remoteness of the areas visited,
The number of guides or porters required,
The standard of accommodation required (if there is a choice), 
The type of ground transport used,
The length of your visit, and
The size of your group.
Depending on group size the costs of treks and tours range from:
1 to 3 pax     US$ 88 to 163  P/p per night.
4 to 8 pax     US$ 78 to 148  P/p per night
9 to 14 pax.  US$ 75 to 135 P/p per night.
15 to 20 and above US$ 60 to 110 P/p per night
Single supplement US$ 40 to 70 per night.
Note: The itinerary and cost for Peak climbing, Mountaineering, Tibet, Bhutan and India tours and trek are conditional apply.
Notwithstanding the costs shown above, we can tailor tours to suit almost any budget. Feel free to email us for more information.

Note: One tour leader will be free of cost for tours with 15 or more paying guests only. 

Children's bellow three years is free if sharing with their parents. And need to pay if they are participating on the trekking, and above three to nine year children half of the price.

Cost Includes: Accommodation in 3 to 4 star hotels in the cites as your choice, basic accommodation in a lodge or tea house or camping (depending on your itinerary and choice) during treks, guides and porters on treks, all land transfers by private vehicle, 3 meals a day on treks, all jungle safaris, all sightseeing tours as per itinerary and all necessary entry fees, permits and airport transfers.

Cost Excludes: Personal expenses, domestic air tickets, airport tax, drinks (soft drink, mineral water and alcoholic beverages and hot-shower on the trek), personal insurance, and extra cost due to natural calamities or accidents outside of our control.
Remarks: The cost of the trip determines with the services included during the trip so that it might be varies with the services, hotel and transfer of your wish.
Please note that our guides speak the following English languages and if required we will provide your language spiking guide on extra cost.
Note: Please contact exploretrek@wlink.com.np for more information and prices.
Translate
Contact Information:
Alpine Explore Nepal
P.O. Box: 4546, Kathmandu, Nepal
+977 1 4700714 / 4700175 / 4701974
Fax: +977 -1 - 4700970
Email: info@traveltrek.asia
sales@traveltrek.asia
Skype Address: explore.alpine
MSN Messanger: explorealpine
Yahoo Messanger:explorealpine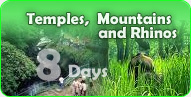 Our Guest Says
SteveAnyon-Smith
18 April 2000

This was my third trek in Nepal, having visited the Annapurna Region in 1995 and with Bharat and Dave in the beautiful and wildlife-filled Langstang Valley in1998. Bharat's company "Explore Alpine Adventure"....