Shishapangma 8012m. the 14th Highest Peak in the world :
Shishapangma is one of the very lovely mountain of China, which lies in the autonomous region called the Tibet of China, only a very few people in the world had idea about the Shishapangma before the Chinese opened Tibet to the western summiteers in 1978. The Tibetans regard it as the very holy mountain. It is the youngest mountain among the peaks situated above the height of 8000m, and there are only fourteen mountains above in the 8000m high Himalayan ranges. Till to date many climbers have succeeded to approach on its apex.
Route
The North West normal route to Shishapangma takes us up easy angled snow slopes up to 35 degrees with one steeper section. The necessary lines will be fixed and placed on the steeper or crevassed sections. Following our acclimatization in Zhangmu & Nyalam, we will arrive at the base camp (5000m) to make ready our final preparations and acclimatization walks. Yaks transport our expedition gear from Base camp 5000m, to ABC at 5,400m. Three further camps will be place en-route.
Camp 1 - 6,730m - After 6-7 hours walk we reach in camp 2 through crossing many snowy slopes by fixing ropes in the places of crevassed.
Camp 2 - 7,045m - After 5-6 hours we reach camp 3 via steep ascent leading to very gentle ground below the northwest ridge.
Camp 3 - 7,400m - From Camp 3, it takes 9-12 hours to reach on the summit. The situation of the groups/climbers' progress and the condition of the physical fitness; and also the favorable condition of the weather depends the climbing ahead.
Some times the extra additional days are also required for acclimatization at different places until climbers succeeds the summit. If the climber succeeds the mountaineering early than the scheduled tenure they may leave the base camp before the prescribed time as well.
Climbing Sherpa for Himalayan:
We facilitate highly professional, well trained and qualified climbing Sherpas for the your expeditions. Many climbers avoid Sherpa guides for the climbing, so because of this, they have been found to facing many hindrances on their way. If you take Sherpas along with you on the expedition, they are very useful in your each and every step of support, which makes your climbing easier to restore your strained energy; and it gives you vigorous strength for your next day's climbing. Most of the groups, who have gone with the Sherpa guides on the expedition, is found to be succeeded as per our past experiences. So we suggest you to operate your expeditions along with the Sherpa guides
International Shishapangma 8012 Expedition
Entry/Exit Zhangmu
Itinerary:
Day 01: Arrival Kathmandu (1350m.) and transfer to Hotel 
Day 02: Preparing Expedition/visa for Tibet (Kathmandu) 
Day 03: Preparing expedition ( Kathmandu ) 
Day 04: Drive to Kodari, Transfer to Zhangmu (2300M.) , [ Hotel ]
Day 05: Drive Nylam 3750m. Over night at , [ Hotel. ]
Day 06: Nylam rest for acclimatization
Day 07: Drive to Chinese Base camp 5000m., [ Base Camp Photo ]
Day 08: Acclimatization at Base camp
Day 09: Prepare load for Advance Base Camp
Day 10: Trek to Middle Camp  [ Middle Camp ]
Day 11: Trek to Advance Base Camp 5400m.[ ABC Photo ]
Day 12-37: Climbing Period Shishapangama [ Route Map ]
Day 38: Trek to Base Camp
Day 39: Drive Nyalam
Day 40: Drive to Zhangmu & Kathmandu
Day 41: Kathmandu
Day 42: Final Departure
Cost includes:
5 nights accommodation in Kathmandu with bed & breakfast (3 star hotel).
Expert professional Nepalese expedition crews like Cook, Kitchen boy,
ABC guide and mountaineering gears till to the ABC are provided; and our crews get all expedition facilities from our office itself.
Tibet visa & Travel Permit for the expedition crew
Full board hotel in route to Tibet side Zhangmu, Nyalam (bed- breakfast, Lunch, dinner)
Base Camp - Advance Base Camp 1 tent for 1 person (North Face brand)
Dining tent, Table, Chairs, toilet tent, Mess tent & Kitchen tent
Per person's (40 KG) Load is carried by the Yak till to the from Base Camp to Advanced Base
Per person's (30 KG) Load is carried by the Yak on the way back to the ABC to the BC
Kathmandu - Zhangmu - Base Camp - Zhangmu (vice versa) are provided the Mini bus/Jeep for the members & Truck for the equipment

Peak permit for Shishapangma 8035m.

Tibet Visa & Travel permit

Liaison officer & Interpreter

Nepalese crew' insurance

ABC - Oxygen for Emergency but you must pay for its use.

Satellite phone (Pay call).

Expedition T-shirts with Expedition label

Welcome dinner
Cost does not include:
Air travel to and from Kathmandu.
Lunch and dinner in Kathmandu.

Laundry, postage, telephone calls, and all other items of personal nature.

Entry visa and Re-entry visa for Nepal.

International departure tax.

Personal Expenses.

Medical and rescue insurance.

Personal Climbing equipment.

Bar bills & Beverage.

Rescue Jeep USD 700.00

Medicine and first aid expenses

Garbage Deposit USD 500.00 (Sharing of the total person) and Deposit fee will be not refunded if the clients (climber) don't take back their garbage.

Walkie-Talkie.

Extra yak, Per Yak's USD 100.00 will be charge till to 50 KG load.
Note: After the Expedition, Tipping system is well come for expedition crews from your generosity if you are happy with the staffs of the company. We wish you a happy and successful climbing.

The following information will allow you to better plan your budget for tours or treks. A range of costs is given. These costs are dependant on
:
The mix of Touring and/or general Trekking,
The remoteness of the areas visited,
The number of guides or porters required,
The standard of accommodation required (if there is a choice), 
The type of ground transport used,
The length of your visit, and
The size of your group.
Depending on group size the costs of treks and tours range from:
1 to 3 pax     US$ 88 to 163  P/p per night.
4 to 8 pax     US$ 78 to 148  P/p per night
9 to 14 pax.  US$ 75 to 135 P/p per night.
15 to 20 and above US$ 60 to 110 P/p per night
Single supplement US$ 40 to 70 per night.
Note: The itinerary and cost for Peak climbing, Mountaineering, Tibet, Bhutan and India tours and trek are conditional apply.
Notwithstanding the costs shown above, we can tailor tours to suit almost any budget. Feel free to email us for more information.

Note: One tour leader will be free of cost for tours with 15 or more paying guests only. 

Children's bellow three years is free if sharing with their parents. And need to pay if they are participating on the trekking, and above three to nine year children half of the price.

Cost Includes: Accommodation in 3 to 4 star hotels in the cites as your choice, basic accommodation in a lodge or tea house or camping (depending on your itinerary and choice) during treks, guides and porters on treks, all land transfers by private vehicle, 3 meals a day on treks, all jungle safaris, all sightseeing tours as per itinerary and all necessary entry fees, permits and airport transfers.

Cost Excludes: Personal expenses, domestic air tickets, airport tax, drinks (soft drink, mineral water and alcoholic beverages and hot-shower on the trek), personal insurance, and extra cost due to natural calamities or accidents outside of our control.
Remarks: The cost of the trip determines with the services included during the trip so that it might be varies with the services, hotel and transfer of your wish.
Please note that our guides speak the following English languages and if required we will provide your language spiking guide on extra cost.
Translate
Contact Information:
Alpine Explore Nepal
P.O. Box: 4546, Kathmandu, Nepal
+977 1 4700714 / 4700175 / 4701974
Fax: +977 -1 - 4700970
Email: info@traveltrek.asia
sales@traveltrek.asia
Skype Address: explore.alpine
MSN Messanger: explorealpine
Yahoo Messanger:explorealpine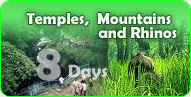 Our Guest Says
SteveAnyon-Smith
18 April 2000

This was my third trek in Nepal, having visited the Annapurna Region in 1995 and with Bharat and Dave in the beautiful and wildlife-filled Langstang Valley in1998. Bharat's company "Explore Alpine Adventure"....