Rolwaling Trek with Parchamo Peak 6273m.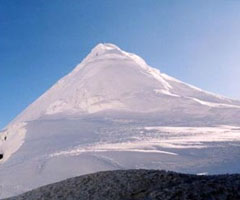 Rolwaling Valley
West of the Khumbu, straightforwardly on the Tibetan border there is a wild, lonely high valley the "Rolwaling" which is called simply "the grave" by the indigenous Sherpa's on account of its location - Budhied down between steep ice-giants. Many mysterious stories have been passed on about this valley. Through which the forefathers of the present-day Sherpa's once came. It is here that the notorious and celebrated Yeti is supposed to make his home. Whole research expeditions have, so far unsuccessfully, attempted to find Yeti.
There are three factors which have helped to protect this splendid valley from the ravaging onslaught of tourists. First of all it is relatively arduous to get there at all, secondly there are neither lodgings nor food to buy, and third you need a special permit to be allowed to hike into Rolwaling. You must purchase - pro-forma - a climbing permit for the Yalung-Re (5630m) and Parchamo Peak (6273 m) regardless of whether or not you want to climb the mountain. Those who aren't scared away by these inconveniences will he richly rewarded for their efforts. Just the approaches to the Rolwaling Valley are worth your money: The trail leads you through a wealth of variety on one hand through Tamang and Chetri and Sherpa villages with their typical farming raced fields, on the other through dense, gloomy primitive forests and over broad ridgebacks with magnificent views. Three variations are possible: The first is a four day hike from Jiri (1.860 m) over the Chordung Ridge (3.698 m), Suri (1,890 m) and Gonger (1.040 m): the other is a six day hike starting from Barabise (819 m) via Tinsang La (3.319 m), Bigu Gompa (2.5l9 m), Chilangka and Gonger and onward: the third is fly from Kathmandu to Lukla explore the Namche, Tengboche, Everest Kalapathar, E B.C and Gokyo valley onward to Rolwaling and BhoteKoshi. The bellow itinerary is from Barabise.   
You finally set foot into the Rolwaling through the village of Simigaon (2.000 m) located high above the Bhote Koshi. Above the Shapka Meadow (2.600 m) the path divides. Here the right branch is recommended, for while it is certainly more arduous it is also decidedly the more rewarding. The Daldung La (3.976 m) which has a fantastic view of the 7.146 meter high Gaurishankar opposite. According to old Sherpa mythology, this is the seat of the goddess "Tashi Tserringma," who is the guarantor of a long life. Gaurishankar is also holy for the Hindus: Shankar, the name of the northem peak, is a designation for Shiva in their everyday spoken language the southern summit, Gauri (literally: "the white") is a synonym for the feminine manifestation of the god.
From Daldung La you climb down for four or five hours on a really adventurous path through the densest rain forest to the Rolwaling River, which you then cross. There you meet up again with the other path, which certainly also has a beautiful landscape, but doesn't snake down to Simigaon quite as spectacularly. After about 2 1/2 hours' walking time up-river you reach the Sherpa village of Beding (3.693 m) - the only noteworthy settlement in Rolwaling. If it should happen that the monk belonging to the Gompa is in the village at the moment, you can ask him to show you round it himself, 150 meters higher a rocky hermitage is visible, where Padmasambhava is supposed to have meditated some 1.200 years ago.
The last human settlement of the valley you can find in Na, which is located about three hours' distance from Beding. From here you have an overwhelming view of the mountain scenery is stunning: Tengi Ragi Tau (6943 m), Bisphero Go Shar (6729 m), Dragkar Go (6793 m) and countless snowy peaks. Yalung Ri ascension starts from Na and the Parchamo ascension starts from the Tashi Lapcha pass. We will climb the north face of the peak, crossing wide, crevassed slopes to follow up easily an obvious ridge to the summit and over looking mountain-giants Chekigo (6.735 m), Bamongo (6.400 m), Kang Nachugo (6.735 m), and above all, Tsoboje (6,689 m). After the summit we will come to Thenapo and Thame village (3790m) on the Khumbu valley one of the famous and crowded route.
Maximum Altitude: 6272 m.
Itinerary

5 nights in Kathmandu & 24 days 23 nights trekking.
Day 01: Arrival in Kathmandu, meet and transfer to hotel.
Day 02: One full day sight seeing in Kathmandu with guide.
Day 03: Trek departure to Barabise 80 km drive & camp at Suna Khari, 1600 m.
Day 04: Trek to Dolangsa2600 m. (6-7 hours).
Day 05: Trek to Bigu Gumba (6-7 hours).
Day 06: Trek to Taduk 2000 m. (7-8 hours).
Day 07: Trek to Jagat 1250 m. (6-7 hours).
Day 08: Trek to Sime Gaun 2600 m. ( 6 hours).
Day 09: Trek to Dongma Gaun 3600 m. (6-7 hours).
Day 10: Trek to Beding  ( 5-6 hours).
Day 11/12: Trek to Nagaun 3700 m. (6-7 hours) and one day rest at Nagaun.
Day 13: Trek to Yalung-Ri Base camp 4200 m. ( 4-5 hours).
Day 14: Climb to Yalung_Ri 5630 m. and return trek to Nagaun .
Day 15: Trek to Glacier Kharka 4750 m. (6-7 hours).
Day 16: Trek to Tolumba 5036 m.  (5 hours).
Day 17: Trek to Tashilapcha 5739 m. (7 hours).
Day 18: Climb to Parchamo peak 6273 m. and return trek to Tashilapcha.
Day 19: Trek to Thanpo 4320 m. (6-7 hours).
Day 20: Trek to Thame 3900 m. (6-7 hours).
Day 21: Trek to Khumjung 3790 m. (5-6 hours).
Day 22/23: Trek to Namche Bazaar 3440 m. one day rest at Namche Bazaar.
Day 24: Trek to Phakding 2600 m. (6-7 hours).
Day 25/26: Trek ends at Lukla 2865 m. (one spare day at Lukla incase of flight
Delays or cancellation Due to weather conditions).
Day 27: Return flight to Kathmandu.
Day 28/29: free day in Kathmandu.
Day 30: Final departure from Kathmandu.

The following information will allow you to better plan your budget for tours or treks. A range of costs is given. These costs are dependant on
:
The mix of Touring and/or general Trekking,
The remoteness of the areas visited,
The number of guides or porters required,
The standard of accommodation required (if there is a choice), 
The type of ground transport used,
The length of your visit, and
The size of your group.
Depending on group size the costs of treks and tours range from:
1 to 3 pax     US$ 88 to 163  P/p per night.
4 to 8 pax     US$ 78 to 148  P/p per night
9 to 14 pax.  US$ 75 to 135 P/p per night.
15 to 20 and above US$ 60 to 110 P/p per night
Single supplement US$ 40 to 70 per night.
Note: The itinerary and cost for Peak climbing, Mountaineering, Tibet, Bhutan and India tours and trek are conditional apply.
Notwithstanding the costs shown above, we can tailor tours to suit almost any budget. Feel free to email us for more information.

Note: One tour leader will be free of cost for tours with 15 or more paying guests only. 

Children's bellow three years is free if sharing with their parents. And need to pay if they are participating on the trekking, and above three to nine year children half of the price.

Cost Includes: Accommodation in 3 to 4 star hotels in the cites as your choice, basic accommodation in a lodge or tea house or camping (depending on your itinerary and choice) during treks, guides and porters on treks, all land transfers by private vehicle, 3 meals a day on treks, all jungle safaris, all sightseeing tours as per itinerary and all necessary entry fees, permits and airport transfers.

Cost Excludes: Personal expenses, domestic air tickets, airport tax, drinks (soft drink, mineral water and alcoholic beverages and hot-shower on the trek), personal insurance, and extra cost due to natural calamities or accidents outside of our control.
Remarks: The cost of the trip determines with the services included during the trip so that it might be varies with the services, hotel and transfer of your wish.
Please note that our guides speak the following English languages and if required we will provide your language spiking guide on extra cost.
Note: Please contact exploretrek@wlink.com.np for more information and prices
Translate
Contact Information:
Alpine Explore Nepal
P.O. Box: 4546, Kathmandu, Nepal
+977 1 4700714 / 4700175 / 4701974
Fax: +977 -1 - 4700970
Email: info@traveltrek.asia
sales@traveltrek.asia
Skype Address: explore.alpine
MSN Messanger: explorealpine
Yahoo Messanger:explorealpine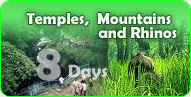 Our Guest Says
SteveAnyon-Smith
18 April 2000

This was my third trek in Nepal, having visited the Annapurna Region in 1995 and with Bharat and Dave in the beautiful and wildlife-filled Langstang Valley in1998. Bharat's company "Explore Alpine Adventure"....