Mt. Pumori Ascend – More information :
The ascent starts at 5,300m. In a beautiful base camp aside a small lake (water source, take water filters or barrels -were you can pack your equipment- and to clarification the water -let sand to drop all night-). From base camp you have the most wonderful sight of Mt. Everest you can imagine, just above is Kalapathar Rock hill at 5545m.

After a 3 hrs walk (loaded) trough an easy hike terrain you will reach camp 1 or advanced base camp 5700m. To let your equipment and supply nearby. After this you will face a 500m. Elevation difference trough a 40 to 65 degrees slopes, 100m. Horizontal traverse, steep and expose to wind narrow ridges, some 5m. Ice wall, one tunnel climb. Pumori has many rock and mixed climb (not to need rock pitons but take some in case for the fixed rope) and spring might be more rock falling. If you have good Sherpa, Could be good for spring season.

Camp 2- 6200m. Is located on a narrow ridge at the end of the section described before. Expose to wind and far from avalanches (but people say it has happened before that avalanches reach camp 2) the next 400m. Is an ice climb with 35-65 degrees, more 5m. Ice walls, many crevasses, and the bigger avalanche danger from big seracs hanging from the shoulder 6500m.

The shoulder can be camp 3, but is too windy and not much gain. From here you cans see Tibet. After this it is presume that the rest is a wide ridge that takes you to a not hidden summit, but like I told you, You still need rope here because of many crevasses, Ice walls.

Finally, at 6,850m, there is an enormous crevasse 200m large, 40m. Deep, 10-20m wide. Try to walk towards Tibet side were the crevasses ended just before a great cliff, but in the other side the snow two-layer difference for valance danger. You can try Nepal side and you can reach the beautiful famous Pumori cliff and crossed the crevasse. After this the walk to the summit is only walk & you can summit Pumori 7145m.

Normal route: This is the easiest route to climb this peak and most of the expedition climbed this peak so far have used this route. As you know Pumori is not easy as like other mountains, there are technical parts in this route as well. We suggest you, you have take climbing Sherpa and who will take to Summit. We can arrange for you summiteers Sherpas for the Pumori, if you have required.

You need to have at least 3 camps after base camp to reach the summit. The base camp is just above Gorek Shep at the altitude of 5300m. After base camp, you can set up first camp at the altitude of 5,650m. Around the phase of Pumori.

We set second camp at the ridge after the phase at the altitude of 6,000m. The most technical part for this peak is around camp 1 and 2. We set camp third at the altitude of 6,480m. Around the corner after the ridge.

We/you can summit from the third camp to the top. This route has been used by former expedition to Pumori in every year.

South-West ridge: Only few climbers tried this route, as this is one of the most difficult routes. This route follows directly from the top of Kalapathar and goes straight over the ridge nearly 75 Degree. As this route has lots of technical, I recommend you to use the normal route for the Pumori and you & your group will reach the Top. If you need more information please check Himalayan Journal 1996 or American Alpine Journal 1997. In this book written by Climber of Pumori who have been summit. They Sumitted by normal route.
Itinerary:
Day 01: Arrival Kathmandu & transfer to Hotel
Day 02-03: Kathmandu official work & preparation for expedition
Day 04: Flight to Lukla & trek to Phakding lodge
Day 05: Phakding to Namche lodge
Day 06: Namche rest for acclimatization lodge
Day 07: Namche – Thyanboche lodge
Day 08: Thyangboche – Pheriche lodge
Day 09: Pheriche – Lobuche lodge
Day 10: Lobuche – Pumori Base Camp - Camping
Day 11-28: Climbing Period for Pumori 7145m. (Camping)
Day 29: Pumori BC – Pangboche -Lodge
Day 30: Pangboche – Namche -Lodge
Day 31: Namche – Lukla - Lodge
Day 32: Fly Lukla – Kathmandu & transfer hotel
Day 33-34: Kathmandu
Day 35: final departures
Cost includes:
Permit Fee (Royalty) of Pumori
Hotel accommodation in Kathmandu Maximum 6 nights with bed & breakfast
Kathmandu – Lukla – Kathmandu flight tickets & cargo of equipment

Full board trekking with lodge & Food for BC Expedition period

Porter or Yak Lukla to BC & while back to Lukla

Equipment: trekking equipment for Base Camp, 2 men tent, dining tent, toilet tent, table and chares, Mattresses

All kitchen equipment for Base Camp

Liaison office allowances ,equipment allowances for staff, flight ticket, insurance for Nepalese staffs, Officer during the expedition period

Permit and National park fees

All transfer airport-hotel-airport

Staff: Base camp Guide, Cook, Kitchen helper, Necessary porters or Yak

All necessary taxes.

Agency service charge
Cost does not includes:
Lunch and dinner in Kathmandu

High altitude (climbing) food, fuel, Gas above BC & personal climbing gear

Personal accident insurance and emergency evacuation, Helicopter rescue

International Airport Departure Tax

Nepal custom duty for import of expedition goods arriving into Nepal, cargo.

Bar bills

Satellite phone and Waki takies

Extra expenses for personal

Oxygen and Mask regulator

Climbing Sherpa

The following information will allow you to better plan your budget for tours or treks. A range of costs is given. These costs are dependant on
:
The mix of Touring and/or general Trekking,
The remoteness of the areas visited,
The number of guides or porters required,
The standard of accommodation required (if there is a choice), 
The type of ground transport used,
The length of your visit, and
The size of your group.
Depending on group size the costs of treks and tours range from:
1 to 3 pax     US$ 88 to 163  P/p per night.
4 to 8 pax     US$ 78 to 148  P/p per night
9 to 14 pax.  US$ 75 to 135 P/p per night.
15 to 20 and above US$ 60 to 110 P/p per night
Single supplement US$ 40 to 70 per night.
Note: The itinerary and cost for Peak climbing, Mountaineering, Tibet, Bhutan and India tours and trek are conditional apply.
Notwithstanding the costs shown above, we can tailor tours to suit almost any budget. Feel free to email us for more information.

Note: One tour leader will be free of cost for tours with 15 or more paying guests only. 

Children's bellow three years is free if sharing with their parents. And need to pay if they are participating on the trekking, and above three to nine year children half of the price.

Cost Includes: Accommodation in 3 to 4 star hotels in the cites as your choice, basic accommodation in a lodge or tea house or camping (depending on your itinerary and choice) during treks, guides and porters on treks, all land transfers by private vehicle, 3 meals a day on treks, all jungle safaris, all sightseeing tours as per itinerary and all necessary entry fees, permits and airport transfers.

Cost Excludes: Personal expenses, domestic air tickets, airport tax, drinks (soft drink, mineral water and alcoholic beverages and hot-shower on the trek), personal insurance, and extra cost due to natural calamities or accidents outside of our control.
Remarks: The cost of the trip determines with the services included during the trip so that it might be varies with the services, hotel and transfer of your wish.
Please note that our guides speak the following English languages and if required we will provide your language spiking guide on extra cost.
Translate
Contact Information:
Alpine Explore Nepal
P.O. Box: 4546, Kathmandu, Nepal
+977 1 4700714 / 4700175 / 4701974
Fax: +977 -1 - 4700970
Email: info@traveltrek.asia
sales@traveltrek.asia
Skype Address: explore.alpine
MSN Messanger: explorealpine
Yahoo Messanger:explorealpine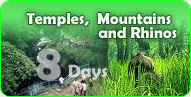 Our Guest Says
SteveAnyon-Smith
18 April 2000

This was my third trek in Nepal, having visited the Annapurna Region in 1995 and with Bharat and Dave in the beautiful and wildlife-filled Langstang Valley in1998. Bharat's company "Explore Alpine Adventure"....