Nepal Life Experience - A Walking Tour
Kathmandu - Dhulikhel - Pokhara - Chitwan - Kathmandu
Information
Nepal is a country of geographic and cultural diversity. Our walking tour explores this diversity from the snow capped Himalayan Peaks to a jungle safari in the lowlands of the Terai. This tour provides an ideal introduction to trekking in Nepal with outings to hill top viewpoints and places of cultural interest, returning at the end of each day to comfortable lodgings and delicious food.
Any dates available for a minimum of two persons arriving in Nepal.
Tour itinerary

Day 01: arrive Kathmandu and transfer to the award winning some of the 5***** Hotel in Kathmandu. We will choused the hotel with unique and combining modern facilities with preservation of the rich cultural heritage of the Kathmandu Valley.
Day 02: Guided sightseeing of the World Heritage Sights of Kathmandu Durbar Square, the Buddhist stupa at Swayambunath and the fascinating city of Patan.
Day 03: Guided sightseeing of the World Heritage Sights of Bhaktapur the City of Devotees, and Changunarayan and Hindu's most important Hindu temple at Pashupatinath.  we start our tour from world Hindu's famous place Pashupatinath. From here a short 2km walk brings us to Bouddhanath, the largest stupa in the world and the religious centre for the Tibetan population living in Nepal. We will take some time at Bouddhanath and having tea and coffee from a roof top terrace enjoy a bird's eye view of life below. In the afternoon we will drive to Bhaktapur, the City of Devotees. In addition to exploring the many temples we can wander around the Potters Square and shops before driving to the hilltop resort of Dhulikhel.
Day 04: Sunrise wake up call for a magnificent Himalayan Panorama stretching to the Tibetan border. A short drive after breakfast takes us to Dhulikhel itself. From here we'll walk about thirty minutes up to Devistan, a small temple and excellent spot from which to view the Himalaya. After a short descent, a gradual climb of about ninety minutes brings us to Phulbari with panoramic mountain views. Then it's a ten minute walk to the legendary Namobuddha Stupa. Here, according to local legend, a prince discovered a starving tigress about to devour a boy. Out of compassion the prince offered his body to the tigress in the boy's place. His remains are said to be enshrined in the main stupa. After exploring the area a walk of about 21/2 hours takes us down to the charming medieval village of Panauti, a treasure house of ancient Newari architecture. From Panauti we will drive back to Dhulikhel.
Day 05: Transfer to the domestic airport for the breathtaking 30min flight along the length of the Himalayas to Pokhara. Here we will be met by our transport and transferred to the Hotel Fishtail Lodge or Hotel Sangri-La  10 mins drive from Pokhara airport. Pokhara Valley with panoramic views of Machhapuchhre, and three of the world's 8,000m peaks, Dhaulagiri, Manaslu, and Annapurna. After lunch there is the option to walk to a ridge top viewpoint some of the Hill top area or to explore local market Pokhara Lake side.
Day 06: Today we will walk to the Himalayan viewpoint at Sarangkot at 1592m. The mountain views are incredible and amongst many others we can see Annapurna South (7219m), Annapurna I (8091m), Hiunchuli (6441m) Machhapuchhore (6993m) and Annapurna III (7555m). There will be a choice of routes varying in difficulty and duration. The longer route will follow a broad ridgeline from the village of Naudanda reached in about a one hour drive from Pokhara. We will take lunch at Sarangkot and can either walk or drive down to Pokhara before returning to the our Hotels.
Day 07: After breakfast we will drive to Pokhara Lakeside and take a rowboat across the lake to the trailhead for the walk to the Peace Stupa. The walk to this massive Buddhist stupa takes 11/2 to 2 hours and climbs through rhododendron forest to the top of a hill on the southern shore of Phewa Lake. Besides being an impressive sight in itself, the shrine is a great vantage point which offers superb views of the Annapurna Himal range and Pokhara city. We will take lunch in Pokhara and have free time to explore the bazaar.
Day 08: A four hour drive takes us to Chitwan National park and the other side of Nepal. We have left the snow capped peaks behind and are in the Terai for one of the best wildlife experiences in Asia. The wildlife of Chitwan includes the endangered Greater One Horned rhinoceros, several species of deer, sloth bear, wild boar, fresh water dolphin, the marsh mugger and gharial crocodiles, over 482 species of birds, leopards and the elusive, Royal Bengal tiger. Activities at the Lodge include safaris on elephant and by river boat, jungle walks, birdwatching excursions, and expeditions by jeep in to the jungle.
Day 09: A full day of activities within the park tailored to your requirements.
Riding the tuskers – one of the inside lodge.
Day 10: A full day of activities within the park tailored to your requirements.
Riding the tuskers – one of the inside Jungle Lodge including.
The Lodge is inspired by the lifestyle and rich culture of the local Tharu people and offers a range of activities including elephant safaris, jungle walks, bird watching, and village exploration by ox cart, sunset watches and horse riding how ever with your diseur.
Day 11: A few hrs. Drive from Chitwan to remote undeveloped district Dhading for life time experience with home stay program with Nepali local family.
Our guests are taken to unspoiled villages where they spend a few days living with the local people and being treated as honored family guests. While staying in the villages, guests enjoy comfortable accommodation, delicious local food and drink and a welcome that will remain a happy memory for a lifetime. While they are with us our guests can rest assured that they are always in a secure and safe environment.
Local attractions, both scenic and cultural, are shown to our guests by our well trained ethnic guides who always do their utmost to make the guest's stay a memorable experience.
The traditional culture of the different ethnic groups is a highlight a village visit. These warm and friendly people are always ready to perform their music and dance and to give an insight into their religion. Examples of local handicrafts will be on display, and for sale, to guests.
During the home stay program people can sample the all local organic products and handicrafts. The driving principle behind this effort is that tourism can be introduced into new areas in such a way so as to improve the socio-economic standing of local communities while preserving the environment and avoiding common pitfalls of growth in tourism.
It is the policy of poverty alleviation through pro poor, pro women, pro rural community and pro environmental tourism. The visitors can be proud of themselves in the knowledge that they are not destroying the culture and traditions they have come to see.
In this way we believe tourism can play a vital role for poverty alleviation. There are many rural area are yet to promote eco-tourism.
Along with natural beauty, historical legacy and cultural heritage Explore Alpine Adventure and Alpine Explore Tours and trekking give you something different, a unique life time experience.
On your stay you will able to feel what it is like to live the life of a Nepali villager. Walk with your family or friends while they go about their daily chores, tending animals, tilling the fields, going to school with the children, or just sitting in the sun talking to neighbors.
Feel free to wander, safely, by yourself and look at all of the developments that the community have supported and funded; the primary health centre with its' doctor, the agricultural service centre, the veterinary hospital, the plant nursery and forest plantation. The list goes on. And, at the end of your stay, you will be overwhelmed by the farewell that your new family will give you. If you never come this way again the village and its people will remain in your heart forever.
"Come as tourist go as friend and family members"
Day 12:   Full day exploring the villages surrounding the area and learn about different authentic groups.   
Day 13: A few hrs. Drive back to Kathmandu and rest Kathmandu for shopping, or extra sightseeing.  
Day 14: Transfer to the airport for the Namaste flight home.
About the walks
Walks are on well maintained trails and on all walking days there is a choice of route options. There are very easy walks to villages near to the hotels of 2-4 miles, moderate walks of 6-8 miles and longer walks with more ascent and descent of 10-12 miles. Ascents range from 300ft on short walks to approx 1500ft for the ascent to Sarangkot.
Accommodation
Comfortable accommodation in unique properties chosen for their cultural interest and/or mountain views. Each hotel or lodge except in Dhading has modern facilities and is both built and operated in sympathy with the local environment.

The following information will allow you to better plan your budget for tours or treks. A range of costs is given. These costs are dependant on
:
The mix of Touring and/or general Trekking,
The remoteness of the areas visited,
The number of guides or porters required,
The standard of accommodation required (if there is a choice), 
The type of ground transport used,
The length of your visit, and
The size of your group.
Depending on group size the costs of treks and tours range from:
1 to 3 pax     US$ 88 to 163  P/p per night.
4 to 8 pax     US$ 78 to 148  P/p per night
9 to 14 pax.  US$ 75 to 135 P/p per night.
15 to 20 and above US$ 60 to 110 P/p per night
Single supplement US$ 40 to 70 per night.
Note: The itinerary and cost for Peak climbing, Mountaineering, Tibet, Bhutan and India tours and trek are conditional apply.
Notwithstanding the costs shown above, we can tailor tours to suit almost any budget. Feel free to email us for more information.

Note: One tour leader will be free of cost for tours with 15 or more paying guests only. 

Children's bellow three years is free if sharing with their parents. And need to pay if they are participating on the trekking, and above three to nine year children half of the price.

Cost Includes: Accommodation in 3 to 4 star hotels in the cites as your choice, basic accommodation in a lodge or tea house or camping (depending on your itinerary and choice) during treks, guides and porters on treks, all land transfers by private vehicle, 3 meals a day on treks, all jungle safaris, all sightseeing tours as per itinerary and all necessary entry fees, permits and airport transfers.

Cost Excludes: Personal expenses, domestic air tickets, airport tax, drinks (soft drink, mineral water and alcoholic beverages and hot-shower on the trek), personal insurance, and extra cost due to natural calamities or accidents outside of our control.
Remarks: The cost of the trip determines with the services included during the trip so that it might be varies with the services, hotel and transfer of your wish.
Please note that our guides speak the following English languages and if required we will provide your language spiking guide on extra cost.
Note: Please contact exploretrek@wlink.com.np for more information and prices
Translate
Contact Information:
Alpine Explore Nepal
P.O. Box: 4546, Kathmandu, Nepal
+977 1 4700714 / 4700175 / 4701974
Fax: +977 -1 - 4700970
Email: info@traveltrek.asia
sales@traveltrek.asia
Skype Address: explore.alpine
MSN Messanger: explorealpine
Yahoo Messanger:explorealpine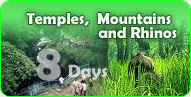 Our Guest Says
SteveAnyon-Smith
18 April 2000

This was my third trek in Nepal, having visited the Annapurna Region in 1995 and with Bharat and Dave in the beautiful and wildlife-filled Langstang Valley in1998. Bharat's company "Explore Alpine Adventure"....