Mera Peak climbing with HINKU valley Experience: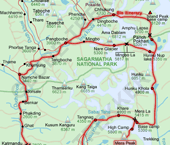 Mera Peak, at the head of HINKU valley is one of the finest trekking peaks in Nepal. Its summit, of 6476m, is one of the finest vantage points anywhere. The panorama includes five of the world's fourteen eight thousand meter peaks; Kanchanjunga, Makalu , Lhotse, Everest and Cho Oyo, plus a host of mountains over seven thousand including Gauri Shankar and Menlungste to the west. We walk along the Hinku valley and the upper Hongu Basin, crossing the Mingbo pass.
Itinerary
Day 01: Kathmandu
Arrive and transfer to hotel.
Day 02: Kathmandu
Excursion to Swoyambhunath & Bouddhanath. In the evening, trek briefing.Overnight at hotel.
Day 03: Kathmandu-Tumilingtar
Flight to Tumlingtar offers good views of Makalu and Chamlang to north and of the Arun valley below.Overnight at camp.
Day 04: Tumilingtar-Phedi Village
From Tumlingtar, walk down to the Arun River to cross it. We follow a trail alongside the Chirkhuwa Khola for a few kilometers before crossing a bridge and descending through terraces and woodland to the Irkhue Khola. Final destination is the village of Phedi. Overnight at camp.
Day 05: Phedi Village-Salpa Bhanjang
The path rises steeply above Phedi eventually joining a high forested ridge that levels out. We pass several small settlements to arrive below the Salpa Bhanjang pass (3000m) to set up camp.
Day 06: Salpa Bhanjang Pass-Gaudel
We across the pass and start descending along steep paths through pine and rhododendron forest to Sanam, the first Sherpa town in the Hongu valley. We continue to down through more old forest and then open country to reach Gudel.
Overnight at camp.
Day 07: Gaudel-Bung
A thousand metre drop and climb between Gaudel and Bung on the opposite side of the valley must be negotiated. The two villages lie at equal elevations on opposite sides of the valley. Overnight at camp.
Day 8-10:
We stay on course along the trail to Lukla, later taking the northwards route along the Sukie Danda ridge. We follow the ridge for two days, to finally arrive Panch Pokhari, or '5 Lakes. Overnight at camp.
Day 11: Panch Pokhari-Mosum Kharka
The path descends into the Hinku valley, through thick rhododendron forest. We follow the trail to camp at Mosum Kharka. Meera can be seen from here.
Overnight at camp.
Day 12: Mosum Kharka-Tangnag
Very soon we find ourselves above the treeline, heading into the upper Hinko Basin giving good views of Kusum Kangurun (6369m) and Peak 43 (6769m). We pass grazing grounds to eventually arrive at Tangnag. Overnight at camp.
Day 13: Rest Day
Possible excursion for the 'restless' to Sabai Tsho, a beautiful damned lake not far above the camp.
Day 14: Tangnag-Khare
We follow the path along the moraines of the Hinku Nup Glacier to reach Khare, a beautiful campsite, opposite the northwest face of Mera.
Day 15: REST DAY
Acclimatization. Overnight at camp.
Day 16: Climbing
We move to an advanced base camp, 200 meters above the pass and on the route which we have chosen to climb, the North Face. Camp.
Day 17&18: Climbing
We will rise about 1.00 am and leave at 2.30 am to make the best of the weather conditions. Hopefully by dawn we shall have reached 6000 meters to witness the incredible sunrise and be on the summit by 8.00 or 9.00 am. The view from the summit is spectacular. We descend down the peak and continue down into the Hongu Valley. Overnight at camp.
Day 19 &20: Panch Pokhari
We follow paths to reach the Upper Hongu Basin. We camp by Panch Pokhari, with imposing scenery for company. Overnight at camp.
Day 21:
An early morning start to make the best of the weather conditions. The ascent the Mingbo La pass is initially gentle only to abruptly, drop on the Khumbu side of the pass. Ropes are required here as we lower ourselves down the 200 metre slope. We camp just below the snow-line on the moraine of the Glacier. Overnight at camp.
Day 22:
Reaching settlement of Mingbo, we cross the Imja Drangka to join the main trail to Namche Bazaar. Overnight at camp.
Day 23: Namche
Following the path past Tangboche, we come to Namche Bazaar. Overnight at camp.
Day 24: Lukla
Walk down to Lukla. Camp.
Day 25: Kathmandu
Flight from Lukla to Kathmandu. Overnight at hotel.
Day 26: Departure.

The following information will allow you to better plan your budget for tours or treks. A range of costs is given. These costs are dependant on
:
The mix of Touring and/or general Trekking,
The remoteness of the areas visited,
The number of guides or porters required,
The standard of accommodation required (if there is a choice), 
The type of ground transport used,
The length of your visit, and
The size of your group.
Depending on group size the costs of treks and tours range from:
1 to 3 pax     US$ 88 to 163  P/p per night.
4 to 8 pax     US$ 78 to 148  P/p per night
9 to 14 pax.  US$ 75 to 135 P/p per night.
15 to 20 and above US$ 60 to 110 P/p per night
Single supplement US$ 40 to 70 per night.
Note: The itinerary and cost for Peak climbing, Mountaineering, Tibet, Bhutan and India tours and trek are conditional apply.
Notwithstanding the costs shown above, we can tailor tours to suit almost any budget. Feel free to email us for more information.

Note: One tour leader will be free of cost for tours with 15 or more paying guests only. 

Children's bellow three years is free if sharing with their parents. And need to pay if they are participating on the trekking, and above three to nine year children half of the price.

Cost Includes: Accommodation in 3 to 4 star hotels in the cites as your choice, basic accommodation in a lodge or tea house or camping (depending on your itinerary and choice) during treks, guides and porters on treks, all land transfers by private vehicle, 3 meals a day on treks, all jungle safaris, all sightseeing tours as per itinerary and all necessary entry fees, permits and airport transfers.

Cost Excludes: Personal expenses, domestic air tickets, airport tax, drinks (soft drink, mineral water and alcoholic beverages and hot-shower on the trek), personal insurance, and extra cost due to natural calamities or accidents outside of our control.
Remarks: The cost of the trip determines with the services included during the trip so that it might be varies with the services, hotel and transfer of your wish.
Please note that our guides speak the following English languages and if required we will provide your language spiking guide on extra cost.
Note: Please contact exploretrek@wlink.com.np for more information and prices
Translate
Contact Information:
Alpine Explore Nepal
P.O. Box: 4546, Kathmandu, Nepal
+977 1 4700714 / 4700175 / 4701974
Fax: +977 -1 - 4700970
Email: info@traveltrek.asia
sales@traveltrek.asia
Skype Address: explore.alpine
MSN Messanger: explorealpine
Yahoo Messanger:explorealpine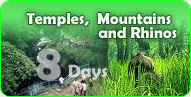 Our Guest Says
SteveAnyon-Smith
18 April 2000

This was my third trek in Nepal, having visited the Annapurna Region in 1995 and with Bharat and Dave in the beautiful and wildlife-filled Langstang Valley in1998. Bharat's company "Explore Alpine Adventure"....