Mt. Lhakpa Ri 7045m Tibet and Climb:
Trek to Everest Advanced Base Camp in Tibet and climb Lhakpa Ri

Flying into Lhasa from Kathmandu there are amazing views of the Himalayan giants of Everest, Makalu, Cho Oyu and Kanchanjunga, four of the highest peaks in the world. We will spend a few days adjusting to the high altitude and taking in the sights of Lhasa – the Potala palace is one you can't miss!
We will use jeeps for a few days to get us to within striking distance of Everest Rongbuk base camp (BC). The trek in to BC and then on to Advanced Base Camp will stretch over 10 days, starting from the village of Tingiri. It is important to take our time to adjust to each altitude and our years of high altitude experience have helped us to develop a steady acclimatization program. We believe that prevention is better than medication.
 
Everest from Lhakpa Ri
Around Advanced Base Camp (at a mere 6400m!) we will take several days to acclimatize and explore the surrounding high glaciers. From ABC we can attempt the technically straight-forward Lhakpa Ri 7045m. Your experienced mountain guide will ensure even those people new to climbing can have a go. This peak is relatively easy angle, stunning views and because it is just over the 7000m mark. All of this allows people to test themselves out at altitude without the need to be highly experienced climbers!
Itinerary (see also Tibet Exploratory trip)
Day 1 Arrive in Kathmandu
Day 2 Sightseeing in Kathmandu, obtain visas for Tibet
Day 3 Fly to Lhasa
Day 4-6 Sightseeing around Lhasa
Day 7-8 Drive to Tingiri
Day 9-23 Trek to Everest ABC and climb Lhakpa Ri 7045, Rabu La
Day 24-27 Trek and drive overland to Kathmandu
Day 28 Sightseeing in Kathmandu
Day 29 Fly home
Fly to Lhasa
We will fly from Kathmandu to Lhasa, the capital of Tibet. Provided the weather gods are in a good mood there is a spectacular view as we fly right over the Himalayas. The peaks of Everest, Makalu and Kanchanjunga stand well above the plains to north and south!

'the Miracle highway' as George Mallory described it, a thin strip of medial moraine allows yaks to climb to 6500m!
Explore Lhasa
Lhasa is home to the impressive Potala palace but has rather rarefied air, perched as it is on the edge of the Tibetan high plateau at 3600m. We must take it very easy for a couple of days to give our bodies a chance to adjust to the higher altitude. While doing so we can wander (slowly) around the various sites of Lhasa and relax a little.
Overland by jeep
After a few days acclimatizing we move out via jeeps (Toyota Land cruisers) toward the start of our trek. We stop at Shigatse for the night before moving on to Tingiri where we get our first views of Everest, Cho Oyu and Makalu. The Friendship Highway which joins Kathmandu and Lhasa is rough, bumpy and sometimes dusty, winding its way over 5200m passes and river valleys. The jeeps we use are modern and reliable, well suited to the conditions.
Begin trek, stage one, Tingiri 4400m to Everest Rongbuk base camp 5170m
We will spend a day resting and getting organised camped near Tingiri before setting off on the first leg of our trek, the 70km section to Everest Rongbuk base camp. We take 3-4 days to wander through old Tibetan villages, treeless valleys and gibber plains covered in grass and crops after the monsoon rains. We are lucky though as yaks inhabit these parts. We can use them to carry much of our camping equipment, food and sleeping gear, allowing us to adjust to the altitude, take photos and just do the walking thing! We meet our truck again at base camp and spend a day exploring some side valleys near by.
Stage two of trek, BC to advanced base camp 6400m (ABC)
The second leg of our trek, the 22km to advanced base camp, is a demanding section along a rough trail on glacial moraine. We use three camps along the way, C1, Interim Camp and Changse Base Camp, before finally reaching the staggering height of 6400m at Advanced Base Camp or camp 3. We have planned lots of time here to allow for our extreme altitude. We rest in ABC for a day or two before walking across the glacier to Rabu La, 6548m, for views of the Kangshung Face of Everest and great views of Makalu and Kanchanjunga. Rabu La is the eastern ridge of Everest, we can actually set foot on the great peak! This is a fabulous experience in its own right, but Lhakpa Ri is next!
Climb Lhakpa Ri 7045m
At 7045m high, Lhakpa Ri is a non-technical trekking peak but it is still a long way up in the air! The climb is completed in one day. We can provide climbing equipment for the ascent if you don't have your own. We also provide training and guidance on how to climb safely. (If you don't wish to climb it's OK to come along on the trek – but it will take the same amount of time, email us for a price). Lhakpa Ri is a glaciated peak and the use of plastic mountaineering boots, crampons, ice axes, ropes and harnesses will be required.
Heading down-valley on foot, cross border to Nepal overland
Now we head back down to BC, jump in a jeep and drive back to Nepal.
Cost Includes:
Hotel in Kathmandu with bed & breakfast.
Expedition Nepalese crews: Professional Expedition Cook, Kitchen boy, at Base Camp- Advance Base Camp. Equipment) allowances, daily ways, expedition insurance for ABC crews, lodging en-route, visa for Tibet .
Full board hotel in route Tibet side (bed & breakfast, Lunch, dinner) .
Chinese Base Camp - Advance Base Camp tent.
Dining tent, Table and Chairs, toilet tent, Mess tent, Kitchen tent, expedition crew tent .
Per person (65 KG) Load Base Camp to Advanced Base Camp.
Air ticket Kathmandu Lhasa and S/S and back Kath / Lhasa  Base Camp - Zhangmu - Kathmandu -Bus - Jeep and Truck for lodges.
Peak permit for Lakpa ri.
Tibet Visa & Travel permit .
Nepalese crew' insurance.
Cost does not include:
Air travel to and from Kathmandu .
Lunch and dinner in Kathmandu .
Laundry, postage, telephone calls, and all other items of personal nature.
Entry visa into Nepal. This can be obtained at the airport upon arrival .
Re-entry visa for Nepal.
Departure tax at Kathmandu airport for international flight.
Personal Expenses .
Medical and rescue insurance.
Climbing equipment & Personal gear.
Bar bills & Beverage .
Rescue Jeep.
Medicine and first aid for expedition.
Garbage Deposit USD 500 (Sharing of the total person) .
Walkie-Talkie.

The following information will allow you to better plan your budget for tours or treks. A range of costs is given. These costs are dependant on
:
The mix of Touring and/or general Trekking,
The remoteness of the areas visited,
The number of guides or porters required,
The standard of accommodation required (if there is a choice), 
The type of ground transport used,
The length of your visit, and
The size of your group.
Depending on group size the costs of treks and tours range from:
1 to 3 pax     US$ 88 to 163  P/p per night.
4 to 8 pax     US$ 78 to 148  P/p per night
9 to 14 pax.  US$ 75 to 135 P/p per night.
15 to 20 and above US$ 60 to 110 P/p per night
Single supplement US$ 40 to 70 per night.
Note: The itinerary and cost for Peak climbing, Mountaineering, Tibet, Bhutan and India tours and trek are conditional apply.
Notwithstanding the costs shown above, we can tailor tours to suit almost any budget. Feel free to email us for more information.

Note: One tour leader will be free of cost for tours with 15 or more paying guests only. 

Children's bellow three years is free if sharing with their parents. And need to pay if they are participating on the trekking, and above three to nine year children half of the price.

Cost Includes: Accommodation in 3 to 4 star hotels in the cites as your choice, basic accommodation in a lodge or tea house or camping (depending on your itinerary and choice) during treks, guides and porters on treks, all land transfers by private vehicle, 3 meals a day on treks, all jungle safaris, all sightseeing tours as per itinerary and all necessary entry fees, permits and airport transfers.

Cost Excludes: Personal expenses, domestic air tickets, airport tax, drinks (soft drink, mineral water and alcoholic beverages and hot-shower on the trek), personal insurance, and extra cost due to natural calamities or accidents outside of our control.
Remarks: The cost of the trip determines with the services included during the trip so that it might be varies with the services, hotel and transfer of your wish.
Please note that our guides speak the following English languages and if required we will provide your language spiking guide on extra cost.
Translate
Contact Information:
Alpine Explore Nepal
P.O. Box: 4546, Kathmandu, Nepal
+977 1 4700714 / 4700175 / 4701974
Fax: +977 -1 - 4700970
Email: info@traveltrek.asia
sales@traveltrek.asia
Skype Address: explore.alpine
MSN Messanger: explorealpine
Yahoo Messanger:explorealpine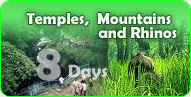 Our Guest Says
SteveAnyon-Smith
18 April 2000

This was my third trek in Nepal, having visited the Annapurna Region in 1995 and with Bharat and Dave in the beautiful and wildlife-filled Langstang Valley in1998. Bharat's company "Explore Alpine Adventure"....