Langtang with Ganjala pass and Naya Kanga Climbing Trekking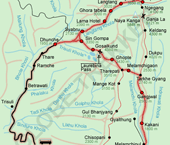 Langtang is a narrow valley situated just south of the Tibetan border and populated with Tibetans and Tamangs, who share a similar religion, language and clothing.

The landscapes we cross are extremely varied: rice-terraces, gigantic rhododendron and fir forests and, at altitude, a rock and shrub wilderness against a backdrop of snowy peaks. The crossing of Ganja La pass is a high mountain itinerary and sometimes requires the use of ice axe and crampons. After the pass we reach the Helambu valley with its numerous and colorful Sherpa villages.
Level of difficulty * * * *, Maximum altitude: 5846 m
Itinerary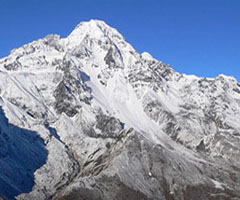 Day 1 & 2: Kathmandu
Day 3: Bus to Dunche
Day 4 to 14: Trekking to Melamchipul
Day 15: bus to Kathmandu
Day 16 & 17: Kathmandu

Option: From Kyangin Gompa, with one or two extra days, you can ascend the Yala Peak (5500m) or the Tsergo Peak (5750m).   


 Langtang Helambu over Ganja La details itinerary
Day 01: Kathmandu. Airport - hotel transfer.
Day 02: Kathmandu. Day at leisure.
Day 03: Kathmandu - Dhunche (1950 m) by bus.
Day 04: Dhunche - Syabru (2130 m)
in 5 h. This is a fine day of trekking, which traverses fir tree and rhododendron forests towards a ridge (2300 m). From here we get a panoramic view all the way from Ganesh Himal in the west to Naya Kanga in the east and the Tibetan snowy summits. The trail drops steeply down towards the Bothe Khosi River towards Syabru. A busy village with its houses laid out in single file down the hillside. Sherpas and Tamangs farm this area.
Day 05: Syabru - Lama Hotel (2390 m)
in 5 h. Following a high trail, we pass through terraces and bamboo massifs. We cross Syarpagaon to continue through a fine forest, alive with birds and the occasional troupe of monkeys. After crossing the Langtang Khola, we start the ascent of the valley and soon reach the few shepherds' huts of Lama Hotel.
Day 06: Lama Hotel - Langtang (3520 m)
in 5 h. We now have a spectacular view on the Langtang Lirung (7246 m). After a steep climb through the Langtang gorge, the ascent eases and the valley widen out into an area of yak meadows and rhododendrons. Further up, we reach Langtang, populated by Tibetans.
Day 07: Langtang - Kyangin Gompa (3850 m)
in 3 h. An easy and pleasant walk through the yak meadows. The village is spectacularly situated in a glacial amphitheatre dominated by high peaks. An excellent base for side walks towards the Langtang Lirung glacier, eastwards to Lagshisa glacier or a tougher ascent of the northern flank of the valley towards Yala Peak.
Day 08: Realxing day or Kyangin Ri (4770 m)
or Tsergo Ri (4980 m) ascent. With two or three extra days, we can organize the Yala Peak (5500 m) or Tsergo Peak (5750 m) ascent.
Day 09: Kyangin Gompa - Ngegang (4100m)
in 5 h. Climb up through a rhododendron forest and junipers towards Ngegang yak pastures.
Day 10 Ngegang- near Ganjala and Camp.
Day 11/12 Cllimbing to Naya Kanga.
Day 10: Ganja La (5121 m) - Keldang (4300 m)
in 5 h. The ascent to the pass is quite tricky, following streams at first, and continuing through snow and rocks. We scramble the last 100 meters on a steep and snowy slope. The pass offers an impressive panoramic view of the Langtang Lirung and the snowy summits of the Tibetan boarder, amongst rises the Shisha Pangma (8013 m). Then, the trail steeply plunges through moraines.
Day 13: Keldang - Dukpu (4020 m)
in 6 h. Ascents succeed to descents along the ridge trail.
Day 14: Dukpu - Tarke Ghyang (2560 m)
in 5 h. We reach a pass towering at 4080 meters, offering a great view throughout the Himalaya. We now start our descent towards Helambu through fir tree and rhododendron forests.
Day 15: Tarke Ghyang - Sermathang (2620 m)
 in 5 h. The ridge trail crisscrosses streams and waterfalls, and offers wide views in all directions with the southern foothills of Nepal fading towards the plains of India.
Day 16: Sermathang - Melamchi Pul (890 m)
in 4 h. A knee-wobbling journey as altitude is rapidly lost descending to the Melamchi Kola River.
Day 17: Melamchi Pul - Kathmandu (5h) by bus.
Day 18: Kathmandu. Day at leisure. Safety day for your international flight.
Day 19: Kathmandu. Hotel - airport transfer.

The following information will allow you to better plan your budget for tours or treks. A range of costs is given. These costs are dependant on
:
The mix of Touring and/or general Trekking,
The remoteness of the areas visited,
The number of guides or porters required,
The standard of accommodation required (if there is a choice), 
The type of ground transport used,
The length of your visit, and
The size of your group.
Depending on group size the costs of treks and tours range from:
1 to 3 pax     US$ 88 to 163  P/p per night.
4 to 8 pax     US$ 78 to 148  P/p per night
9 to 14 pax.  US$ 75 to 135 P/p per night.
15 to 20 and above US$ 60 to 110 P/p per night
Single supplement US$ 40 to 70 per night.
Note: The itinerary and cost for Peak climbing, Mountaineering, Tibet, Bhutan and India tours and trek are conditional apply.
Notwithstanding the costs shown above, we can tailor tours to suit almost any budget. Feel free to email us for more information.

Note: One tour leader will be free of cost for tours with 15 or more paying guests only. 

Children's bellow three years is free if sharing with their parents. And need to pay if they are participating on the trekking, and above three to nine year children half of the price.

Cost Includes: Accommodation in 3 to 4 star hotels in the cites as your choice, basic accommodation in a lodge or tea house or camping (depending on your itinerary and choice) during treks, guides and porters on treks, all land transfers by private vehicle, 3 meals a day on treks, all jungle safaris, all sightseeing tours as per itinerary and all necessary entry fees, permits and airport transfers.

Cost Excludes: Personal expenses, domestic air tickets, airport tax, drinks (soft drink, mineral water and alcoholic beverages and hot-shower on the trek), personal insurance, and extra cost due to natural calamities or accidents outside of our control.
Remarks: The cost of the trip determines with the services included during the trip so that it might be varies with the services, hotel and transfer of your wish.
Please note that our guides speak the following English languages and if required we will provide your language spiking guide on extra cost.
 Note: Please contact exploretrek@wlink.com.np   for more information and prices
Translate
Contact Information:
Alpine Explore Nepal
P.O. Box: 4546, Kathmandu, Nepal
+977 1 4700714 / 4700175 / 4701974
Fax: +977 -1 - 4700970
Email: info@traveltrek.asia
sales@traveltrek.asia
Skype Address: explore.alpine
MSN Messanger: explorealpine
Yahoo Messanger:explorealpine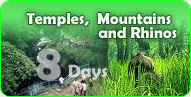 Our Guest Says
SteveAnyon-Smith
18 April 2000

This was my third trek in Nepal, having visited the Annapurna Region in 1995 and with Bharat and Dave in the beautiful and wildlife-filled Langstang Valley in1998. Bharat's company "Explore Alpine Adventure"....