India Bird Watching Tour:
TOUR ITINERARY:
1st DAY: ARRIVE  DELHI
Upon arrival in Delhi, our Executive will meet you at the Airport followed by transfer to hotel. Overnight stay at Hotel.
2nd DAY : DELHI – RAMNAGAR (OVERNIGHT TRAIN) 2245 /0455 +1
Morning visit Old Delhi with visit to Raj Ghat: the mausoleum of Mahatma Gandhi followed by visit to Mughal monument of Jama Masjid & Red Fort (Photo-stop).. Afternoon sightseeing of New Delhi where you visit the mighty Qutub Minar, the unique lotus shaped Bahai Temple, India Gate, and sikh Temple at Bangla Sahib. Evening departure to railway station to board over night train to Ramnagar(Corbett)
3rd DAY: RAMNAGAR - CORBETT (21 KMS/45 MINS)
Upon arrival in Ramnagar, transfer to Corbett and check in hotel..
4th DAY: CORBETT                      
Day free (Safari / Entrance at own cost) overnight stay at hotel..
5th DAY: CORBETT
Day free. (Safari/Entrances at own cost) Overnight AT HOTEL
6th DAY: CORBETT-RAMNAGAR (21KMS/ 45MINS)
RAMNAGAR-DELHI (OVERNIGHT TRAIN)
Evening transfer to Ramnagar for train to Delhi. Overnight on board train
7th DAY: DELHI- BHARATPUR   (BY TRAIN Dep 1310 Hrs/ Arr 1545 Hrs)
Morning arrive Delhi and transfer to Hotel for wash and change. Afternoon transfer to Railway Station for train to Bharatpur. Upon arrival transfer hotel. Evening visit the world famous Keoladeo wildlife sanctuary known for colorful kingfishers, graceful pelicans and around 375 species of birds. (Optional rickshaw ride at keoladeo wildlife sanctuary). Evening at leisure.
8th DAY: BHARATPUR- VADODRA (OVERNIGHT TRAIN)  (DEP 1920 Hrs/ARR 0852 Hrs)
Early morning visit Bird Sanctuary once again. Evening transfer to Railway station for train to Vadodra. OVERNIGHT ON BOARD TRAIN.
9th DAY: VADODRA -  DASADA (Little Rann of Kutch)         (210 Kms/05 Hrs)
Upon arrival in Vadodra, drive to Dasada. Upon arrival in Dasada, transfer to Hotel. Evening visit "The Little Rann of Kutch Wildlife Sanctuary" Overnight at Hotel on Dasada.
10th  DAY: DASADA
Day free to visit National Park and walk village.
11th  DAY: DASADA-  JAMNAGAR (260 Kms/06 Hrs)                   
Morning drive to Jamnagar. Upon arrival in Jamnagar, transfer to Hotel for overnight stay. Evening visit to Khijadiya Bird Sanctuary (10 Kms away), where there are fairly good chances of seeing Indian skimmer. This sanctuary is a breeding area for many species of birds that do not nest elsewhere in peninsular India. Great-crested grebe, black-necked stork, Caspian tern and many other birds can be seen besides most of the species recorded in the Little Rann area. Overnight at Hotel.
12th  DAY: JAMNAGAR
Visit coastal areas along the Gulf of Kutch, one of the finest birding stretches along the Indian coastline. You are likely to see crab-plover, Kentish plover, oystercatcher, ruddy turnstone, broad-billed sandpiper, sanderling, dunlin, curlew sandpiper, black-headed gull, Pallas' gull, temmincks stint, lesser-crested tern, gull-billed tern, common tern, little tern, black-bellied tern, whiskered tern, whiskered tern, darters, western reef egret and other birds could be seen on this route. Overnight at Hotel.
13th DAY: JAMNAGAR-SASANGIR (143 KMS/03 HRS)
Morning drive to Sasangir.Gir Wildlife Sanctuary - Sprawling in an area of 1424 sq. kms, Gir with its dry deciduous forest is a luxuriantly rich ecosystem- endowed with floral and faunal plentitude. Thirty species of mammals, twenty species of reptiles, several species of insects and birds are found here. The forest is the only place in the world, outside Africa, where the lion can be seen in its natural habitat. The number of lions in Gir had dwindled to a mere 15 by the turn of the century, due to extensive trophy hunting. The forest also harbors a number of smaller birds and animals. Other predators are the panther and the hyena. The largest Indian deer, Sambhar, Chital(spotted deer), Nilgai(blue bull), Chinkara and the unique Chowsingha (four horned antelope) are found here along with the bear and the long tailed langur.

Few people know that Gir is also one of the finest bird sanctuaries in India.Some of the typical birds of Gir are the crested serpent eagle, crested hawk eagle, brown fish owl, king vulture, jungle quail, paradise flycatcher, pygmy woodpecker, hard headed oriole etc. Adholia, Valadera, Ratanghuna and Pilipat are rewarding places for bird watching. Overnight at Hotel.
14th DAY: SASANGIR
Day free. (Safari/Entrances at own cost) Overnight at hotel.
15th DAY: SASANGIR-VIRAVAL (43 KMS/1 HR)   
VIRAVAL -AHMEDABAD      DAY TRAIN ( Dep 1015 Hrs/Arr 1825)
Morning transfer to veraval station (42 Kms away) to board train to Ahmedabad . Upon arrival in Ahmedabad transfer to railway station for ovenight stay.
16th DAY: AHMEDABAD- DELHI (BY FLIGHT)                                                
Morning Transfer to Airport for flight to Delhi. Upon arrival in Delhi transfer to Hotel for overnight stay.
17th DAY: DELHI DEPARTURE
Transfer to International Airport for return flight.

The following information will allow you to better plan your budget for tours or treks. A range of costs is given. These costs are dependant on
:
The mix of Touring and/or general Trekking,
The remoteness of the areas visited,
The number of guides or porters required,
The standard of accommodation required (if there is a choice), 
The type of ground transport used,
The length of your visit, and
The size of your group.
Depending on group size the costs of treks and tours range from:
1 to 3 pax     US$ 88 to 163  P/p per night.
4 to 8 pax     US$ 78 to 148  P/p per night
9 to 14 pax.  US$ 75 to 135 P/p per night.
15 to 20 and above US$ 60 to 110 P/p per night
Single supplement US$ 40 to 70 per night.
Note: The itinerary and cost for Peak climbing, Mountaineering, Tibet, Bhutan and India tours and trek are conditional apply.
Notwithstanding the costs shown above, we can tailor tours to suit almost any budget. Feel free to email us for more information.

Note: One tour leader will be free of cost for tours with 15 or more paying guests only. 

Children's bellow three years is free if sharing with their parents. And need to pay if they are participating on the trekking, and above three to nine year children half of the price.

Cost Includes: Accommodation in 3 to 4 star hotels in the cites as your choice, basic accommodation in a lodge or tea house or camping (depending on your itinerary and choice) during treks, guides and porters on treks, all land transfers by private vehicle, 3 meals a day on treks, all jungle safaris, all sightseeing tours as per itinerary and all necessary entry fees, permits and airport transfers.

Cost Excludes: Personal expenses, domestic air tickets, airport tax, drinks (soft drink, mineral water and alcoholic beverages and hot-shower on the trek), personal insurance, and extra cost due to natural calamities or accidents outside of our control.
Remarks: The cost of the trip determines with the services included during the trip so that it might be varies with the services, hotel and transfer of your wish.
Please note that our guides speak the following English languages and if required we will provide your language spiking guide on extra cost.
Translate
Contact Information:
Alpine Explore Nepal
P.O. Box: 4546, Kathmandu, Nepal
+977 1 4700714 / 4700175 / 4701974
Fax: +977 -1 - 4700970
Email: info@traveltrek.asia
sales@traveltrek.asia
Skype Address: explore.alpine
MSN Messanger: explorealpine
Yahoo Messanger:explorealpine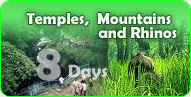 Our Guest Says
SteveAnyon-Smith
18 April 2000

This was my third trek in Nepal, having visited the Annapurna Region in 1995 and with Bharat and Dave in the beautiful and wildlife-filled Langstang Valley in1998. Bharat's company "Explore Alpine Adventure"....