Ibisbill Lowland Birding Tour:
Day 01: Kathmandu 1350m Arrive Kathmandu, transfer  into your hotel you will be briefed by your Tour leader on your programme.

Day 02: Phulchowki 1520-2760 m. After a very early breakfast we depart for Phulchowki 18km Southeast of Kathmandu. Phulchowki at 2760m is the highest of the mountains    encircling the Kathmandu valley and provides an ideal introduction to    the birds of Nepal. Regularly recorded resident species include Besra, Black Eagle, Mountain Hawk-Eagle, Kalij Pheasant, Common Hill Partridge, Ashy Woodpigeon, Wedge-tailed Green Pigeon, Mountain    Scops Owl, Collared Owlet, Golden-throated Barbet, Speckled Piculet, Crimson-breasted Pied and Rufous-bellied Pied Woodpeckers, Grey-chinned Minivet, Striated Bulbul, Orange-bellied Leafbird, Spotted Forktail, Chestnut-headed and grey-bellied Tesias, Chestnut-crowned and black faced Warblers, Rufous-bellied Niltava, Lesser Scaly-breasted Wren Babbler, Streak-breasted Scimitar-Babbler, Grey-throated and Spiny Babblers, White-crested, striated,  Rufous-chinned and grey-sided Laughing thrushes, Red-billed Leiothrix, Cuttia, White-browed Green  and Black-eared Shrike-Babblers, Hoary Barwing, Blue-winged Minla, Nepal Fulvetta, Yellow- browed Tit, Brown-throated Treecreeper, Black-throated Sunbird, Maroon Oriole, Eurasian and Lancelated Jays, Red-billed Blue Magpie and Brown Bullfinch. A further 55 species have been known to visit the area as migratory or occasional visitors. Phulchowki's forests are also very rich in flora and butterflies. Mammals include Leopard, Yellow-throated   Marten and Orange-bellied Squirrel. After this fine introduction to Nepali  Birds, we will return to our hotel in Kathmandu.

Day 03: By Road to Pokhara A scenic drive of approximately 7 hours plus a stop for lunch at High way restaurant beside the trishuli River. The southern side of the lake is covered in extensive forest with rich bird life and excellent views of the Annapurna range, Phewa Lake and Pokhara. We  will have plenty of time for a late afternoon exploration of this forest.

Day 04-06: Pokhara 915m We explore in detail the forest along the southern shore of the lake.    Apart from the many birds found here, you will also be rewarded with some of the best views of the Annapurnas and Machhapuchhre, Pokhara has to offer. Species regularly seen in this forest  and along the shore of the lake include Besra, Red-thighed Falconet, Pallid and Pied Harriers,  Eurasian Griffon, Red-headed and Eurasian Black Vultures, Kalij Pheasant, Ducks, Gulls, Terns, Waders, Bulbul,  Black-backed Forktail, Puff-throated Babbler, White-crested, Lesser Necklaced and Rufous-chinned Laughing Thrushes, Red-billed Leiothrix, Minivetts, Crimson Sunbird,  aroon Oriole, Lesser Racket-tailed Drongo, Red-billed and Green Magpies, Long-tailed Mountain Thrush, Chestnut-headed and Grey-bellied Tesias,  Chestnut-crowned Warbler, Small  and Rufous-bellied Niltavas and Snowy-brown Flycatcher, Long-tailed Broadbill, Pale Blue  Flycatcher, White-tailed Robin, Spiny Babbler, White-browed Scimitar-Babbler, Striated Munia, Lesser Whitethroat and Thick-billed Warbler.

Day 07: By Road to Chitwan Transfer by road from Pokhara to Chitwan. A drive of approx. 4 hours. After checking in, you will have time for a late afternoon Nature Walk or Elephant Safari. The Royal Chitwan National Park covers 932 sq. km. and supports over 500 species of birds. Flocks of Common and Demoiselle Cranes occur on passage between March and May and  October/November. Along the marshes and small lakes there are Cormorants, Darter, Cinnamon Bittern, Black-crowned Night and Purple Herons, Asian Openbill, Woolly-necked and Lesser Adjutant Storks, Lesser Whistling Duck, Cotton Pygmy Goose, Balloons   Ruddy-breasted and Brown Crakes, Purple Gallinule, Bronze-winged Jacana, Painted Snipe and Stork-billed Kingfisher, Chestnut-crowned and Spotted Bush Warblers, Yellow bellied Prinia, Clamorous Reed, dusky and Smoky Warblers, and Red-capped Babbler. Forest species regular seen are Lesser Fishing and Grey headed Eagle, Brown Fish Owl, Changeable Hawk-Eagle, Kalij Pheasant, Emerald Dove, Orange-breasted Green and Pompadour Green Pigeon, Moustached   Parakeet, Green-billed Malkoha, Brown Hawk Owl, Crested Treeswift, Pied and Great Hornbills, Streak-throated Green, Rufous, Himalayan Golden-backed and Greater Golden- backed Woodpeckers, Large Woodshrike Rosy Minivet, Black- crested Bulbul, Golden fronted Leafbird, Pale-chinned Flycatcher, Black-napped Monarch, Puff-throated Babbler, White-browed Scimitar-Babbler, Grey-throated Babbler, Crimson Sunbird, Thick-billed Flowerpecker, Hill Mynah, Black-hooded Oriole, White-rumped Shama, Lesser Necklaced, Greater Necklaced and Rufous-necked Laughing-thrushes, Nepal Fulvetta, Streaked Spiderhunter, yellow-bellied Warbler, Rufous-bellied  Eagle, Forest Eagle, Tawny Fish Owls, Red-headed Trogon, White-browed Piculet, Great Slaty Woodpecker, Long-tailed Broadbill, Ruby-cheeked Sunbird and Little Spiderhunter. Elephant Safari, travel through open grassland and dense forests on   elephant back in search of rare game. Be on the look out for the great   one horned rhino, four species of deer, wild boar, sloth bear, leopard, bison and the big one, The Royal Bengal Tiger.   Canoeing, a traditional dugout canoe takes you on a silent trip down the Rapti River to view birds, crocodiles and the animals of the river  bank. Nature walk, our trained naturalists take you to prime spots to view  deer, rhino, sloth bear and other wild life. Detailed knowledge of the   wild life and jungle will enhance your trip. Birding, an early morning walk along the Rapti River is a must to view many of over the 500 species of exotic birds including Giant Hornbill,Lesser Florican and Paradise Flycatcher. Again, you will be accompanied by our naturalists.

Day 08: Chitwan Full day Safari Programme

Day 09: Chitwan We depart the Lodge by Land Rover for an excursion further into the Chitwan National Park.

Day 10: Chitwan After lunch we have a one and half hour drive to Hedauda where hopefully we will find the very rare Ibisbill in the gravel beside the Rapti river.

Day 11: Kathmandu After an early morning Bird watching walk we then transfer by road to Koshi Tapu.

Day 12: Koshi Tappu Full day birding.

Day 13: Koshi Barrage After an early morning Birdwatching walk we transfer by road to the  Koshi Barrage. As the largest wetland area in Nepal, the Barrage is an important staging point for migrating waterfowl and waders as well as home to a rich variety of marsh, grassland and scrub birds. Ganges Dolphins frequently occur north of the barrage.

Day 14-15: Koshi Barrage Full day Birdwatching looking for Brahminy Kite, Pallas's Fish Eagle,   White-tailed Eagle, Eurasian Black Vulture, Short-toed Eagle, Pallied and Pied Harriers, Peregrine, Greater Spotted, Imperial and Steppe Eagles, Little Cormorant, Black Stork, Baillon's Crake, Hodgsons  Bushchat, Spotted Bush Warbler, Paddyfield, Clamorous Reed, Dusky and Smoky Warblers, Black-faced Bunting, Fulvous Whistling Duck, Baer's Pochard, Grey-headed Lapwing, Chinese Bush Warbler, Pallas Grasshopper and Black-browed Reed Warbler, Egrets, Purple Heron, Asian Openbill, Woolly-necked, Black-necked, Greater Adjutant and Lesser Adjutant Storks, Lesser Whistling Duck, Spoonbill, Swamp Francolin, Osprey, Red-necked Falcon, Ruddy-breasted Crake, Purple Gallinule, Bengal Florican, Bronze-winged Jacana, Great Stone Plover, Indian Courser, Little Pratincole, River and Black-bellied Terns, Lesser Coucal, White-tailed Stonechat, Graceful and Yellow-bellied Prinias, Striated Marsh Warbler, Black-breasted and Streaked Weavers and Red Avadavat.

Day 16: Kathmandu - After an early morning Birdwatching walk we transfer by road to Biratnagar and fly back to kathmandu. On arrival in Kathmandu we check into our Hotel.

Day 17: Kathmandu - Kathmandu stands at 1350 meters and the valley is surrounded by hills at an altitude of around 2400 meters. There are three important cities in the valley, the most significant being Kathmandu itself. Patan is the most Buddhist of the three and is across the Bagmati River to the  south of Kathmandu, but so close as to be almost an extension of the capital. Bhaktapur, also known as Bhadgaon, is the most "mediaeval" and is situated in the eastern part of the valley. While Kathmandu and Patan have undergone great changes in the two decades since Nepal   ended its long isolation, Bhaktapur has changed very little and is still much as it was three decades ago.

Day 18: Fly back from kathmandu.

The following information will allow you to better plan your budget for tours or treks. A range of costs is given. These costs are dependant on
:
The mix of Touring and/or general Trekking,
The remoteness of the areas visited,
The number of guides or porters required,
The standard of accommodation required (if there is a choice), 
The type of ground transport used,
The length of your visit, and
The size of your group.
Depending on group size the costs of treks and tours range from:
1 to 3 pax     US$ 88 to 163  P/p per night.
4 to 8 pax     US$ 78 to 148  P/p per night
9 to 14 pax.  US$ 75 to 135 P/p per night.
15 to 20 and above US$ 60 to 110 P/p per night
Single supplement US$ 40 to 70 per night.
Note: The itinerary and cost for Peak climbing, Mountaineering, Tibet, Bhutan and India tours and trek are conditional apply.
Notwithstanding the costs shown above, we can tailor tours to suit almost any budget. Feel free to email us for more information.

Note: One tour leader will be free of cost for tours with 15 or more paying guests only. 

Children's bellow three years is free if sharing with their parents. And need to pay if they are participating on the trekking, and above three to nine year children half of the price.

Cost Includes: Accommodation in 3 to 4 star hotels in the cites as your choice, basic accommodation in a lodge or tea house or camping (depending on your itinerary and choice) during treks, guides and porters on treks, all land transfers by private vehicle, 3 meals a day on treks, all jungle safaris, all sightseeing tours as per itinerary and all necessary entry fees, permits and airport transfers.

Cost Excludes: Personal expenses, domestic air tickets, airport tax, drinks (soft drink, mineral water and alcoholic beverages and hot-shower on the trek), personal insurance, and extra cost due to natural calamities or accidents outside of our control.
Remarks: The cost of the trip determines with the services included during the trip so that it might be varies with the services, hotel and transfer of your wish.
Please note that our guides speak the following English languages and if required we will provide your language spiking guide on extra cost.
Translate
Contact Information:
Alpine Explore Nepal
P.O. Box: 4546, Kathmandu, Nepal
+977 1 4700714 / 4700175 / 4701974
Fax: +977 -1 - 4700970
Email: info@traveltrek.asia
sales@traveltrek.asia
Skype Address: explore.alpine
MSN Messanger: explorealpine
Yahoo Messanger:explorealpine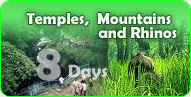 Our Guest Says
SteveAnyon-Smith
18 April 2000

This was my third trek in Nepal, having visited the Annapurna Region in 1995 and with Bharat and Dave in the beautiful and wildlife-filled Langstang Valley in1998. Bharat's company "Explore Alpine Adventure"....