Helambu Culture Trekking
The Sherpa village of Tarke Ghyang that forms the focus of Helambu is a charming enclave of farmers and yak herders. The trip starts with a scenic drive from Kathmandu to Sundarijal. Helambu provides an instant Himalayan trek for those with limited time. This trek is an easy and enjoyable trip conducted at the average altitude of 3500m. The trek takes you through Thadepati to Tarke Gyang, where a choice of trails opens up. However we go along the south ridge through Sermathang, down to the river at Melamchi, the site of a mega project to bring drinking water to Kathmandu via a series of tunnels. The trek concludes with a drive down to Kathmandu via Panchkhal, after a night's camp at Melamchi Bridge.
Helambu Trekking Itineraries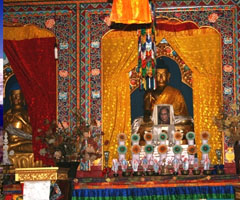 Day 01.  Arrival meet and transfer to Hotel. 
Day 02.  Full day sight seeing in Kathmandu valley. 
Day 03.  Chisapani to Gul Bhanjyang (2,180 m.)
this route includes Pati Bhanjyang an inhabitation of Brahmans and Chhetries. There is also a Police post and some hotels and teashops. The path follows a steeply ascend up to Chipling at (2,170 m.) During climbing a staircase you can see many interesting Buddhist Money stones. After a 200 m. climb you pass at (2,470 m.) Gul Bhanjyang and consit of Tamang village at the height of (2,285 m.) everyone can see the beautiful mountain series. 
Day 04.  Gul Bhanjyang to Tharapati (3,400 m.)
Before your reach Tharapati, you will pass two ridges. From these points, Yuri Danda and Panghu Danda (3,285 m.) everyone can see the beautiful mountain series. 
Day 05 Tharapati to Tarkeghyang.
It is a most interesting village for trekkers, because it's the largest village in this area. Nowadays, this area has been most commercialised because the people from Tarkeghyang are good and antique sellers; some of them have become rich by this kind of trading. 
Day 06 Tarkeghyang to Shermathang (2,260 m.).
On this trail you can enjoy in springtime the Rhododendron forests. Butalso Mani walls, chortens, Sherpa village.
Day 07 Thombo to Talamarang (940 m.).
This valley is very fertile for crops and vegetables such as paddy, wheat, potatoes etc. Brahmans, Chhettries and Newars occupy lower land. After crossing a suspension bridge, you will visit Mahankal (1,130 m.). 
Day 08 Talamarang to Melamchitse Bazaar (830 m.).
Crossing Talamarang River you reach Rati Bhanjyang. A number of streams, water falls and landslides will blow your mind. Finally you come at the large town called Sermathang at (2,620 m.), where the Langtang National park office will ask the trekkers for park entrance permit. If you follow the opposite route, the Shermathang offers a number of places to stay for tourists, more than at Melamitse Bazaar. 
Day 09 Melamitse Bazaar to Kathmandu: Drive back by bus. 
Day 10  Free Day in Kathmandu 
Day 11 Drive out from Kathmandu to Chitwan. 
Day 12 At Chitwan
full day program: Elephant ride and bird watching after bed tea or coffee. Breakfast Canoeing on Rapti River, lunch, nature walk and special show of Tharu ethnic group's with Stick dance and dinner at 8 o'clock in the evening. 
Day 13 Drive back to Kathmandu. 
Day 14 Free day in Kathmandu for shopping, packing. 
Day 15 Departure Namaste flight to your destination.

The following information will allow you to better plan your budget for tours or treks. A range of costs is given. These costs are dependant on
:
The mix of Touring and/or general Trekking,
The remoteness of the areas visited,
The number of guides or porters required,
The standard of accommodation required (if there is a choice), 
The type of ground transport used,
The length of your visit, and
The size of your group.
Depending on group size the costs of treks and tours range from:
1 to 3 pax     US$ 88 to 163  P/p per night.
4 to 8 pax     US$ 78 to 148  P/p per night
9 to 14 pax.  US$ 75 to 135 P/p per night.
15 to 20 and above US$ 60 to 110 P/p per night
Single supplement US$ 40 to 70 per night.
Note: The itinerary and cost for Peak climbing, Mountaineering, Tibet, Bhutan and India tours and trek are conditional apply.
Notwithstanding the costs shown above, we can tailor tours to suit almost any budget. Feel free to email us for more information.

Note: One tour leader will be free of cost for tours with 15 or more paying guests only. 

Children's bellow three years is free if sharing with their parents. And need to pay if they are participating on the trekking, and above three to nine year children half of the price.

Cost Includes: Accommodation in 3 to 4 star hotels in the cites as your choice, basic accommodation in a lodge or tea house or camping (depending on your itinerary and choice) during treks, guides and porters on treks, all land transfers by private vehicle, 3 meals a day on treks, all jungle safaris, all sightseeing tours as per itinerary and all necessary entry fees, permits and airport transfers.

Cost Excludes: Personal expenses, domestic air tickets, airport tax, drinks (soft drink, mineral water and alcoholic beverages and hot-shower on the trek), personal insurance, and extra cost due to natural calamities or accidents outside of our control.
Remarks: The cost of the trip determines with the services included during the trip so that it might be varies with the services, hotel and transfer of your wish.
Please note that our guides speak the following English languages and if required we will provide your language spiking guide on extra cost.
Note: Please contact exploretrek@wlink.com.np for more information and prices
Translate
Contact Information:
Alpine Explore Nepal
P.O. Box: 4546, Kathmandu, Nepal
+977 1 4700714 / 4700175 / 4701974
Fax: +977 -1 - 4700970
Email: info@traveltrek.asia
sales@traveltrek.asia
Skype Address: explore.alpine
MSN Messanger: explorealpine
Yahoo Messanger:explorealpine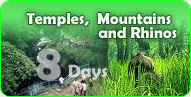 Our Guest Says
SteveAnyon-Smith
18 April 2000

This was my third trek in Nepal, having visited the Annapurna Region in 1995 and with Bharat and Dave in the beautiful and wildlife-filled Langstang Valley in1998. Bharat's company "Explore Alpine Adventure"....