Trekking in Upper Mustang ( 17 Days)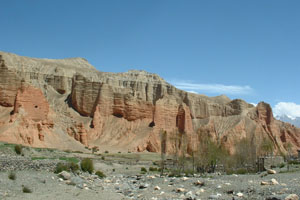 This is a Trek that takes you along the Kali Gandaki Valley to the ancient Himalayan Kingdom of Mustang.
The word 'Mustang' conjures up ideas of remoteness and seclusion, a region lost amongst the mountains. This was an independent country until it was closely consolidated into Nepal just a few decades ago.
The kingdom of Mustang lies in the rain shadow formed by the Annapurna & Nilgiri Himalayas and thus gets very little rain which fortunately, makes the area ideal for trekking even in the mid monsoon while the other areas of Nepal remain unsuitable for trekking due to heavy monsoon rains.
The Trek to this mystique kingdom which requires a special permit that costs US$ 700 per person [valid for 10 Days begins at the airstrip of Jomsom after flying up early from Pokhara. The trek is rather easy as most of the route goes along the bank of Kali Gandaki River and eventually leads you to Lo-Manthang, the capital of Mustang at 3730 meter, which is the highest point on this trip.
Fascinating areas: culturally and historically, picturesque villages, monasteries, unique landscapes with easy access and very few trekkers going to this area are the major highlights of this trip. This is among the very few adventure trips in Nepal which can be done throughout the year.
The region of Mustang lies north of the main Himalayan range in the area known as the trans-Himalaya. A vast high valley, arid and dry, it has a barren desert-like appearance similar to the Tibetan Plateau and is characterized by eroded canyons and colorful stratified rock formations. It was once an important route for crossing the Himalaya between Tibet and Nepal, and many of the old salt caravans passed through Mustang.
Known to its inhabitants as Lo, Mustang was only opened to trekkers in March 1992 and you will be part of a small privileged minority to visit this remote outpost of Nepal. The capital of the Mustang district is actually Jomsom but the Tibetan influenced area north of Kagbeni is known as Upper Mustang. It is this area which we will explore fully, discovering the wonders of the architecture, language, culture and traditions which are almost purely Tibetan in this once-upon-a-time mystical kingdom
DETAILED ITINERARY
Day 1 Arrival in Kathmandu
It is a panoramic thrill flying into Kathmandu on a clear day. The views of snow-capped mountain peaks sprawling down below you are almost ecstatic, beginning a whole chain of memorable experiences that stay with you for a long, long time. A representative and driver from our office will meet you at the airport and escort you to your hotel. The representative will help you check into your designated hotel. At the hotel, you will be briefed about your daily activities.
Day 2 Sightseeing of Kathmandu Valley
Kathmandu is the historical and cultural heart of Nepal and has been a popular destination for tourists ever since Nepal opened its doors to visitors. The city presents a wonderful mix of Hinduism, Tibetan Buddhism and Western influence in the Valley. Patan and Bhaktapur, its two major neighboring cities bear immense historical, cultural and religious significances. There will be a half day guided tour to the famous & biggest Hindu shrine of Pashupatinath, the largest Buddhist stupa in Nepal Boudhanath, the 15th century Palace of 55 windows and Swoyambhunath.
Day 3 Fly to Pokhara
We take the short but scenic 30 minute flight to Pokhara, enjoying the views of Ganesh, Manaslu and the Annapurnas along the way. We stay overnight in Pokhara.
Day 4 Fly to Jomsom & Trek to Kagbeni [2780m]
We take the spectacular early morning flight to Jomsom (famous for its apples) where we will be met at the tiny airstrip by our trek crew. After some initial preparation of loads, we begin our trek to the pretty village of Kagbeni. Just out of Jomsom we cross a small suspension bridge and then walk along the riverbank of the Kali Gandaki. The trail is flat and quite barren, with craggy rocks and sand littering the trail. This makes it very easy going. We will get magnificent views of huge peaks such as Dhaulagiri, Tukuche and Nilgiri, whilst to the south can be seen the entire Annapurna massif. Kagbeni with its narrow alleyways and tunnels, irrigation canals, fields of wheat and barley and a large red Gompa, give us a preview of scenes that we would come across in Upper Mustang. At the north end of the village is the police check-post. Here we will complete our paperwork before entering this long forbidden region of Nepal.
Day 5 Trek to Chhuksang [2920m]
It is possible to trek right up the river valley, but we use a combination of the high trail and the riverbank pathways. The trail then widens significantly revealing an endless stretch of sand but the path is kept interesting by the passing of mule trains bearing goods from Mustang and Tibet. On the west bank of the river are some caves and Gompa Kang. Unlike most monasteries in Upper Mustang which are of the Sakyapa sect, Gompa Kang is of the Nyingmapa sect. We stop for lunch at the village of Tangbe, where we come across the first black, white and red Chortens that typify Upper Mustang. The little town is a labyrinth of narrow alleys among white washed houses, fields of buck wheat and barley and apple orchards. Nilgiri Peak continues to dominate the southern skyline. Chhuksang village is only about 2hrs walk beyond Tangbe at the confluence of the Narshing Khola and the Kali Gandaki. There are three separate parts to this village and some ruined castle walls on the surrounding cliffs. Across the river from Chhuksang are some spectacular red eroded cliffs above the mouths of some inaccessible caves.
Day 6 Trek to Samar [3290m]
There is a distinct change here, not only in the topography, but also in the culture, lifestyle and people, and the settlements become more scattered, smaller and more basic. The people of Lo or Mustang practice agriculture. But due to lack of rain and fertile soil, cultivation is limited to sheltered plots of land. This spots the brown landscape with patches of green. Continuing north, we reach the river. A steel bridge spans the river just in front of a tunnel and north from here the Kali Gandaki becomes impassable by foot. The trek now leaves the valley and climbs steeply up a rocky gully to the village of Chele. Watch out for the ferocious Tibetan mastiffs here, which are chained to many of the houses. From Chele you climb a steep spur and then continue ascending along the side of a spectacular steep canyon to a pass. Beyond the pass we descend on a pleasant trail to Samar, situated in a grove of poplar trees. This is a major place to stop for horse and mule caravans.
Day 7 Trek to Geling [3440m]
We climb above Samar to a ridge and then descend into a large gorge past a Chorten before entering another valley filled with juniper trees. We then cross a stream and after climbing to a pass, we descend along a ridge to Shyangmochen, a tiny settlement with a few tea shops. Nearby is Rangbyung, a cave containing stalagmites which have formed in the shape of Chorten and one of the holiest places in Mustang. The trail climbs gently from Shyangmochen and we enter another huge valley before descending to Geling, with its extensive fields of barley. Like in all settlements of Mustang, the white and ochre-painted houses in Geling are constructed using mud and stones. The roofs are made of twigs, straw and a mixture of mud and pebbles.
Day 8 Trek to Ghami [3460m]
From Geling, the trail climbs gently through fields, up the center of the valley, passing above the settlement of Tama Gun and an imposing Chorten. We then begin a taxing climb across the head of the valley to the Nyi La [3840m]. The descent from the pass is quite gentle and about half an hour further on we come to a trail junction; the right trail is the direct route to Charang, the left trail leads to Ghami. Ghami is a large white-washed village sheltered by overhanging cliffs.
Day 9 Trek to Charang [ 3490m]
Today's walk is through perhaps the driest part of Mustang, and much of our energy will be spent negotiating the loose, dry soil. However, the magnificent views of the countryside, from the gentle contours of the north to the rugged mountains in the east and west, more than compensates for the hard climb. Finally, we come to Charang, a large spread-out village at the top of the Charang Chu canyon. At the eastern end of the village are a huge dzong [fortress] and a red gompa which houses an excellent collection of statues and thangkas.
Day 10 Trek to Lo Manthang [3730m]
We will spend part of the morning exploring the interesting village of Charang and its large monastery, before setting out for Lo Manthang. We climb gently above the valley to a large isolated Chorten that marks the boundary between Charang and Lo Manthang. The trail then broadens and eventually we get our first view of the walled city of Lo Manthang. The city has only one entrance so we circumambulate the wall to the gate on the north-east corner.
Day 11 In & around Lo Manthang
Today, you are free to explore the fascinating city of Lo Manthang. The city contains about 150 houses, as well as residences for its many lamas. There are four major temples within the city and one of these, Champa Lhakang, contains a huge clay statue of Buddha as well as elaborates mandalas painted on the walls. The king's palace is an imposing building in the center of the city and is occupied by the current King and Queen. Although his duties are largely ceremonial, the King is respected by the people. Throughout the kingdom, the villagers continue to seek his advice regarding many issues. It is possible to hire horses to visit these valleys, but this short tour will incur extra costs.
Day 12 Trek to Lo Gekar
We begin our return journey from Lo Manthang, taking the upper highland route. This highland route offers dramatic views of Lo Manthang and the Charang Valley, with snow clad peaks in the background. Just past the settlement of Lo Gekar, we reach the oldest monastery in Mustang, the Ghare Gompa.
Day 13 Trek to Ghami [3460m]
We continue our journey on the highland route, crossing alpine meadows before dropping down a steep eroded gully to Dhakmar for lunch. After lunch, we walk through the pretty valley, climb to a ridge and descend from there back to Ghami.
Day 14 Trek to Chhuksang [2920m]
Now we must retrace our route back over the Nyi La to Chhuksang.
Day 15 Trek to Jomsom [2710m]
It's a long and sad final day, passing back through Kagbeni to Jomsom where we end our trek. It's now time for us to take a nice hot shower. In the evening, we celebrate with the Sherpas and porters, whom we have come to know so well over the last 2 weeks.
Day 16 Fly to Kathmandu via Pokhara
We take a spectacular early morning flight along the Kali Gandaki gorge to Pokhara and catch a connecting flight back to Kathmandu.
Day 17 Depart Kathmandu
Our staffs some of them will take you to the airport for your flight home.
On the other hand, if you prefer to stay longer, you can go for short tours such as game drive at National parks, rafting, Tibet tours, mountain biking etc).
Cost per Person
US $ 2825.
Pound £ 1533.
EURO € 1883.
Australian $ 2825.
Canadian $ 2825
Fixed Group Departure Date:
12th and 25th September 2008.
10th, 23rd and 27th October 2008.
9th, and 15th November 2008
For the convenience of our travelers to Nepal and fallow up the fixed departure itinerary of Explore Alpine adventure guarantees all fixed group departures dates.
Group Departures are for an adventurous individual person willing to join a small group of other travelers. We can arrange group trekking tours or individual trekking tours, to suit your requirements. Please you can choose any dates which will be suitable for you and please match your arrival in Kathmandu and departure from Kathmandu.
PRICE INCLUDES:
Breakfast, lunch, dinner and accommodation in lodge during the trek period.

Necessary Domestic air tickets and airport tax as per itinerary.

English speaking local expert guide, porters

Accommodation at 3 star hotel in Kathmandu/ Pokhara on double sharing with breakfast as per itinerary.

All guided sightseeing tour in Kathmandu/ Pokhara and entry fees as per itinerary.

Airport transfers and escort

Insurance of the guide and porters as per itinerary.

Jungle safari tour as per itinerary with full board and national park fees and all jungle activities including Elephant riding.

Rafting as per itinerary .

All necessary paper works and national park entry permits.

Travel & Rescue arrangement if necessary.

TIMS (Trekkers' Information Management System)

All government taxes.

Camping trekking Equipment: Trekking tents, Dining tent, Kitchen Tent, Toilet Tent, Table and chairs, Mattresses during the trekking.
PRICE EXCLUDES:
International flight & departure tax

Lunch & dinner in Kathmandu and Pokhara

Personal Trekking gears (available on hire in Nepal)

Tips, any expenses of personal nature, client's insurance.
Equipment List for trekking:
FOOT WEAR
Trekking boots: (one pairs), Thick socks (4 pairs)
Light socks (3 pairs)
Camp shoes (1 pair)
Sandals (1 pair)
CLOTHING
Down or fiber filled waterproof jacket and trousers (1)
Fleece jacket or pullover ( 1)
Warm cotton trousers (2 pairs)
Shirts and T-shirts ( 4 pieces)
Lightweight cotton long pants ( 3 pairs)

Long under wear (2 pieces)
Short under wear (4 pieces)
Sun hat or scarf ( 1) Woolen hat (1)
Sunglasses (1)
Lightweight gloves (1)
Rain coat(1)
Heavyweight gloves or mittens with a waterproof (1)
OPTIONAL
Insect repellent, toilet articles, note book & pen, toilet roll, laundry soap, pocket knife, towel, sewing kit, plasters, binoculars, camera, film, cards and personal medical kit
OTHER EQUIPMENT
Sleeping bag (4 seasons) 1
Down jacket -1
Day pack – 1
Water bottle – 1
Sun cream
Sunglasses
Flash light with spare bulbs, batteries, lip salve, gaiters.
Booking & Payment Conditions
Explore Alpine Adventure and Alpine Explore Nepal tour and trek is a well-known government licensed trekking and touring company in Nepal. We accept your bookings under the following terms and conditions.
1. When you confirmed trip, we need photo copy of your passport and 30% down payment of the total price for advance flight tickets, hotel booking and permit process.
2. Payments can be wired by bank transfer to our company bank account or Master Card and Visa Card. but we give preference bank transfer to our company account.
Please inquiry for bank accounts for your convenience.
3. Bank service charge should be paid by the clients themselves at the time of deposit.
4. In addition, payments can be made by Cash, Travels Cheque, Master Card or Visa Card as well. If you would like to make the payment by Master Card or Visa Card, the cards payment handling bank service charge 3.5% will charge to the card holder.
5. After receiving photo copy of your passport, and 30% advance form you, we send you final confirmation receipt.
6. Remaining balance can be made after your arrival in Nepal. Full payment should be made before trip departure. Be mindful, we also reserve the right to cancel your trip provided full amount is not paid in time.
7. Travel insurance is compulsory for all Clients undertaking any tour. It should provide adequate protection for the full duration of the tour or Trek to cover personal injury, medical expenses, repatriation expenses, helicopter evacuation, loss of luggage, etc.
8. If you wish to arrange your travel insurance from our Company, we will arrange travel insurance for you.
9 Cancellation by the Client: Cancellation of a confirmed booking must be made by the Client in writing either in written documents or on an email. Cancellation shall valid with approval from the company after receiving document. Trip shall then be termed as cancelled and as a cancellation charge, 30% of the trip amount would be deducted from the advance paid.
10 Risk & Liabilities:
We are committed to providing the best services which will give you a once in a life time journey in this connection, we perform our duties honestly & seriously to make your journey very smooth & pleasant. However, the entire programs in Nepal/Tibet/Bhutan are conducted strictly under the rules and regulation of theirs' own policies.
There for Explore Alpine Adventure and its related organization shall not be responsible for any changes in the itinerary due to unavoidable circumstance such as govt. restriction, Land slide, road blockage, flood, snow political unrest, cancellation of flight, delay, sickness or accident, Any extra cost incurring there of shall be borne by the clients on the spots.
Thank you for choosing Explore Alpine Adventure. We look forward to meet you In Nepal and serve you better.
Translate
Contact Information:
Alpine Explore Nepal
P.O. Box: 4546, Kathmandu, Nepal
+977 1 4700714 / 4700175 / 4701974
Fax: +977 -1 - 4700970
Email: info@traveltrek.asia
sales@traveltrek.asia
Skype Address: explore.alpine
MSN Messanger: explorealpine
Yahoo Messanger:explorealpine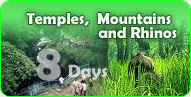 Our Guest Says
SteveAnyon-Smith
18 April 2000

This was my third trek in Nepal, having visited the Annapurna Region in 1995 and with Bharat and Dave in the beautiful and wildlife-filled Langstang Valley in1998. Bharat's company "Explore Alpine Adventure"....