Mera Peak Climbing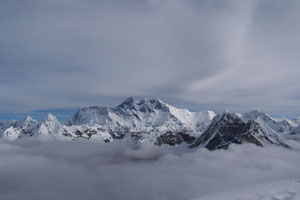 Introduction
This itinerary can be modified to include a longer loop trail or additional days of trekking for groups of four or more.
"Mera (Peak) is a chance to venture into a little visited and as yet unspoilt region of Nepal where the hillsides are still densely forested and a need to be self-sufficient is essential. There is also, of course, the pleasure of going above 21,000 feet
Mera Peak is quickly becoming a classic Himalayan climb! It is, after all, the highest mountain in Nepal (6,476m, 22,476ft) accessible to people with no mountaineering experience. Additionally, it offers some of the most spectacular mountain scenery, pristine forest, and high altitude climbing in the world. We start this climb with a hair-raising flight into the small town of Lukla at 2,800 m (9,184 ft). From there it is a six-day trek, with plenty of acclimatization days to keep us healthy at our ever-increasing altitude, through some of Nepal's most pristine Rhododendron, oak, silver fir and birch forests, past beautiful alpine lakes, and finally up to the foot of Mera Glacier where we'll establish base camp. We'll set up two more high camps, the first over 300 m above B.C. on the Mera Glacier, and the second after we cross the Mera crevasse field at 5,800 m. From here it is a steady and steep climb to reach the summit, with awe-inspiring views of Kanchanjunga and Makalu to the east, Everest and Lhotse to the north, and Ama Dablam and Cho Oyu to the west.
Itinerary
Day 1 Arrive in Kathmandu.
We will meet you outside the customs and immigration area at the airport and escort you to the hotel. Your first experiences in Nepal will be somewhat overwhelming as we drive through Nepal's bustling capital city to the hotel. Kathmandu is a stimulating mix of medieval and modern. You can explore the markets in the afternoon and we will meet for typical Nepali dinner for our first meal in Nepal.
Day 2 Explore Kathmandu.
Kathmandu is one of three former medieval city-states in the Valley, along with Bhaktapur and Patan. Our half-day morning sightseeing tour will include key sights around the Kathmandu Valley such as Bhaktapur, the Hindu shrines at Pashupatinath on the Bagmati River, and the large Buddhist stupa at Bodhnath, center of the Tibetan Buddhist culture in Kathmandu. In the afternoon, Kathmandu is yours to explore. By western standards, the city is intimate. You can visit the many interesting sights, shrines, and markets, or stroll in Kathmandu's fascinating Asan Tole bazaar. Don't miss Durbar Square, Thamel, Swayambhunath (the "Monkey Temple," overlooking the entire Valley; go at sunrise or sunset!) and the King's Palace. You could also hire a driver to take you to the nearby ancient city of Patan.
Day 3 Fly to Lukla,
trek to Chutunga. We will have an early breakfast and head off to the airport for our flight to Lukla. This flight will take about 40 minutes as we travel over ranges and river valleys towards the highest peaks in the Himalaya. Lukla is a small Sherpa town that is the starting point for some of the most famous climbs and treks in Nepal. We will spend the rest of the morning relaxing and acclimatizing at 2,800 m (9184ft). After lunch, will start our trek up to Chutunga, where we will camp for the night. Our walk will take us NE through the fields and forests surrounding Lukla. We will make our way up through yak grazing grounds to the small teahouse settlement of Chutunga (3,100m, 10,170ft).
Day 4 Acclimatization Day at Chutunga.
Acclimatization is an important component of high-altitude climbing. This will be the first of 3 scheduled rest days as we let our bodies get accustomed to the thinner, high altitude air. After breakfast we will head up towards Zetra La, exploring the rhododendron forests and meadows above Chutunga. Keep a lookout for the elusive Impeyan, a brightly colored Himalayan pheasant that keeps to the forests for cover. We will make our way back down for lunch and spend the rest of the day relaxing and enjoying the views of the surrounding peaks and passes.
Day 5 Cross Zetra La to Thule Karka.
Today we cross Zetra La (Pass, 4,600m, 15,088ft). We will slowly make our way up and stop for lunch just above the tree line, about 500 m below the pass. Above here the terrain is steep and rocky. From the pass we will get great views of surrounding peaks, such as Kwangde to the east and even Cho Oyu to the north. We will slowly make our way across the rocky flats and passes, gradually descending to Thule Karka at 4,400 m (14,432ft, 'Thule Karka' means big meadow in Nepali). Camping at high elevation will allow us to acclimatize so our later ascent of Mera Peak will be easier. If you have time to explore the craggy terrain around Thule Karka, you may spot a Himalayan mink hiding out in the weathering rock debris.
Day 6 Thulo Kharka to Thashing Ongma.
This will be on of our longest walking days, mostly downhill. We will traverse several flats and spurs until we gain our first view of Mera Peak. From here we will drop down into the isolated Hinku Valley. Aside from mountaineers, the Hinku Valley is sparsely populated and very pristine. We will ascend a steep section of trail until we enter the forest, where we will stop for lunch. Eventually we will drop down into the humid, bamboo forests, before turning north up along the west side of the Hinku River towards Mera Peak. We will slowly ascend to Tashing Ongma (3,600m, 11,808ft), where we will camp.
Day 7 Thashing Ongma to Tangnag.
Today we will have amazing mountain views as we continue north up the Hinku Valley. The trail gently climbs along the west bank of the Hinku River. Spectacular mountains, such as Kusum Kangaru to the west and Mera Peak to the east, will be in view throughout the morning. We will make our way up onto the meadows on the western side of the Hinku Valley as we climb above the tree line. Here we will stop for lunch. Throughout the afternoon, we will traverse meadows and hill slopes, dotted with grazing yaks, until we reach the settlement of Tangnag (4,350m, 14,268ft). If it's been a snowy season, the sound of avalanches will soon be familiar. We are approaching the heart of the high Himalaya.
Day 8 Acclimatization Day at Thangnag.
This will be a rest day to let our bodies recover from the past days of hiking. We will relax and soak up the beautiful views of peaks and glaciers surrounding the head of the Hinku Valley.
Day 9 Thangnag to Khare. Today we will climb above 5,000 m (16,400ft) for the first time. Our hike up to Khare (5,100m, 16,728ft) is short, but we will take it slowly, with frequent stops to soak up the incredible surroundings. The trails heads eastward out of Tangnag, along the lateral moraine of the Dig Glacier. We will pause to climb up the moraine for a view of the pristine Sabai Tso glacial lake. A drop in lake level, caused by a recent rupture of the natural dam the held the lake, is clearly visible. We will arrive at Khare in the early afternoon and have lunch. From Khare, the beautiful north face of Mera Peak is in plain view and Mera glacier spills steeply down into the valley.
Day 10 Acclimatization Day at Khare. Our staff will maintain our base camp at Khare. In the morning we will head up about 200 m to the foot of Mera glacier, where we practice rope work and use of crampons and ice axe. We will return to Khare for lunch. We'll spend the afternoon resting for the upcoming climb.
Day 11 Khare to Mera La. Today we will travel a short distance, slowly ascending up onto Mera glacier. The climb is initially steep, but flattens out as we reach the crest of the glacier. We will traverse a long flat on top of the glacier as we make our way to the pass, called Mera La (5,400m, 17,710ft). From here, the views are stunning. Crevasse fields gently stretch out in front of the pass and we are literally enclosed by a ring of jagged peaks and blue-green glaciers. The remaining route up to the summit of Mera Peak is clearly visible. We will have lunch at Mera La and spend the afternoon relaxing and staying warm.
Day 12 Mera La to High Camp. We have a short, steep climb up to High camp, but we will take it very slowly so that we allow for the altitude gain. At 5,800 m (19,025ft), high camp is nestled behind a large rock outcrop. We will arrive here by lunch and spend the afternoon relaxing and further acclimatizing. Bill O'Conner in the book 'Trekking Peaks of Nepal" describes high camp as "one of the most glorious viewpoints in Nepal, with a panarama that takes in Kanchanjunga, Chamlang, Makalu and Baruntse sweeping round from the east, whilst due north Everest peers over…the massive unclimbed South Face of Lhotse and Nuptse. Sitting on that rock outcrop, listnening to the wind and looking out across untracked glaciers remains a highlight of my Mera expedition."
Day 13 Ascend Mera Peak, Return to Base Camp at Khare. We will depart high camp before dawn. The climb up to the higher northern summit is straight forward, but will take 6-7 hours. The reward is one of the world's most spectacular mountain views, including Everest and Lhotse just to the north, Cho Oyu to the northwest, and Kanchanjunga and Makalu to the east. We will then make our way down to Mera La for lunch and to Khare to camp for the night
Day 14 Spare Day. We allow a spare day in case of bad weather.
Day 15 Khare to Thashing Ongma. Return along the same route.
Day 16 Thashing Ongma to Thule Karka. Return along the same route.
Day 17 Thule Karka to Lukla Return along the same route
Day 18 Lukla to Kathmandu. We will take an early morning flight from Lukla to
Kathmandu. This will be your first night back in civilization, time to eat a great meal, take a much-needed shower, and enjoy the bustle of the city streets
Day 19/ 20 Kathmandu. Free day in Kathmandu for shopping and relaxing. Optional trip to Patan Durbar Square and Nepali cultural museum.

Day 21 Depart from Kathmandu.
On the other hand, if you prefer to stay longer, you can go for short tours such as game drive at National parks, rafting, Tibet tours, mountain biking etc).
Cost per person
US $ 2325.
Pound £ 1283.
EURO € 1583.
Australian $ 2325.
Canadian $ 2325
Fixed Group Departure Date:
10th and 23rd September 2008.
5th, 17th and 25th October 2008.
7th November 2008
For the convenience of our travelers to Nepal and fallow up the fixed departure itinerary of Explore Alpine adventure guarantees all fixed group departures dates.
Group Departures are for an adventurous individual person willing to join a small group of other travelers. We can arrange group trekking tours or individual trekking tours, to suit your requirements. Please you can choose any dates which will be suitable for you and please match your arrival in Kathmandu and departure from Kathmandu.
PRICE INCLUDES:
Breakfast, lunch, dinner and accommodation in lodge during the trek period.

Necessary Domestic air tickets and airport tax as per itinerary.

English speaking local expert guide, porters

Accommodation at 3 star hotel in Kathmandu/ Pokhara on double sharing with breakfast as per itinerary.

All guided sightseeing tour in Kathmandu/ Pokhara and entry fees as per itinerary.

Airport transfers and escort

Insurance of the guide and porters as per itinerary.

Jungle safari tour as per itinerary with full board and national park fees and all jungle activities including Elephant riding.

Rafting as per itinerary .

All necessary paper works and national park entry permits.

Travel & Rescue arrangement if necessary.

TIMS (Trekkers' Information Management System)

All government taxes.

Camping trekking Equipment: Trekking tents, Dining tent, Kitchen Tent, Toilet Tent, Table and chairs, Mattresses during the trekking.
PRICE EXCLUDES:
International flight & departure tax

Lunch & dinner in Kathmandu and Pokhara

Personal Trekking gears (available on hire in Nepal)

Tips, any expenses of personal nature, client's insurance.
Equipment List for trekking:
FOOT WEAR
Trekking boots: (one pairs), Thick socks (4 pairs)
Light socks (3 pairs)
Camp shoes (1 pair)
Sandals (1 pair)
CLOTHING
Down or fiber filled waterproof jacket and trousers (1)
Fleece jacket or pullover ( 1)
Warm cotton trousers (2 pairs)
Shirts and T-shirts ( 4 pieces)
Lightweight cotton long pants ( 3 pairs)

Long under wear (2 pieces)
Short under wear (4 pieces)
Sun hat or scarf ( 1) Woolen hat (1)
Sunglasses (1)
Lightweight gloves (1)
Rain coat(1)
Heavyweight gloves or mittens with a waterproof (1)
OPTIONAL
Insect repellent, toilet articles, note book & pen, toilet roll, laundry soap, pocket knife, towel, sewing kit, plasters, binoculars, camera, film, cards and personal medical kit
OTHER EQUIPMENT
Sleeping bag (4 seasons) 1
Down jacket -1
Day pack – 1
Water bottle – 1
Sun cream
Sunglasses
Flash light with spare bulbs, batteries, lip salve, gaiters.
Booking & Payment Conditions
Explore Alpine Adventure and Alpine Explore Nepal tour and trek is a well-known government licensed trekking and touring company in Nepal. We accept your bookings under the following terms and conditions.
1. When you confirmed trip, we need photo copy of your passport and 30% down payment of the total price for advance flight tickets, hotel booking and permit process.
2. Payments can be wired by bank transfer to our company bank account or Master Card and Visa Card. but we give preference bank transfer to our company account.
Please inquiry for bank accounts for your convenience.
3. Bank service charge should be paid by the clients themselves at the time of deposit.
4. In addition, payments can be made by Cash, Travels Cheque, Master Card or Visa Card as well. If you would like to make the payment by Master Card or Visa Card, the cards payment handling bank service charge 3.5% will charge to the card holder.
5. After receiving photo copy of your passport, and 30% advance form you, we send you final confirmation receipt.
6. Remaining balance can be made after your arrival in Nepal. Full payment should be made before trip departure. Be mindful, we also reserve the right to cancel your trip provided full amount is not paid in time.
7. Travel insurance is compulsory for all Clients undertaking any tour. It should provide adequate protection for the full duration of the tour or Trek to cover personal injury, medical expenses, repatriation expenses, helicopter evacuation, loss of luggage, etc.
8. If you wish to arrange your travel insurance from our Company, we will arrange travel insurance for you.
9 Cancellation by the Client: Cancellation of a confirmed booking must be made by the Client in writing either in written documents or on an email. Cancellation shall valid with approval from the company after receiving document. Trip shall then be termed as cancelled and as a cancellation charge, 30% of the trip amount would be deducted from the advance paid.
10 Risk & Liabilities:
We are committed to providing the best services which will give you a once in a life time journey in this connection, we perform our duties honestly & seriously to make your journey very smooth & pleasant. However, the entire programs in Nepal/Tibet/Bhutan are conducted strictly under the rules and regulation of theirs' own policies.
There for Explore Alpine Adventure and its related organization shall not be responsible for any changes in the itinerary due to unavoidable circumstance such as govt. restriction, Land slide, road blockage, flood, snow political unrest, cancellation of flight, delay, sickness or accident, Any extra cost incurring there of shall be borne by the clients on the spots.
Thank you for choosing Explore Alpine Adventure. We look forward to meet you In Nepal and serve you better.
Translate
Contact Information:
Alpine Explore Nepal
P.O. Box: 4546, Kathmandu, Nepal
+977 1 4700714 / 4700175 / 4701974
Fax: +977 -1 - 4700970
Email: info@traveltrek.asia
sales@traveltrek.asia
Skype Address: explore.alpine
MSN Messanger: explorealpine
Yahoo Messanger:explorealpine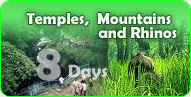 Our Guest Says
SteveAnyon-Smith
18 April 2000

This was my third trek in Nepal, having visited the Annapurna Region in 1995 and with Bharat and Dave in the beautiful and wildlife-filled Langstang Valley in1998. Bharat's company "Explore Alpine Adventure"....