Everest Base Camp Trekking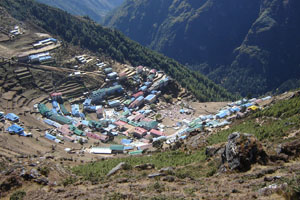 The Everest Base Camp trek is arguably the one of the famous trekking route in the world and this is a once in a lifetime opportunity to see the roof of the world and some of the most breathtaking scenery that you can imagine. Nepal the Himalayan country is a fascinating land and Everest trek gives an insight into the Land of the Sherpa people.
Our purposed itinerary ascent is steady and well paced to best suit the acclimatization needed. And this trip provides Sunrise on the snow capped peaks above the Khumbu Glacier is an unforgettable sight from the summit of Kalapatthar.
From Kathmandu we fly to Lukla, and the adventure begins as we land at its tiny airstrip. We spend several days trekking through the homelands of the Sherpa people, among their villages and Buddhist monasteries, with distant views of Everest and neighboring Ama Dablam, considered by many to be among the most beautiful mountains in Nepal. A day is spent at Namche Bazaar, the bustling market town in the heart of Sherpa country, and at Pheriche a cluster of houses set among the high summer grazing pastures of the region. These rest days allow time to explore further and to acclimatize, an important factor in your enjoyment of the trek around Everest region.

Details Itinerary:
Day 01 Kathmandu(1310m/4298ft).
Our airport representative will be received you at the airport and transfer to hotel. It is 7km and takes about 15 minutes. Our tour leader will brief the group about the trip during the pre-departure meeting. This will be held at 5.00pm or will notice you after your arrival in Kathmandu, at the hotel or in the Explore Alpine Adventure office. The briefing will cover whole itineraries and re-confirm flight times. O/N at Hotel
Day 02 Kathmandu to Lukla by flight and trek to Phakding (2610m/7903ft) - Flight to Lukla 30 minutes and walking. Fly to Lukla, the trail descends, gradually passing above the large village of Chaunrikharaka (2680m) and on through small villages, fields and forests following a wide well constructed path. After Kusum Drargka, a large stream, the trail crosses the Dudh Koshi river at Phakding. Overnight at guest house.
Day 03 Phakding-Namche Bazaar (3440m/11286ft)
From Phakding the trail follows the western bank of Dudh Koshi passing through forests of Blue Pine until it reaches the village of Benkar(2700m). From here the trail crosses to the eastern bank of the Dudh Koshi, and climbs gently to the village of Chumoa. Between here and the next village of Monjo (2800m) the trail drops steeply to cross Monjo Khola. From Monjo the trail crosses a small rock saddle and then descends abruptly to re-cross the Dudh Koshi at Jorsale (2804m). Beyond Jorsale the trail undulates up until the confluence with Bhote Koshi is reached. From here the Khumbu region begins. Above the bridge the trail zigzags up 300m of the steep spur between the two rivers through sparse forest. From the top of the spur, Mt. Everest can be seen rising above Nuptse-Lhotse wall. The next section of the trail climbs less steeply, traversing above the Bhote Koshi until Namche Bazaar is reached. Namcha Bazaar is a market town, where every Saturday morning traders from lower altitude sell goods to sherpas. Most of the trading is over by mid-day and the traders return to their villages. Overnight at guest house.
Day 04 Acclimatization day At Namche Bazzar
Known as the 'Gateway to Everest' we will spend today here in order to acclimatize and adjust to the thinning air. A short trek to the museum celebrating the traditional customs of the Sherpa people, as well as about flora & Fauna & its land, more importantly, from here you will get the proper glimpse of Everest and the surrounding mountains. And we hike up the Syanbuche airport, and Everest view hotel and sightseeing at the Khumjung village (3800m/12,466ft), which is the biggest settlement of Sherpa. Khumjung is one of the most beautiful villages in Everest area. It's symmetrically laid out stone dwellings house the families of many of our Sherpas. Overnight at guest house.
Day 05 Namche Bazaar to Thyangboche (3857m/12,670 feet)- walking 5 hours. O/N at guest house, An enjoyable walk down to the river at Phunki Thanhka to lunch next to water driven prayer wheels. A steep but short climb takes us to Tengboche Monastery through forests of blue pine, fir and black juniper. Overnight at guest house.
Day 06 Tengboche to Dingboche(4410m/14468ft
Our trek continues to climb as we head to the altitude of 4310m taking our time so not to be affected by the thinning air. Overnight at guest house.
Day 07 Second acclimatization day in Dingboche (4410m/14468ft)
Our second acclimatization day, the group will be taken to Nagarjun Hill (5050m/15291ft). This point offers fantastic views of the fifth highest mountain Makalu 8463m/25625ft. After appreciating the surrounding scenery we trek back to our camp in Dingboche, relaxing in the evening. Overnight at guest house.
Day 08 Dingboche to Lobuje(4910m/16108ft).
Today our trek climbs to 4910m. Overnight at guest house.
Day 09 Lobuje to Gorak Shep (5153m/16906ft). Overnight at guest house.
Day 10 Everest Base Camp (5363m/17595ft) and back to Gorak Shep. Today we reach our goal by trekking to Everest Base Camp at an altitude of 5363m. After appreciating our efforts and photographing the achievement we return to Gorak Shep. Overnight at guest house.
Day 11 Hiking up Kalapathar(5545m/18192ft) and overnight at
Pherbuche(4210m/13812ft)After reaching Base camp our aim today is to trek Kalapathar (5545m). We start early to reach the viewpoint that offers some of the best views of Mount Everest as well as other panoramas of the surrounding mountains. We then descend to Pherbuche. Overnight at guest house.
Day 12 Trek to Namche Bazaar (3440m/11286ft).
We continue our descent to Namche Bazaar. Overnight at guest house
Day 13 Namche Bazaar to Phakding (2610m/8563ft. Overnight at guest house.
Day 14 Phakding to Lukla(2840m/9317ft )
Our final day of trekking returns us to the town of Lukla, where the overnight stay gives you time to explore the town as well as reflect upon the mountains you have recently visited for one last time before heading back to Kathmandu. Overnight at guest house.
Day 15 Lukla to Kathmandu. - walking 5 minutes and Flight to Kathmandu 30 minutes
After Breakfast. We will walk about 5 minutes to airport to catch our return flight to Kathmandu. Flight an early morning at 7 am to Kathmandu. Overnight at hotel in Kathmandu.
Day 16 Final Departure from Nepal.
Or stay longer or for short tours such as game drive at National parks safari, do some wild-water rafting, a Tibet tour or even mountain biking, etc- please ask us).
Cost per person
US$ 1297.
Pound £ 653.
EURO € 823.
Australian $ 1297.
Canadian$ 1297
Fixed group departure date:
7th, 15th, 23rd and 27th September 2008.
3rd, 7th, 10th, 12th, 15th, 23rd, 25th and 27th October 2008.
3rd, 5th, 12th and 23rd November 2008
5th December 2008
For the convenience of our travelers to Nepal and fallow up the fixed departure itinerary of Explore Alpine adventure guarantees all fixed group departures dates.
Group Departures are for an adventurous individual person willing to join a small group of other travelers. We can arrange group trekking tours or individual trekking tours, to suit your requirements. Please you can choose any dates which will be suitable for you and please match your arrival in Kathmandu and departure from Kathmandu.
PRICE INCLUDES:
Breakfast, lunch, dinner and accommodation in lodge during the trek period.

Necessary Domestic air tickets and airport tax as per itinerary.

English speaking local expert guide, porters

Accommodation at 3 star hotel in Kathmandu/ Pokhara on double sharing with breakfast as per itinerary.

All guided sightseeing tour in Kathmandu/ Pokhara and entry fees as per itinerary.

Airport transfers and escort

Insurance of the guide and porters as per itinerary.

Jungle safari tour as per itinerary with full board and national park fees and all jungle activities including Elephant riding.

Rafting as per itinerary .

All necessary paper works and national park entry permits.

Travel & Rescue arrangement if necessary.

TIMS (Trekkers' Information Management System)

All government taxes.
PRICE EXCLUDES:
International flight & departure tax

Lunch & dinner in Kathmandu and Pokhara

Personal Trekking gears (available on hire in Nepal)

Tips, any expenses of personal nature, client's insurance.
Equipment List for trekking:
FOOT WEAR
Trekking boots: (one pairs), Thick socks (4 pairs)
Light socks (3 pairs)
Camp shoes (1 pair)
Sandals (1 pair)
CLOTHING
Down or fiber filled waterproof jacket and trousers (1)
Fleece jacket or pullover ( 1)
Warm cotton trousers (2 pairs)
Shirts and T-shirts ( 4 pieces)
Lightweight cotton long pants ( 3 pairs)

Long under wear (2 pieces)
Short under wear (4 pieces)
Sun hat or scarf ( 1) Woolen hat (1)
Sunglasses (1)
Lightweight gloves (1)
Rain coat(1)
Heavyweight gloves or mittens with a waterproof (1)
OPTIONAL
Insect repellent, toilet articles, note book & pen, toilet roll, laundry soap, pocket knife, towel, sewing kit, plasters, binoculars, camera, film, cards and personal medical kit
OTHER EQUIPMENT
Sleeping bag (4 seasons) 1
Down jacket -1
Day pack – 1
Water bottle – 1
Sun cream
Sunglasses
Flash light with spare bulbs, batteries, lip salve, gaiters.
Booking & Payment Conditions
Explore Alpine Adventure and Alpine Explore Nepal tour and trek is a well-known government licensed trekking and touring company in Nepal. We accept your bookings under the following terms and conditions.
1. When you confirmed trip, we need photo copy of your passport and 30% down payment of the total price for advance flight tickets, hotel booking and permit process.
2. Payments can be wired by bank transfer to our company bank account or Master Card and Visa Card. but we give preference bank transfer to our company account.
Please inquiry for bank accounts for your convenience.
3. Bank service charge should be paid by the clients themselves at the time of deposit.
4. In addition, payments can be made by Cash, Travels Cheque, Master Card or Visa Card as well. If you would like to make the payment by Master Card or Visa Card, the cards payment handling bank service charge 3.5% will charge to the card holder.
5. After receiving photo copy of your passport, and 30% advance form you, we send you final confirmation receipt.
6. Remaining balance can be made after your arrival in Nepal. Full payment should be made before trip departure. Be mindful, we also reserve the right to cancel your trip provided full amount is not paid in time.
7. Travel insurance is compulsory for all Clients undertaking any tour. It should provide adequate protection for the full duration of the tour or Trek to cover personal injury, medical expenses, repatriation expenses, helicopter evacuation, loss of luggage, etc.
8. If you wish to arrange your travel insurance from our Company, we will arrange travel insurance for you.
9 Cancellation by the Client: Cancellation of a confirmed booking must be made by the Client in writing either in written documents or on an email. Cancellation shall valid with approval from the company after receiving document. Trip shall then be termed as cancelled and as a cancellation charge, 30% of the trip amount would be deducted from the advance paid.
10 Risk & Liabilities:
We are committed to providing the best services which will give you a once in a life time journey in this connection, we perform our duties honestly & seriously to make your journey very smooth & pleasant. However, the entire programs in Nepal/Tibet/Bhutan are conducted strictly under the rules and regulation of theirs' own policies.
There for Explore Alpine Adventure and its related organization shall not be responsible for any changes in the itinerary due to unavoidable circumstance such as govt. restriction, Land slide, road blockage, flood, snow political unrest, cancellation of flight, delay, sickness or accident, Any extra cost incurring there of shall be borne by the clients on the spots.
Thank you for choosing Explore Alpine Adventure. We look forward to meet you In Nepal and serve you better.
Translate
Contact Information:
Alpine Explore Nepal
P.O. Box: 4546, Kathmandu, Nepal
+977 1 4700714 / 4700175 / 4701974
Fax: +977 -1 - 4700970
Email: info@traveltrek.asia
sales@traveltrek.asia
Skype Address: explore.alpine
MSN Messanger: explorealpine
Yahoo Messanger:explorealpine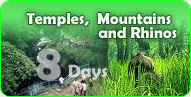 Our Guest Says
SteveAnyon-Smith
18 April 2000

This was my third trek in Nepal, having visited the Annapurna Region in 1995 and with Bharat and Dave in the beautiful and wildlife-filled Langstang Valley in1998. Bharat's company "Explore Alpine Adventure"....