Everest (8,848m) The first highest peak in the world. :
The Mount Everest is the highest peak of the World 29028ft. (8848m.) through which the climbing toppers feel them selves as the most proud and adventurous personal the World. Sir Edmond Hillary and Late Tenzing Norge Sherpa first climbed this peak in May 29, 1953 , after their long time's effort.
Everest Base camp situated on Khumbu glacier at high of 18000ft. All the international Mt. Everest climbers assemble here during the starting and at the ending time of there climbing. Normally the climbing duration of this expedition lasts for 90 days. All the climbers who mass there at the base camp seem really busy with excitement for the preparation of their expedition to reach on the summit. 
Some climbers climb this mountain on their own risk without any climbing Sherpa guide; and some climbers go with their own climbing Sherpa guide. Most of the teams carry own their on Internet, Satellite phone, Medical doctor and rest of the modern requirement.
After the Base camp, we have to cross crevasses, Sercs and ice black. Similarly we should face to the way up having Chunks of ice as large as our houses where we should used fixed ropes and aluminum ladders to climb ahead camp 1 st 6400m. 
Camp 1: 20000ft. (6,400m)
This camp 1 is situated at the flat area of snow endless snow deep crevasses and mountain walls. Because of the Sun's reflection from this place we get warm and hitting ambience at this place. In the night we listen the deep murmuring cracking sounds of crevasses beneath our tent. These are the areas where we have to walk to reach camp 2.
Camp 2. 21000ft. (6,750m )
This camp 2 is situated at the height of the 21000ft, which is located at the foot of the icy mount Lhotse wall though where we have to go ahead. Whether is here is good but bad clouds roll in from the low range of the Himalayan valleys to the bottom of our camp two. But wind here some times seems very violent enough to destroy our tents. After climbing these palaces we reach camp 3.
Camp 3. 22300ft. (7,100m )
Camp 3 is located at the height of 22300ft, adjoining to mount Lhotse wall. After climbing the 4000ft. Lhotse wall by using fixed rope and with prior acclimatization it leads us to camp 4. Also on the way we have to ascend the steep allow bands (lose, down -slopping and rotten limestone). From their crossing short snowfield the route moves ahead up the Geneva Spur to the east before finishing the flats of the south col. (Another wells name meaning Saddle of pass). Oxygen should probably be use above base camp 3 incase of needed to the climbers.
Camp 4.  26000ft. (8,400m)
Now are on at camp 4 which located height of 26000ft; it is the last camp of the Expedition. From here summit is about 500m, distance far. This is the final and dangerous part of the climbing. This place is besieged by ferocious and violent winds. The normal best way to reach to summit is via the narrow South - East Ridge and it precedes the South Summits 28710ft.
From here the way is easy to reach at the summit of the Everest 29028ft; and Sir Edmond Hillary and late Tenzing Norge Sherpa used this route in 1953. 
Everest South Face 8,848m. Expedition
Fixed Departure
30 March 2008
Itinerary:
Day 01: Arrival Kathmandu, Nepal and transfer to hotel
Day 02: Kathmandu
Day 03: Prepared Expedition & Briefing in Ministry of Tourism
Day 04: Fly to Lukla & trek to Phakding (2640m)
Day 05: Phakding - Namche Bazaar (3446m)
Day 06: Namche (3446m) & Acclimatization
Day 07: Namche - Thyanboche Monastry (3867m)
Day 08: Thyanboche - Pheriche (4243m)
Day 09: Pheriche - Lobuche (4930m) Lodge /camp
Day 10: Everest Base Camp (5400m) O/N Camp 
Day 11-65: Climbing Period for Mt. Everest (route map)
Day 66: Base Camp - Thyanboche (3800m)
Day 67: Thyanboche - Phakding (2600m)
Day 68: Phakding - Lukla (2800m)
Day 69: Lukla  - Kathmandu
Day 70: Final Departure 
Cost includes:
5 Nights accommodation  in Kathmandu with bed & breakfast (hotel 3 star Level)
Kathmandu - Lukla - Kathmandu flight tickets with 50KG cargo per member
Trekking from Lukla to Base camp & back to Lukla with Lodge trek lodge or camping
Food for trekking & Expedition period in Everest Base camp
Porter / Yak Lukla to Base Camp & back to Lukla (Porter transportation)
1 tent for 1 person for Expedition north face brand
Dining tent, toilet tent, table and chares, Mattresses for expedition
All kitchen equipment for Base Camp
Liaison officer's allowances equipment for Expedition, flight ticket, insurance, daily wages
Expedition Crew's allowances for Expedition, flight ticket, insurance, daily wages
Peak permit for Everest South Col spring 2006
All transfer airport-hotel-airport
Crews: Base camp Guide, Cook, Kitchen boy and Kitchen helper
All necessary taxes
Emergency Oxygen- Mask and regulator
Satellite phone(Pay call)
Gamo Bag (life saving device incase of altitude sickness)

Fare well dinner
Cost does not includes
Lunch and dinner in Kathmandu
High altitude climbing food, fuel, Gas above base camp
Expedition personal climbing gears
Personal accident insurance and emergency evacuation, Helicopter rescue
International airport departure tax
Nepal custom duty for import of expedition goods arriving into Nepal
Expedition cargo custom clearance
Bar bills & beverage
Personal Satellite phone with e-mail & internet permit
Waki takies permit
Extra expenses for personal 
Oxygen and Mask regulator for climbing
Garbage Deposit USD 4000.00 (Sharing of the total person) and Deposit fee will be not refunded if the clients (climber) don't take back their garbage Namche Bazaar and Kathmandu.
Note: After the Expedition, Tipping system is well come for expedition crews from your generosity if you are happy with the staffs of the company. We wish you a happy and successful climbing.

The following information will allow you to better plan your budget for tours or treks. A range of costs is given. These costs are dependant on
:
The mix of Touring and/or general Trekking,
The remoteness of the areas visited,
The number of guides or porters required,
The standard of accommodation required (if there is a choice), 
The type of ground transport used,
The length of your visit, and
The size of your group.
Depending on group size the costs of treks and tours range from:
1 to 3 pax     US$ 88 to 163  P/p per night.
4 to 8 pax     US$ 78 to 148  P/p per night
9 to 14 pax.  US$ 75 to 135 P/p per night.
15 to 20 and above US$ 60 to 110 P/p per night
Single supplement US$ 40 to 70 per night.
Note: The itinerary and cost for Peak climbing, Mountaineering, Tibet, Bhutan and India tours and trek are conditional apply.
Notwithstanding the costs shown above, we can tailor tours to suit almost any budget. Feel free to email us for more information.

Note: One tour leader will be free of cost for tours with 15 or more paying guests only. 

Children's bellow three years is free if sharing with their parents. And need to pay if they are participating on the trekking, and above three to nine year children half of the price.

Cost Includes: Accommodation in 3 to 4 star hotels in the cites as your choice, basic accommodation in a lodge or tea house or camping (depending on your itinerary and choice) during treks, guides and porters on treks, all land transfers by private vehicle, 3 meals a day on treks, all jungle safaris, all sightseeing tours as per itinerary and all necessary entry fees, permits and airport transfers.

Cost Excludes: Personal expenses, domestic air tickets, airport tax, drinks (soft drink, mineral water and alcoholic beverages and hot-shower on the trek), personal insurance, and extra cost due to natural calamities or accidents outside of our control.
Remarks: The cost of the trip determines with the services included during the trip so that it might be varies with the services, hotel and transfer of your wish.
Please note that our guides speak the following English languages and if required we will provide your language spiking guide on extra cost.
Translate
Contact Information:
Alpine Explore Nepal
P.O. Box: 4546, Kathmandu, Nepal
+977 1 4700714 / 4700175 / 4701974
Fax: +977 -1 - 4700970
Email: info@traveltrek.asia
sales@traveltrek.asia
Skype Address: explore.alpine
MSN Messanger: explorealpine
Yahoo Messanger:explorealpine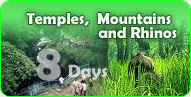 Our Guest Says
SteveAnyon-Smith
18 April 2000

This was my third trek in Nepal, having visited the Annapurna Region in 1995 and with Bharat and Dave in the beautiful and wildlife-filled Langstang Valley in1998. Bharat's company "Explore Alpine Adventure"....