Dhaulagiri Round Trek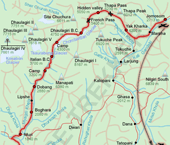 The Dhaulagiri trek is an extended and strenuous trek, through high alpine pastures, high passes and serene and uninhabited valleys. From Beni you head in a north-westerly direction through the villages of Babichour, Dorbang and Darapani to Muri from where you head north still keeping to the banks of the Myagdi Khola. In 1809 Dhaulagiri was measured and found to be 8,194 m. and considered as the tallest mountain in the world till 1848 when Kanchanjunga was measured. 
The Dhaulagiri massif is forty kilometers long and encompasses no fewer than fifteen 7,000 m. plus peaks. The Dhaulagiri massif is one of the tallest and biggest mountain systems in the world. Originally closed to visitors, for a variety of reasons - including its remoteness, the region west and north of Dhaulagiri was opened to trekkers in 1990, traveling in organized groups. This made it possible for trekkers to enter the region north of the Dhaulagiri massif, to explore remote villages and even more remote valleys, which had been the sole domain of mountaineers.
Muri is the last major settlement on this trail and is inhabited by people of the Magar tribe, of Mongoloid stock and descended from the early settlers of the Nepalese middle hills. From Muri, you head north along the Myagdi Khola through the villages of Baghara, Dobang and Chartare to Pakoban. Beyond Pakoban there are no permanent settlements. Still heading north you skirt the Chhanbardan Glacier, keeping on its left side, to reach the Dhaulagiri Base Camp from where magnificent mountain vistas are available. Head north-east from the Base Camp and climb the steep incline to the French Pass (5,360 m.), between Tukche Peak (6,920 m.) and Sita Chuchura (6,611m.) Heading east you descend a little and pass through a portion of the Hidden Valley and climb to Thapa Pass (5,250 m.), between Tukche Peak and Thapa Peak (6,012 m.) from where you begin your descent, heading south-east to Alubari. From Alubari, the trail further descends to the village of Marpha on the banks of the Kali Gandaki River, and then heads north to Jomsom from where you fly back to Kathmandu via Pokhara.
Dhaulagiri a long and strenuous trek but the crossing of high passes does not require much of mountaineering experience. It is, however, dependent on your physical condition, good overall health and of course good weather.
ITINERARY

Day 01 Arrive Kathmandu, meet our representative at Airport, and transfer to Hotel
Day 02 Full Day sightseeing around the Kathmandu Valley. Join the welcome dinner with Live Nepalese Cultural
Day 03 Fly to Pokhara. Overnight hotel. Free to explore Pokhara.
Day 04 Drive to Beni (850m) – 4 hrs.
After breakfast, you drive to Beni this day. The drive should take 4 hours and you'll find most of the part enjoyable, and offering good scenery. Beni is the district headquarters and has a police check post where your trekking permits will be examined. Beni is at the confluence of the Myagdi Khola and the Kali Gandaki. Camp Overnight.
 Day 05 Trek to Babiachor (950 m) – 5 hrs.
From Beni you leave the Kali Gandaki and head west along the north bank of the Myagdi Khola through the village of Beni Mangalghat to Singa and Tatopani (hot springs). Crossing the bridge beyond the village to the south bank of the river, the trail makes a little half loop before crossing another bridge, near the village of Simalchour, back to the north bank from where it continues to the village of Babichor. Camp Overnight.
Day 06  Trek to Dharapani (1,400m) – 6 hrs.
Strike out along a high, winding path out of Babichor. The valley widens and terraced hills develop on both sides of the river. The trail is fairly level and you pass the village of Shahashradhara, cross the Duk Khola and walking through fields arrive at Ratorunga. From here the valley narrows again and the terraces disappear on either side of the river. Continue to the village of Dharapani. Camp Overnight.
Day 07 Trek to Muri (1,850m) – 5 hrs.
Cross the river to its West Bank and head north to Phedi. As you leave Phedi the trail starts climbing in earnest and there will be many switch-backs until you arrive at the ridge and the angle of ascent eases. Again the trail climbs steeply to the villages of Muri. Continue your trek to Sibang and Mattim. From here you continue up an incline to the snout of a ridge, descend to the Gatti Khola and reach Phalai Gaon (1810m). Cross the Dhara Khola to once again emerge on the west bank of the Myagdi Khola and then climb a ridge to the large Magar village of Muri. Camp Overnight.

Day 08 Trek to Boghara (2080m) – 6 hrs.
After a short descend, we cross a stream and continue through terraced fields before climbing a ridge to reach the pass from where you can see Mt. Ghustung South (6465 m). Descend to the Myagdi Khola and trek along its West Bank to the village of Naura from where you will climb a little before traversing a grassy hill and climb a steep slope with switch-backs and then descend through a forest and terraced fields to Boghara (2080 m). Camp Overnight.  
Day 09 Trek to Dobang (2,520m) – 5 hrs.
The trail beyond Boghara first descends through terraced fields to a small ridge and then through a forest to Jyardan which is the most remote permanent settlement in these parts. After the settlement a high winding path crosses a rocky area and then descends before climbing again to Lipshe where there is on single hut. The trail continues through a forest to Lapche Kharka and then climbs to the level area at Dobang. Camp Overnight.  
Day 10 Trek to Choriban Khola (3,110m) – 6 hrs.
Crossing a wooden bridge out of Dobang the trail ascends a forested area. Soon the west face of Dhaulagiri I (8167 m.) becomes visible through breaks in the trees. Descend to the Myagdi Khola and cross it via a wooden bridge to the east bank continue to Chartare. Passing through forests again, you cut across a rocky area and cross a stream to Choriban Khola. Camp Overnight.
 Day 11 Trek to Italian Base Camp (3,660m) – 7 hrs.
Follow a trail (which is not very well defined) to the terminal moraine of the Chhonbarban Glacier and enter the glacier from the right. Tukche Peak (6837 m.) becomes visible straight on; at the far end while the impressive north flank of Dhaulagiri I (8167 m.) dominates the skyline to your right. After a short while you will reach Italian Base Camp (3660 m), which is also the site of your camp for the night. To the west are the peaks of Dhaulagiri II (7751m), Dhaulagiri III (7715 m) and Dhaulagiri V (7618 m). Camp Overnight.
Day 12  Rest Day.
Rest day for acclimatization. It is recommended that your body acclimatizes to the high altitude and be "tuned" for the even higher altitudes to come. Camp Overnight.
 Day 13 Trek to Glacier Camp (4210m) – 6 hrs.
Set up early in the morning when the weather is expected to be clear. Trail is bit prone to stone fall, and pass through a narrow gorge. Today we stay overnight near at glacier. Camp Overnight.
 Day 14 Trek to Dhaulagiri Base Camp (4740m)
Tukche Peak (6837 m.) becomes visible straight on; at the far end while the impressive north flank of Dhaulagiri I (8167 m.) dominates the skyline to your right. After a short while you will reach Dhaulagiri Base Camp (3660 m), which is also the site of your camp for the night. To the west are the peaks of Dhaulagiri II (7751m), Dhaulagiri III (7715 m) and Dhaulagiri V (7618 m). Camp Overnight.
 Day 15  Rest Day.
Another rest day, but very important for the acclimatization. Views from this place will be superb and there is plenty to explore. Camp Overnight.
 Day 16 Trek to the French Pass (5,100 m) – Hidden Valley High Camp. (5,360m) – 6 hrs. After the glacier you climb two terraced hills, the first of which runs along the glacier, and then cutting across a mountain flank and a moraine you enter a gentle incline on the left from an ablation valley. Climb this gentle slope to the French Pass (5100 m.). A great vista opens up from the French Pass and you will be able to see Mukut Himal (6328 m.), Tashi Kang (6386 m.) and Sita Chuchura (6611 m.), all of which surround the Hidden Valley. To the south is Tukche Peak (6920 m.) and beyond is the massive peak of Dhaulagiri I. From French Pass you continue along the right edge of the Hidden valley losing a little altitude to Thapa Pass (5250 m.) between Tukche Peak and Thapa Peak (6,012 m.). Descending from Thapa Pass you will make a high camp at about 5360m. Camp Overnight

Day 17 Cross Dhampus Pass, and trek through Yak Kharka (3,680m) – 6 hrs.
Descend from the high camp, to the Dhampus Pass and continue to Yak Kharka. There is a perfect camp site to enjoy the surrounding. Camp Overnight.
Day 18 Trek to Marpha (2,667m). Continue to Jomsom (2,710m) – 3 hrs.
Descend to the village of Marpha, on the west bank of the Kali Gandaki river. Continue to north, up the river valley to the town of Jomsom. Camp Overnight.
  Day 19 Flight: Jomsom – Pokhara (35 min). Enjoy the attractions of Pokhara. Overnight at Hotel.
Day 20 Fly to Kathmandu. Arrive Kathmandu and free to explore at your leisure. Celebrate your successful trek of the Dhaulagiri massif.
Day 21 Final Departure, Namaste flight from Kathmandu.

The following information will allow you to better plan your budget for tours or treks. A range of costs is given. These costs are dependant on
:
The mix of Touring and/or general Trekking,
The remoteness of the areas visited,
The number of guides or porters required,
The standard of accommodation required (if there is a choice), 
The type of ground transport used,
The length of your visit, and
The size of your group.
Depending on group size the costs of treks and tours range from:
1 to 3 pax     US$ 88 to 163  P/p per night.
4 to 8 pax     US$ 78 to 148  P/p per night
9 to 14 pax.  US$ 75 to 135 P/p per night.
15 to 20 and above US$ 60 to 110 P/p per night
Single supplement US$ 40 to 70 per night.
Note: The itinerary and cost for Peak climbing, Mountaineering, Tibet, Bhutan and India tours and trek are conditional apply.
Notwithstanding the costs shown above, we can tailor tours to suit almost any budget. Feel free to email us for more information.

Note: One tour leader will be free of cost for tours with 15 or more paying guests only. 

Children's bellow three years is free if sharing with their parents. And need to pay if they are participating on the trekking, and above three to nine year children half of the price.

Cost Includes: Accommodation in 3 to 4 star hotels in the cites as your choice, basic accommodation in a lodge or tea house or camping (depending on your itinerary and choice) during treks, guides and porters on treks, all land transfers by private vehicle, 3 meals a day on treks, all jungle safaris, all sightseeing tours as per itinerary and all necessary entry fees, permits and airport transfers.

Cost Excludes: Personal expenses, domestic air tickets, airport tax, drinks (soft drink, mineral water and alcoholic beverages and hot-shower on the trek), personal insurance, and extra cost due to natural calamities or accidents outside of our control.
Remarks: The cost of the trip determines with the services included during the trip so that it might be varies with the services, hotel and transfer of your wish.
Please note that our guides speak the following English languages and if required we will provide your language spiking guide on extra cost.
Note: Please contact exploretrek@wlink.com.np for more information and prices
Translate
Contact Information:
Alpine Explore Nepal
P.O. Box: 4546, Kathmandu, Nepal
+977 1 4700714 / 4700175 / 4701974
Fax: +977 -1 - 4700970
Email: info@traveltrek.asia
sales@traveltrek.asia
Skype Address: explore.alpine
MSN Messanger: explorealpine
Yahoo Messanger:explorealpine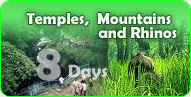 Our Guest Says
SteveAnyon-Smith
18 April 2000

This was my third trek in Nepal, having visited the Annapurna Region in 1995 and with Bharat and Dave in the beautiful and wildlife-filled Langstang Valley in1998. Bharat's company "Explore Alpine Adventure"....