Center Himalaya Ganesh Himal Trek:
Tour Summary: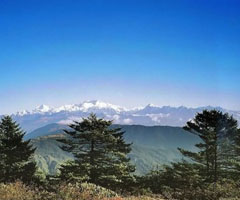 This trek is for those wanting to escape from the popular regions of Annapurna and Everest Grade 3 maximum altitude 4600m departs daily from October to May for 2 persons. Between Kathmandu and Pokhara are three major groups of peaks: Ganesh Himal, Langtang, Manaslu and Himal Chuli and the large Annapurna Himal. This trek is ideal for those wanting to escape from the more popular regions of Annapurna and Everest. It is famous for unspoiled Tamang culture, spectacular views of mountains and colorful rhododendron forest.

Itinerary

Day 1: Arrival Kathmandu and transfer to Hotel.
Day 2: Short sightseeing in kathmandu and ready to go trishuli by bus.
Day 3:   Trishuli – Selangkhu Khola:
We drive to trishuli in the morning and have lunch near the Trishuli Electricity Dam.
After lunch we walk for about 3 hours to Salangkhu Khola and camp.
Day 4:   Salangkhu Khola – Balche Village an easy walk and then a short climb takes us to Kalaeale village for lunch. After lunch we proceed to the big Tamang village of Balche for our overnight camp.
Day 5:  Balche Village – Gonga
We take an easy walk from Balche village through a forest and camp with the peaks of Langtang Lirung and Gosainkunda in good view.
Day 6:  Gonga – Singla
We walk through rhododendron forest to camp either at Rupchet, a cattle pasture, or up on the Singla pass (4500m.) The Singla pass offers spectacular views of Langtang Lirung, Ganesh Himal, Baudha Peak, Himal Chuli, Machhapuchhre and South Annapurna and Annapurna II.
Day 7:  Singla – Pangsang
We walk up the Singla hill following small trails to Pangsung for our overnight camp. The view from here is spectacular.

Day 8:  Pangsang – Serthung
Village We walk down through pine and rhododendron orest to the tamang village of serthung and set up camp with good views of mountains all around.
Day 9:  Serthung Village – Laba
A short trail and then a gradual descent through Barang Village and then crossing the Akhu Khola takes us to Laba, a big Tamang village.
Day 10:  Laba – Mongeythanti
We climb gently over a hill and then descend through forest to camp at Mongeythanti.
Day 11:   Mongeythanti – Dumchet
Village a gradual walk down through forest with lunch by a stream brings us tour camp at Dumchet village. 
Day 12:  Dumchet Village – Budhigandaki.
We take a gradual walk today to Baseri and camp near the Budhigandaki River.
Day 13:  Budhigandaki – Aroghat Bazaar.
We walk along the bank of Budhigandaki River and stop at Arughat Bazaar for the night. There are teashops and a police station here.
Day 14:  Aurghat Bazaar – Khanchowk Danra.
We gradually climb the Khanchowk Danra crossing the Mukti  Khola and camp for the night.
Day 15:  Khanchowk Danra – Gorkha.
We cross a ridge today and walk gradually up hill to Gorkha, camping near the old palace.  
Day 16:  Gorkha – Kathmandu.
We have a tour of Gorkha Palace, the palace of the King  Prithivi Narayan Shah who united Nepal in 1881 AD and visit the Bazaar, before driving back to Kathmandu.

The following information will allow you to better plan your budget for tours or treks. A range of costs is given. These costs are dependant on
:
The mix of Touring and/or general Trekking,
The remoteness of the areas visited,
The number of guides or porters required,
The standard of accommodation required (if there is a choice), 
The type of ground transport used,
The length of your visit, and
The size of your group.
Depending on group size the costs of treks and tours range from:
1 to 3 pax     US$ 88 to 163  P/p per night.
4 to 8 pax     US$ 78 to 148  P/p per night
9 to 14 pax.  US$ 75 to 135 P/p per night.
15 to 20 and above US$ 60 to 110 P/p per night
Single supplement US$ 40 to 70 per night.
Note: The itinerary and cost for Peak climbing, Mountaineering, Tibet, Bhutan and India tours and trek are conditional apply.
Notwithstanding the costs shown above, we can tailor tours to suit almost any budget. Feel free to email us for more information.

Note: One tour leader will be free of cost for tours with 15 or more paying guests only. 

Children's bellow three years is free if sharing with their parents. And need to pay if they are participating on the trekking, and above three to nine year children half of the price.

Cost Includes: Accommodation in 3 to 4 star hotels in the cites as your choice, basic accommodation in a lodge or tea house or camping (depending on your itinerary and choice) during treks, guides and porters on treks, all land transfers by private vehicle, 3 meals a day on treks, all jungle safaris, all sightseeing tours as per itinerary and all necessary entry fees, permits and airport transfers.

Cost Excludes: Personal expenses, domestic air tickets, airport tax, drinks (soft drink, mineral water and alcoholic beverages and hot-shower on the trek), personal insurance, and extra cost due to natural calamities or accidents outside of our control.
Remarks: The cost of the trip determines with the services included during the trip so that it might be varies with the services, hotel and transfer of your wish.
Please note that our guides speak the following English languages and if required we will provide your language spiking guide on extra cost.
Note: Please contact exploretrek@wlink.com.np for more information and prices.
Translate
Contact Information:
Alpine Explore Nepal
P.O. Box: 4546, Kathmandu, Nepal
+977 1 4700714 / 4700175 / 4701974
Fax: +977 -1 - 4700970
Email: info@traveltrek.asia
sales@traveltrek.asia
Skype Address: explore.alpine
MSN Messanger: explorealpine
Yahoo Messanger:explorealpine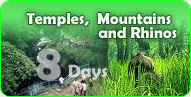 Our Guest Says
SteveAnyon-Smith
18 April 2000

This was my third trek in Nepal, having visited the Annapurna Region in 1995 and with Bharat and Dave in the beautiful and wildlife-filled Langstang Valley in1998. Bharat's company "Explore Alpine Adventure"....