Annapurna Circuit and off beaten treks 3 pass Adventures Trekking: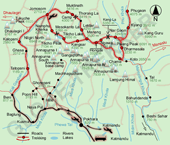 The best of the Annapurna Circuit but off beaten tracks! This is completely new itinerary assembles of Explore Alpine Adventure and it has only operated three treks from our company on year 2006,  an marvelous diversity of landscapes and a strong mountaineering atmosphere, one can think a lot of the Great Annapurna Range from every angle and point of view.
The trail passes thorough the Kali Gandaki gorges, the deepest in the world, to join the gate of the very old Kingdom of Mustang. From Muktinath, famous for Hindu and Buddhist pilgrims, we start a high mountain journey. It will take us to the extreme north of the Annapurna, only a day walk far from the Tibetan boarder, to a restricted area opened in 2002.
Every pass will be a great experience: the Thorong La (5415 m) with its extraordinary mountain landscapes, the Kang La (5350 m) anciently used by the salt Tibetan caravans and the Tilicho Pass (5360 m), situated above the Tilicho lake.
Crampons and ice axe could be useful to cross the 2 passes in case of bad weather conditions.

Level of difficulty * * *
Maximum altitude: 5415 m
Best season: Mid March/ till Jun and September to November  

25 days details itinerary

Day 01: Kathmandu. Airport – Meet and transfer to transfer.
Day 02: Kathmandu. Day at leisure preparing for trekking or sightseeing in Kathmandu.
Day 03: Kathmandu - Pokhara - Beni (817 m) by bus (10 h).
Day 04: Beni - Tatopani (1189 m) in 5 h 30. A nice walk along the Kali Kandaki. Sometimes we will have to give the way to the numerous mule caravans on the Jomoson-Pokhara trip. We trek towards Tatopani - literally "hot springs". Many trekkers love to spend few days in this mini thermal station.
Day 05: Tatopani - Kalopani (2560 m) in 6 h. On chemine par des gorges étroites, les plus profondes du monde: entre la cime de l'Annapurna I et celle du Dhaulagiri (toutes deux de plus de 8000 m et écartées de seulement 38 Km), le dénivelé est superior a 2200 m.
The trail climbs high above the river through a narrow gorge, regarded as the deepest and steepest in the world. Set in between Annapurna I and Dhaulagiri, both rising above 8000 m and their summit only 38 Km far from each other, the landscape is dramatic. We enter Thakali country at Ghasa and leave behind the area of mixed Hindus, high caste Brahmin and Chetri hill farmers, and hill tribes, Gurungs and Magars. Now we enter the more barren, Tibetan landscapes of the rain shadow, water buffalo, banyan trees and poinsettias.
Day 06: Kalopani - Jomsom (2713 m) in 6 h 30. We cross vast arid and dramatic areas violently swept by the wind. Gorgeous panoramic view of Dhaulagiri (8167 m), Tukuche Peak (6920 m), Annapurna I (8091 m) and the Nilgiris. Jomsom is the administrative headquarters of the region and a busy town full of officials as well as the usual traders and travelers.
Day 07: Jomsom - Muktinath (3802 m) in 5 h. We walk north through the arid plateau lands that stretch up to Tibet. The trail is quite barren with craggy rocks. In fact, this whole region is very Tibetan in character. You will also spot an ancient cave dwelling on the Mustang side.
Day 08: Muktinath - Camp before the Thorong La (4300 m) in 4 h. This short stage will give us time to get acclimatize before the first pass.
Day 09: Camp before the Thorong La - Thorong La (5415 m) - Letdar (4250 m) in 7 h. This is a steep ascent, at first thorough meadows then on a barren trail. From the Thorong La we get a stunning panorama over prestigious summits rising above 6000 m. Descending towards Letdar we enjoy great views of the high Marshyangdi valley, flanked by the endless crest of the Annapurna, called "The Grande Barrier" by Maurice Herzog, and towards north, by the myriad of Chinese snow-capped peaks.
Day 10: Letdar - Hongde (3320 m) in 6 h. We descend to a milder climate and find back some vegetation. We walk thorough meadows at first, then through forests doted with rhododendrons and wild rosebushes. The panorama offers stunning sights of the Lamjung and Annapurna II and IV. A remarkable 360° view: from the Annapurna massif on the south to the Mount Tilicho (7134 m) on west and from the Chulu East (6584 m) towards the Mount Pisang summit (6091 m) on north
Day 11: Hongde - Chame (2713 m) in 6 h. The trail goes along splendid pine forests.
Day 12: Chame - Dharmasala (3230 m) en 5 h. Here, we leave the classic Annapurna Circuit to enter the restricted area. Passing Chhacha, follow upwards the Na valley, with spectacular views on Lamjung and Annapurna II, entering yet another world, more like Tibet than Nepal
Day 13: Dharmasala - Kyang (3910 m) in 5 h. After the confluence of the rivers Phu and Labse Khola (Labse is the tibetan word for Snow Leopard), arrive to Kyang, from here you can observe the glaciers of Tijle, Pokharan, Himlung and Gyaji Kang - all well above 7.000 m!
Day 14: Kyang - Phugaon (4075 m) - Kyang in 7 h. As we emerge from a norrow gorge we reach Phugaon, preched at hillside and surrounded with fields. The landscape reminds the ones of Dolpo. This itinerary is very near the busy Annapurna circuit route; however the inhabitants of the Nar valley had only few occasions to see foreigners. Today, we can visit the Tashichoeling Gompa, which is one of the oldest monasteries in the Himalaya. If we are lucky, it may be possible to arrange a meeting with the Sonam Lama at monastery.
Day 15: Kyang - Nargaon (4245 m) in 5 h. We descend along the Phu Khola. When the river meets the Labse Khola, we start an ascent towards Nargaon, a small village perched at hill side, with superb views on Chulu and Bhrikruti peaks.
Day 16: Nargaon - Kang La (5350 m) - Ngawa (3730 m) in 7 h. We climb a tiny valley set between rock cliffs. The pass, with its traditional prayer flags fluttering in the wind, offers a breathtaking view of the Great Himalayan Range, from Lamjung Himal to Tilicho Peak with Annapurnas II, III and IV in between.
Day 17: Ngawa - Manang (3530 m) in 4 h. We reach the Annapurna Cicuit route in 2 hours. This is a short day unable us to get some rest before the Mesokanto La, a demanding stage in case of bad weather.
Day 18: Manang - Camp after Khangsar (4200 m) in 5 h. We leave the Marshyangdi river to follow a very little frequented trail along the Khangsar Khola. Soon we climb above the riverbed towards Khangsar, the last village before Tilicho Lake. We pass Thare monastery and continue till we reach 4200 m high.
Day 19: Camp after Khangsar -Tilicho Lake (4950 m) in 7 h. The trail winds its way to reach 4700 m, drops down 500 m to finally climb up to a ridge where we can gat a glimpse of the Tilicho Lake. Most of the year the lake is a vast icy area but during the trekking season it looks like a dash of turquoise set among snow-caped peaks.
Day 20: Tilicho Lake - Tilicho Pass (5360 m) - Namphu Kharkha (4200 m) in 8 h. A strenuous climb until we reach the altitude of 5300 m. The trail zigzag to the pass, where the view is superb: on the left, the Tilicho Peak (7134 m) and the Nilgiri North (7061 m) and in front behind the Kali Gandaki valley, the impressive mass of Dhaulagiri I (8167 m) flanked by the Tukuche Peak (6920 m). Descent towards a pasture area.
Day 21: Namphu Kharkha - Jomsom (2713 m) in 5 h. The morainic landscape gives its way to vegetation and the first culture areas appear.
Day 22: Safety day. We will use this day in case we have some difficulties to cross the Mesokanto La.
Day 23: Jomsom - Pokhara (by plane) - Kathmandu (by plane).
Day 24: Kathmandu. Day at leisure. Safety day for your international flight.
Day 25: Kathmandu. Hotel - airport transfer.

The following information will allow you to better plan your budget for tours or treks. A range of costs is given. These costs are dependant on
:
The mix of Touring and/or general Trekking,
The remoteness of the areas visited,
The number of guides or porters required,
The standard of accommodation required (if there is a choice), 
The type of ground transport used,
The length of your visit, and
The size of your group.
Depending on group size the costs of treks and tours range from:
1 to 3 pax     US$ 88 to 163  P/p per night.
4 to 8 pax     US$ 78 to 148  P/p per night
9 to 14 pax.  US$ 75 to 135 P/p per night.
15 to 20 and above US$ 60 to 110 P/p per night
Single supplement US$ 40 to 70 per night.
Note: The itinerary and cost for Peak climbing, Mountaineering, Tibet, Bhutan and India tours and trek are conditional apply.
Notwithstanding the costs shown above, we can tailor tours to suit almost any budget. Feel free to email us for more information.

Note: One tour leader will be free of cost for tours with 15 or more paying guests only. 

Children's bellow three years is free if sharing with their parents. And need to pay if they are participating on the trekking, and above three to nine year children half of the price.

Cost Includes: Accommodation in 3 to 4 star hotels in the cites as your choice, basic accommodation in a lodge or tea house or camping (depending on your itinerary and choice) during treks, guides and porters on treks, all land transfers by private vehicle, 3 meals a day on treks, all jungle safaris, all sightseeing tours as per itinerary and all necessary entry fees, permits and airport transfers.

Cost Excludes: Personal expenses, domestic air tickets, airport tax, drinks (soft drink, mineral water and alcoholic beverages and hot-shower on the trek), personal insurance, and extra cost due to natural calamities or accidents outside of our control.
Remarks: The cost of the trip determines with the services included during the trip so that it might be varies with the services, hotel and transfer of your wish.
Please note that our guides speak the following English languages and if required we will provide your language spiking guide on extra cost.
Note: Please contact exploretrek@wlink.com.np for more information and prices
Translate
Contact Information:
Alpine Explore Nepal
P.O. Box: 4546, Kathmandu, Nepal
+977 1 4700714 / 4700175 / 4701974
Fax: +977 -1 - 4700970
Email: info@traveltrek.asia
sales@traveltrek.asia
Skype Address: explore.alpine
MSN Messanger: explorealpine
Yahoo Messanger:explorealpine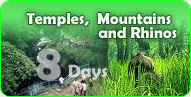 Our Guest Says
SteveAnyon-Smith
18 April 2000

This was my third trek in Nepal, having visited the Annapurna Region in 1995 and with Bharat and Dave in the beautiful and wildlife-filled Langstang Valley in1998. Bharat's company "Explore Alpine Adventure"....