Adventure Everest trek with High Passes and Island Peak 6189mt. climbing:
Summery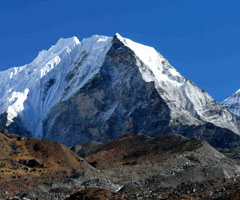 Everest region, Gokyo lakes and some high passes trek and climbing to Kala patthar and Island Peak climbing is one of Nepal's most famous treks for Mountaineers, one of the magnificent breath-taking high mountain scenery, through the Khumbu - Sherpa valley. After a magnificent mountain flight to Lukla we follow the Dudh Koshi valley to Namche Bazaar one of the famous places on the trekking routes. The trekking trail via Thama to Gokyo is a gradual ascent up the valley passing through high passes and some rhododendron forest where the elusive musk deer and other animal can sometimes be seen. We cross the Renjo pass (5345 m) to reach the Gokyo lakes where we climb Gokyo Peak (5480 m) and enjoy one of Nepal most beautiful mountain sceneries including Everest, Makalu and Cho Oyo. From this point we take the trail to Lobuche, crossing Cho La pass (5420 m) and join the small village of Dzongla. After the ascent of Kala Patthar (5545 m) and the impressive up-close view of Everest, our return route from Kala Patthar  and another peak climbing Island Peak and through Kongma La (5535 m) or the Imja Tse valley. While going down, we stop in Tengboche, a magnificent location with a fascinating monastery and one of the biggest Monastery in the region. With incredible scenery  including magnificent views of Everest, Ama Dablam (6856m), Kantega (6809m), Kwangde (6194m), Nuptse (7879m), and Lhotse (8511m), to name but a few.

Details itinerary
Day 01: Arrival in Kathmandu Airport meets and transfers to hotel and refreshment. In the evening welcome dinner (typical Nepali foods.) 
Day 02: Kathmandu Valley sightseeing with guide.
Day 03: Half day sightseeing and preparing for trekking and Island peak climbing. 
Day 04: Flight from Kathmandu - Lukla (2800 m) by plane then trek to Phakding (2600 m) or Manju, in 4hr . Great sight of the Kusum Kangru (6369 m).
Day 05: Phakding or Manju - Namche Bazaar (3440 m), Sherpa village of the Everest region, in 6 hr. Climb up on the right bank of the Dudh Koshi, surrounded by Mountains rising above 6000 m.
Day 06: Namche Bazaar - Thame (3800 m) in 4 hr. Namche Bazaar visit in the morning. Many of the typical mani walls and prayer wheels are spread on the trail to Thame.
Day 07: Thame - Marulung (4200 m) in 4 hr. Visit of the picturesque Thame monastery. Walk on the Bhote Koshi bank, the track is highly frequented by yak caravans coming down from Tibet and heading to the Namche market.
Day 08: Marulung - Rermo Pokhari (4875 m Renjo Lake)  Slope gently up through grassy areas. Camp beside the lake.
Day 09: Rermo Pokhari - Renjo Pass (5345 m) - Gokyo (4750 m) in 5 hr. Magnificent panorama from the pass : Tengi Ragi Tau, Rolwaling Himal and the small Rermo Pokhari lake on west and Gyachung Kang, Everest, Lhotse, Makalu and the Gokyo lakes on east. Camp beside the lake.
Day 10: Gokyo Peak (5480 m) ascent.
Day 11: Gokyo - Nyimagawa (5050 m) in 5 hr. Crossing through moraines of the terminal spit of Ngojumpa glacier. From Thagnkang, climb up through gentle and grassy slopes to the foot of the Cho La.
Day 12: Nyimagawa - Cho La Pass (5420 m) - Dzongla (4840 m) in 5 hr. The steep trail goes through blocks of rocks. After the pass, we shortly cross an easy segment of the glacier then descend towards Dzongla.
Day 13: Dzongla - Lobuche (4920 m) - Gorak Shep (5100 m) in 6 hr. Easy descent on mountainside to Lobuche, then climb up through moraines towards Gorak Shep.
Day 14: Gorak Shep - Kala Patthar (5545 m) - Dingboche.
Day 15: Dingpoche (4400 m) Island Peak Base Camp (5120 m)  The trail crosses the river and follows the valley for a while, passing beneath the magnificent 3000 m south face of Lhotse and other Mountain.
Island Peak:
The ascent of Island Peak includes little technical climbing, Only the last part, a steep (40 degrees) snow and ice ramp requires the use of fixed rope to reach the summit. The scenery is absolutely breath-taking views, Lhotse, Makalu, Nuptse, Ama Dablam and Buruntse.
Day 16 - 17- 18-19: Climbing Island Peak 6189 Mt.
Day 20: Return trek back from Island base camp to Dingboche 4410 m
Day 21: Dingboche - Tengboche (3870 m)
Day 22: Tengboche-Namche Bazaar (3440m)
Day 23: Namche Bazaar - Lukla (2800 m) Numerous ascents down and descents through the forest, among rocky cliffs and sheer drops overlooking the river.
Day 24: Lukla - Kathmandu by plane and rest of the day at leisure.
Day 25: Kathmandu free day or shopping.
Day 26: Final departure from Kathmandu.

The following information will allow you to better plan your budget for tours or treks. A range of costs is given. These costs are dependant on
:
The mix of Touring and/or general Trekking,
The remoteness of the areas visited,
The number of guides or porters required,
The standard of accommodation required (if there is a choice), 
The type of ground transport used,
The length of your visit, and
The size of your group.
Depending on group size the costs of treks and tours range from:
1 to 3 pax     US$ 88 to 163  P/p per night.
4 to 8 pax     US$ 78 to 148  P/p per night
9 to 14 pax.  US$ 75 to 135 P/p per night.
15 to 20 and above US$ 60 to 110 P/p per night
Single supplement US$ 40 to 70 per night.
Note: The itinerary and cost for Peak climbing, Mountaineering, Tibet, Bhutan and India tours and trek are conditional apply.
Notwithstanding the costs shown above, we can tailor tours to suit almost any budget. Feel free to email us for more information.

Note: One tour leader will be free of cost for tours with 15 or more paying guests only. 

Children's bellow three years is free if sharing with their parents. And need to pay if they are participating on the trekking, and above three to nine year children half of the price.

Cost Includes: Accommodation in 3 to 4 star hotels in the cites as your choice, basic accommodation in a lodge or tea house or camping (depending on your itinerary and choice) during treks, guides and porters on treks, all land transfers by private vehicle, 3 meals a day on treks, all jungle safaris, all sightseeing tours as per itinerary and all necessary entry fees, permits and airport transfers.

Cost Excludes: Personal expenses, domestic air tickets, airport tax, drinks (soft drink, mineral water and alcoholic beverages and hot-shower on the trek), personal insurance, and extra cost due to natural calamities or accidents outside of our control.
Remarks: The cost of the trip determines with the services included during the trip so that it might be varies with the services, hotel and transfer of your wish.
Please note that our guides speak the following English languages and if required we will provide your language spiking guide on extra cost.
Note: Please contact exploretrek@wlink.com.np for more information and prices
Translate
Contact Information:
Alpine Explore Nepal
P.O. Box: 4546, Kathmandu, Nepal
+977 1 4700714 / 4700175 / 4701974
Fax: +977 -1 - 4700970
Email: info@traveltrek.asia
sales@traveltrek.asia
Skype Address: explore.alpine
MSN Messanger: explorealpine
Yahoo Messanger:explorealpine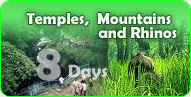 Our Guest Says
SteveAnyon-Smith
18 April 2000

This was my third trek in Nepal, having visited the Annapurna Region in 1995 and with Bharat and Dave in the beautiful and wildlife-filled Langstang Valley in1998. Bharat's company "Explore Alpine Adventure"....